Director's Column (1st Quarter - 2010)

The New Year started with a bang and hasn't slowed much since then. Our Census Team engaged in a substantial amount of outreach efforts during the first quarter, including Mayor Coleman's 2010 Census Kick Off hosted by Cub Foods in the Midway area (Mayor Coleman's 2010 Census Kick Off). The event was well attended by our community partners as well as other stakeholders. As a result of the hard work of our various partnerships along with those of Mayor Coleman's Census Task Force, I am proud to announce that we surpassed the city's 2000 Census level! At the time of this writing, our response rate was 77% which is higher than the national average and places Saint Paul among the top cities in the country. We expect that the rate will further increase once the final count is submitted after the U.S. Census enumerators complete their work this summer.
February 23, 2010 marked my one-year anniversary as the HREEO Director. As cliché as it may sound, time seems to have passed like the blink of an eye. Among the multitude of projects that we set out to accomplish, there were various issues along the way that warranted our attention and time. Notwithstanding, we exceeded expectations across the board. When I first accepted the position, I never imagined the pace that we would keep over the past year. I am proud of my staff's commitments and energetic enthusiasm which have enabled us to accomplish the unimaginable. A few weeks ago, the HREEO Commission held its monthly meeting at Saint Paul College where I presented my one-year progress report to the community. We intentionally selected this venue since 40% of its student body is comprised of students of color. The school represents the future workforce of our city as well as the future business owners that provide economic opportunities across our various sectors. While my one year report highlights our department's accomplishments which were very significant, it is tempered by the realization that we have a long road ahead of us filled with many more projects and initiatives to pursue.
Our Department spent quite a bit of time on outreach efforts this quarter: we co-hosted the Architect & Engineering Partnership event which created partnership opportunities for small-, women- and minority-owned businesses; we joined Mayor Coleman in delivering a presentation on our business accomplishments to members of ISAIAH; we gave numerous presentations on our MBDR work; and our Vendor Outreach Programs along with our Section 3 initiative as noted below. In addition, I was invited to give an update of our Department's work on the Saint Paul Forum, a television program offered through SPNN. The segment aired on the city's cable channel on numerous occasions which resulted in positive feedback. To view the segments, please visit Interview Part One, Interview Part Two, and Interview Part Three.
I am excited to share with you that we were successful in securing funding from the philanthropic community for another EMS Academy. Over 50 low-income youth recently attended an information session. Youth who are accepted into the Academy will earn wages while they study during the 10 week curriculum. Upon completion, the Academy participants will be certified as EMTs and will be eligible for employment at local hospitals, clinics, nursing homes, etc. The EMS Academy has received national recognition on various levels including the U.S. Conference of Mayors which promoted the Academy as a Best Practice for its membership of over 4,300 cities across the country. For more information about our EMS Academy, please visit www.ehs.net/emsacademy.
Since the start of the year, we've made a great deal of progress on our Section 3 efforts. Our department actively led the City's dialogue with HUD which resulted in the Voluntary Compliance Agreement (VCA). Since then, we hired a Section 3 Administrator, partnered with Ramsey County Workforce Solutions to restructure an on-line resident intake process option, conducted numerous community trainings for businesses and residents, held registration events with local unions and Summit Academy OIC participants, created a Section 3 database that will be used as a model for other jurisdictions and have taken the lead in working with the local HUD field office to develop a Section 3 central certification program to streamline the registration process for business participants. We are proud of the progress that has been made. However, there is still work to be done. In the coming months you will see more improvements to the City's Section 3 program. For more Section 3 information, please see below.
One of the most valuable roles that we play in our department is driving systemic change that benefits our targeted populations. In January, we were invited to participate in a day long retreat that was hosted by the Metropolitan Council on expanding opportunities for women owned and minority owned businesses as well as a diverse workforce that will be generated by the construction of the Central Corridor light rail transit project in Saint Paul. Yet, another opportunity presented itself when we were invited to present testimony to the Minnesota Advisory Committee on Civil Rights hosted by the U.S. Department of Justice. We continue to work with these partners, and others, to ensure that the department's mission of providing economic opportunities for all is fulfilled.
Luz María Frías
Director
Transforming the St. Clair Play Area
Several City Departments, including the Department of HREEO and Parks & Recreation, will play prominent roles in the upcoming renovation of the Saint Clair Play Area, slated to begin construction in May 2010 with anticipated completion in July 2010.
The Saint Clair Play Area, located at Saint Clair and Oneida Streets, was constructed in 1983 within the Saint Clair Park alongside the West 7th Community Center, tennis and basketball courts, and a softball field. After conducting safety evaluations on all City parks, Parks & Recreation identified the Saint Clair Play Area as needing renovation. Among the concerns with the play area were that the existing play equipment was inaccessible to those with disabilities, in non-compliance with existing safety requirements, and was uninviting to the community.
To address these concerns, the City received Community Development Block Grant (CDBG) funds for the construction of a new play area as well as other site improvements, including walkways that will surround the Community Center, associated benches, and landscaping. In addition, Parks and Recreation developed a Community Task Force to develop a design for the new play area and site features. The future play areas will be situated into the existing trees and utilize a 4 arch cable play structure providing age appropriate play areas and associated swings. A tricycle track will surround the play area and provide opportunities for "natural play" with large berms, rock outcroppings and native plantings.
Several divisions within HREEO will play key roles in the renovation of the Saint Clair Play Area. During the initial phase of the project, the department's Contract & Analysis Services division issued the bid for the project on behalf of Parks & Recreation. River Print printed the project's bid specifications that were distributed to prospective bidders. In addition, three of the Department's contract compliance divisions will monitor the project throughout the construction phase. The project carries Federal Labor standards and Vendor Outreach Program goals, which will be monitored by each of the department's respective divisions. Finally, because the project was funded in part with CDBG funds, compliance with Section 3 will also be required and monitored.
For more information on this, and other projects through Parks & Recreation, please visit www.stpaul.gov/parks.
Creativity Leads to Accessibility Even in Tough Economic Times
A concerned Saint Paul resident contacted to the Human Rights Division about accessibility issues at a local grocery store. Many of his neighbors, including seniors, in his apartment building had mobility issues. The closest and most convenient grocery store to the apartment building is Rivertown Market*, located at 437 Wabasha Street North, in the heart of downtown Saint Paul.
The resident had informed the grocery store owner that some people had difficulty opening the door to Rivertown Market because of their disability. Automated doors were prohibitively expensive for a small grocery store to install. Rivertown Market owner, Gene Will, suggested having his employees keep an eye out for individuals needing assistance with the door. However, the store is set up such that the cash register is on the same wall as the door, so some customers with disabilities would be left waiting outside until they were seen.
Saint Paul Mayor Chris Coleman affirmed the city's commitment to small, women-owned, and other disadvantaged businesses, and communities of color through restructuring city government to create new ways to do business with the City of Saint Paul. This was followed by panel presentations from City Council Members Dave Thune and Melvin Carter, Departments of Planning and Economic Development, Safety and Inspections, Human Rights and Equal Economic Opportunity, and our Socially Responsible Investment Bank Vice Presidents from Park Midway Bank and University Bank.
That is when the Human Rights Division stepped in to facilitation a solution. Human Rights Specialist and ADA Coordinator, Alyssa Wetzel-Moore, listened to the concerned resident and proposed approaching the store with the idea of installing a doorbell to alert the employees when someone needed assistance. A doorbell is inexpensive, solving Rivertown Market's concerns, and it would facilitate prompt assistance for the patrons. The resident thought a doorbell was a good solution, so Alyssa called Mr. Will that same day. He was very receptive to the idea and only wished someone would have suggested it sooner.
By the next day Mr. Will had already contacted an electrician, and by the end of the week, not one, but two doorbells were installed. Mr. Will decided to install one doorbell to the left and the other to the right of the store's entrance at a height that was accessible to people using wheelchairs. If someone could not use one side of their body, or simply had one arm full, he or she could still ring the doorbell and get assistance.
At the end of the day all parties benefited from the services of the Human Rights Division—the resident's neighbors with disabilities can promptly and easily access Rivertown Market, and Rivertown Market increased its business and good will in the community.
*Mr. Gene Will, owner of Rivertown Market, gave permission for his name and the name of his store to be printed.
Multi-Cultural Marketing Forum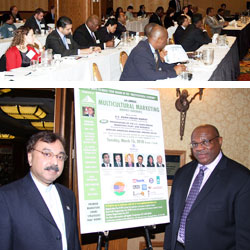 On March 16th the City of Saint Paul participated in the 6th annual Multicultural Marketing Midwest Conference at the Minneapolis Hilton Hotel in Minneapolis. The event, presented by Aguilar Productions and New American Dimensions, based in Los Angeles, focused on marketing to the emerging Asian-Indian and U.S. African American communities—communities that have experienced tremendous growth in the Twin Cities area.
Mayor Chris Coleman has been very supportive of previous Multicultural Marketing Midwest Conferences and understands the importance of multicultural marketing to the Saint Paul business community. To that end, the City of Saint Paul exhibited at the conference to help attendees learn more about the City's programs and how they affect the lives of the multicultural communities in Saint Paul and throughout the Twin Cities area.
The Multicultural Midwest Marketing Conference attracted over 60 attendees, including leaders from African-American, Asian-Indian, Hispanic, and African businesses; members of the media; marketing leaders; and over 25 corporate marketing executives. Representatives from businesses involved in the Department's Minority Business Development and Retention Program (MBDR) had the opportunity to network with officials from key corporate companies such as U. S. Bank, American Family Insurance, the Minnesota Twins, Target, Wells Fargo, New York Life, and many others. Through this conference, all participants learned more about the area's rapidly emerging markets.
The newly formed India Chamber of Commerce, located in Minneapolis, was a presenting sponsor for the conference. Al MacFarlane, Publisher of InsightNews, presented his live radio program during the conference and interviewed three African-American marketing professionals and had the director of the Black Newspaper Association on a live video conference feed from Los Angeles. SPNN taped the entire presentation for their programming. Bruce Corrie, Dean of Concordia University's College of Business and Organizational Leadership discussed the extent and importance of multicultural markets in Minnesota.
The City of Saint Paul looks forward to participating in future Multicultural Marketing Midwest Conferences to help promote the buying power of Saint Paul's multicultural communities and the programs and support the City of Saint Paul provides to these communities.
Architectural & Engineering Partnership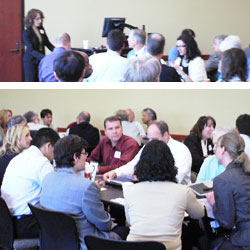 The City of Saint Paul's Architectural and Engineering Partnership Program held an open house on April 19, 2010 at the University of Minnesota Urban Research and Outreach Center. Over 90 individuals representing many businesses throughout the Twin Cities attended the open house. Those in attendance received an introduction to the A/E Partnership Program by HREEO Director Luz Maria Frias, had the opportunity to network with other architectural and engineering firms, and learned about the City of Saint Paul's Section 3 and Vendor Outreach programs. The open house is a continuation of the City's efforts to increase the participation of Section 3 certified firms and small, women-, and minority-owned businesses (S/W/MBEs) in the architectural and engineering industries.
The A/E Partnering Program, modeled after the Office of Minority Business Development & Retention's Construction Partnering Program, aims to increase the participation of Section 3 firms and S/W/MBEs through building relationships and partnering with larger majority firms. Through this initiative, smaller engineering and architectural firms can work with more established firms to build their capacity. Larger firms, in turn, benefit by making connections and identifying qualified subcontracting firms.
Launched on August 7, 2009, the A/E Partnering Program is supported by the City of Saint Paul and managed and facilitated by the Metropolitan Economic Development Association (MEDA), the Association of Women Contractors (AWC), and the National Association of Minority Contractors - Upper Midwest (NAMC).
Stay tuned for more updates on the Architectural and Engineering Partnership Program.
Firm Sees Opportunity with Section 3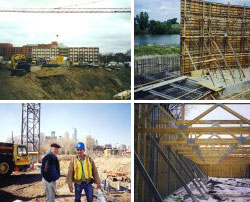 Recently, HREEO's Newsletter staff had the opportunity to speak with David Forsberg, Secretary of Watson-Forsberg, to discuss the company's commitment to meeting its projects' Section 3 requirements. Watson-Forsberg is a Minnesota general contractor entering its seventh decade of providing a variety of project management services to projects ranging from building senior housing facilities to remodeling shopping malls.
On average, Watson-Forsberg works on about a dozen projects per year that trigger Section 3 requirements. Although these projects are not subject to the City of Saint Paul's Section 3 program, the firm's leadership recognizes that Section 3 applies to projects in cities throughout the area, even when many of these surrounding cities have yet to fully develop their respective Section 3 programs. Mr. Forsberg said the company is using Saint Paul's Section 3 program as a model in order to help itself and these cities comply with Section 3.
Watson-Forsberg's commitment to helping cities satisfy these requirements comes from a simple philosophy: "if we all do well, then we all do well." On one level, this commitment speaks to the character of the firm itself: "it's our goal to meet any requirements we are facing, we want to demonstrate our good faith efforts." Beyond that, Watson-Forsberg recognizes the importance of collaborating with cities and other companies to help each other fulfill their obligations under Section 3: "we need to show an understanding of these regulations and to work to help keep the cities that employ us out of hot water."
In this sense, Watson-Forsberg is assuming a leadership role with the development of Section 3 that is similar to its efforts in helping to establish the Vendor Outreach Program. "Many of the W/MBEs [Women or Minority Business Entities] that were in Vendor Outreach 15 years ago were firms that Watson-Forsberg helped to get involved and certified." The company wants to play a similar role with Section 3: "we want to get news out to the smaller contractors - here's a program that you can get involved in and really benefit from."
Mr. Forsberg tempers the magnitude of Watson-Forsberg's likely impact on the development of Section 3 by noting that the construction market has changed considerably in the last 15 years, resulting in an increase in the total number of contractors. "Despite that, whenever we sign up for a contract, we look for opportunities to include other contractors and to get them certified." Mr. Forsberg also noted that many contractors he has interacted with have expressed a wide spectrum of opinions on Section 3 and its requirements. When asked again why Watson-Forsberg was so committed to meeting these requirements, Mr. Forsberg simply responded, "You know what we do and who we are. We want to do the right thing. We are not looking to skirt regulations, we want to satisfy these regulations and keep everyone happy."
In the Works . . .
2010 Summer EMS Academy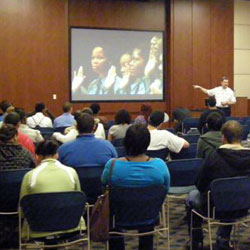 On May 5th, the City of Saint Paul hosted an information session on the upcoming Emergency Medical Services (EMS) Summer Academy. Over 50 potential applicants attended the event and received information about the program from Gwen Peterson of Parks & Recreation's Youth Job Corp (YJC) program; David Page, EMS Instructor at Inver Hills Community College and trained paramedic; Luz Maria Frias, Director of HREEO; and Saint Paul Fire Chief Tim Butler. The attendees also had the opportunity to speak with Tim Boney, a current firefighter, and EMS Academy graduates. In addition, the attendees received words of encouragement from Saint Paul Councilmember Melvin Carter.
The EMS Summer Academy, beginning June 14th, is an intensive 240-hour Emergency Medical Technician (EMT) and firefighter awareness program. The goal of the program is to build an EMT workforce that is reflective of the communities that EMS serves in Saint Paul. Recruitment is targeted to low-income youth (18-21) of diverse ethnicities, women, and bilingual ability.
Twenty five applicants will be hired and paid to attend the ten-week certification and job-competency program by the City of Saint Paul Parks & Recreation YJC program. At the completion of the program, graduates will be eligible to apply for EMT positions. Over 90% of the EMTs who participated in the first two EMS Academies are currently employed in the field. Participants also receive college credit for successfully completing the academy. The EMS Summer Academy will be the third EMT Academy hosted by Saint Paul since the program began last summer.
For more information on the EMS Summer Academy, please visit www.ehs.net/emsacademy.
Understanding Compliance Requirements in City Projects
As part of HREEO's efforts to deliver more accountability, better communication, and smarter use of our resources, we have embarked on the creation of a new tool for HREEO's Compliance Division. This new tool is a DVD disc containing important compliance information that will be shown at pre-bid and pre-construction meetings. Moreover, the DVD will be posted on our website so that contractors have easy access to the information at all times.
Currently, anywhere from 3 to 5 Compliance Team members attend all pre-bid and pre-construction meetings to field questions and present information about their specific area of expertise. There is a significant amount of down time that precedes and follows the individual presentations. The creation of this DVD Compliance tool will necessitate that only 1 staff member attend and present the full scope of our compliance requirements—thereby increasing the productivity of the Compliance Team members who remain working back at their desks.
The Compliance DVD will contain detailed compliance information that is routinely presented to participants at pre-bid and pre-construction meetings. In order to ensure that all of the necessary and accurate compliance information is on this DVD, HREEO staff, Brian Joyce, has led the effort to collect the vital information from each of HREEO's Compliance Team members. As this project moves forward, their continued involvement on the DVD will remain essential in order to ascertain that all of the vital compliance information is captured accurately and compiled in a format that will be user friendly for our end-users.
Prior to finalizing the content, we will solicit feedback from Project Managers as well as contractors.
Look for more news on the compliance DVD and its incorporation into the pre-bid and pre-construction meetings in our next newsletter.
Human Rights Website Redesign
Visitors browsing through HREEO's website will notice many recent changes to the Human Rights Division website. The changes, spearheaded by Human Rights Specialist Gessner Rivas, are intended to make the division's website more user-friendly and accessible to the public.
The updated Human Rights website now includes a clear step-by-step overview describing the division's investigative process; information on other Human Rights offices, such as the U.S. Equal Employment Opportunity Commission; and revamped content describing Saint Paul's Human Rights Ordinance. In addition, the Human Rights website now includes illustrative examples of prohibited acts of discrimination to better help potential complainants assess whether they have been the victims of discrimination. The division has also added an online intake questionnaire that potential complainants can submit in order to help Human Rights investigators assess whether Saint Paul has jurisdiction over the potential complaint.
These changes are part of a broader effort throughout HREEO to overhaul the department's website. To view the department's website, please visit HREEO at www.stpaul.gov/hreeo.
Getting to Know More About . . .
Human Rights Commission
On Saturday, March 27, 2010, several HREEO staff members attended the Human Rights Commission Retreat, held at El Rio Vista Recreation Center in the Wellstone Community Center. Commission members gathered for the purpose of creating a better sense of how to review the performance of HREEO's Director, Luz Maria Frias, and refining the Commission's bylaws. The retreat, the first of its kind since the Commission expanded from 11 to 21 members, was driven by the Commission itself at the suggestion of the Chairman and other Commissioners.
The Commission members divided into one of four subcommittees—Human Rights, Contract Compliance, Contract Analysis and Procurement, and Outreach—each of which included a HREEO staff member that was available to educate the Commission members about the department's operations and to answer any questions. Each subcommittee explored topic-specific issues. For example, the Human Rights subcommittee discussed issues such as how to establish more formal processes for reviewing Human Rights cases that reach the Commission's purview. The Commission then heard and explored all the recommendations and ideas that the subcommittees generated.
The next step for the Commissioners is to further evaluate how these ideas will help improve the Department's functions and to decide which recommendations to implement. Stay tuned for more updates on the work of the Human Rights Commission in upcoming Newsletter issues.
Human Rights & Equal Economic Opportunity Commission Meeting
Please join the Human Rights & Equal Economic Opportunity Commission for its regularly scheduled meeting. An abbreviated one year progress report will be presented as an agenda item during the meeting by Director Luz María Frías on:
May 18, 2010 • 6:00 p.m. – 8:30 p.m.

Neighborhood House at Wellstone Center (El Rio Vista Center)
179 Robie Street East • Conference Room 272
Saint Paul, MN 55107
Parking: NH @ WC is pleased to offer complimentary use of our attached parking ramp.
**** NH @ WC and the City of St. Paul are not responsible for damage to or theft of/from any vehicle parked on the premises. Please note that cars will be towed at the owner's expense if parked in the El Burrito Mercado parking lot across the street from the Wellstone Center.
___________________________________
If you have any ideas or suggestions for HREEO's future newsletters, please feel free to contact Luis Morales at Luis.Morales@ci.stpaul.mn.us, or at 651-266-8900.
Notice: You have received an introductory edition of HREEO's department newsletter. If you are interested in receiving future editions of the newsletter, please subscribe by clicking here or visiting www.stpaul.gov and clicking on the e-Subscription icon. You'll find our newsletter under Newsletters > Human Rights & Equal Economic Opportunity.