Director's Report (4th Quarter - 2009)

Our department staff continues to rise to the challenge of meeting our existing responsibilities while forging ahead in unchartered areas. I am extremely proud of the work that our employees have accomplished this past quarter. You'll see that our approach has been to think creatively about addressing institutional barriers. As a result, there has been numerous staff-driven measures that have led to systemic change, ultimately benefitting our constituents in unprecedented ways.
Earlier this year, our department developed a new strategy to increase the number of Vendor Outreach Project (VOP) certified vendors on construction projects. We initiated the use of the construction manager approach as a pilot project. This approach involves hiring a construction manager to divide the construction project into multiple bid packages. Once the bid packages are identified, each package is bid separately. One advantage of this method is that instead of a large contract being awarded to a very large general contractor and then relying on the general contractor to bid the subcontractor packages and get VOP participation, the City conducts the bidding ourselves. While this approach is extremely advantageous to our targeted clientele, it is very time consuming for our staff and is a noteworthy departure from our past practices. These efforts from our dedicated staff have resulted in significant systems change as noted below. As a result of this pilot project, we have exceeded our Vendor Outreach Goals in our construction projects through the 3rd quarter in 2009.
Overall Vendor Outreach Contract Awards
January 2009 – September 30, 2009
| | | | |
| --- | --- | --- | --- |
| | VOP $ Awarded | VOP Goal | VOP Achieved |
| Construction | $5.6 million | 10% | 13.24% |
| Goods | $1.5 million | n/a | 5.98% |
| Professional services | $786,209 | 2% | 7.16% |
Our department has taken the lead in developing a Section 3 initiative and Action Plan for the City. Low-income businesses and low-income residents are offered unique opportunities in specific construction projects involving designated city funds. Department staff has conducted widespread training of other department city staff, community members, businesses, and our HREEO Commission on our Section 3 initiative.
Our department initiated a collaboration with Ramsey County Job Connect services so as to maximize employment opportunities for low-income Saint Paul residents and Section 3 businesses seeking to employ low-income individuals. Through this initiative, Section 3 eligible residents are informed of Section 3 employment opportunities that result from city-sponsored construction projects associated with designated funds.
Our Minority Business Development & Retention (MBDR) unit held two business outreach forums for small- and medium-size businesses to learn about resources and support services during tough economic times. The business forums included presentations by elected officials, city departments, partners, and Socially Responsible Investment Banks on available resources. The forums were highly successful and reached over 150 attendees.
For the first time since its inception, MBDR restructured its grants selection process by establishing a performance-based outcome RFP. As a result, community partners submitted proposals that more closely aligned with our department's vision and focus. New contracting relationships with community agencies resulted from this new selection process.
We appointed a city-wide Americans with Disabilities Act (ADA) Coordinator for non-employment ADA issues. The ADA Coordinator works closely with the Mayor's Committee on People with Disabilities. A detailed ADA Plan and grievance procedure were established and distributed across all city departments. (see article below)
For the first time in the City's history, we created the new position of Best Practices Officer. The Best Practices Officer is charged with developing best practices across all city departments with an emphasis on using our resources wisely and establishing cost saving measures.
We partnered with St. Mary's University and dedicated a team of graduate students' Capstone Project to provide us with in-depth research in four areas that could benefit from implementing best practices. The project culminated in a report that has accelerated the efforts of the Best Practices Officer. (see article below)
With an effort to bring greater understanding and awareness of our new Compliance Unit, we have conducted various presentations in the community including the Saint Paul Building and Construction Trades Council.
Our department coordinated and hosted two Emergency Medical Services (EMS) Academy graduation ceremonies this fall where over 20 low-income youth graduated as Emergency Medical Technicians. The EMS Academy, which has garnered national recognition, was initiated by our department with a goal of increasing the pool of applicants of color and female applicants who can successfully apply for the Saint Paul Firefighter exam.
Our department worked closely with Saint Paul Fire to prepare a significant grant application to the U.S. Department of Labor that would expand the EMS Academy for an additional three years.
Our printing business unit, River Print, receives no general funding; it is one of the few city departments that is self-sustaining. If it posts insufficient revenues for the year, the unit faces layoffs. We were successful in expanding River Print's clientele this quarter and expect to see additional growth in 2010.
We launched a new software management program, B2GNow, that will simplify the reporting requirements for our business vendors. Vendors can now upload their payroll data from their existing payroll system, thereby making the reporting process faster, user friendly, and efficient. (see article below)
As we enter a new year, we're excited about the new opportunities that lie ahead. My heartfelt appreciation goes out to all of our community partners and my staff for helping make 2009 a success! Special thanks to Luis Morales, from our CERT Unit, for spearheading this Newsletter!
Luz María Frías
Director
Changing the Face of Saint Paul…One Bid at a Time!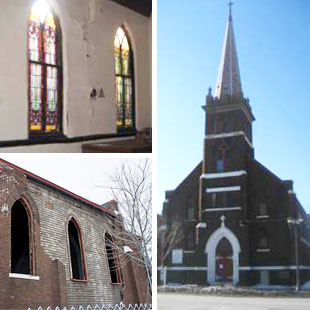 The Contract and Analysis Division (CAS) has been busy in recent months working on projects that had/or will have a very visible effect on the look of Dale Street and the East side of Saint Paul.
For many years the Rock of Ages Church, located close to downtown on Dale Street, was deteriorating; and the small congregation could not afford the extensive structural repairs needed to get a certificate of occupancy. This structure was an historic building, which many groups tried to save. However, the Rock of the Ages Church was ultimately deemed unsafe, and the Department of Safety and Inspection (DSI) recommended that the church be demolished, which the City Council later approved.
CAS assisted DSI in writing a very detailed specification for this project, which was difficult and complicated due to the church's close proximity to other structures, its stability, and because it also shared a sewer and a connecting tunnel with a neighboring building. Before demolition began we worked with Vacant Buildings staff to hire an historical consultant to document the church and memorialize it with pictures so the structure could be preserved as part of the City's history.
Following a bid process the project was awarded to Frattalone Excavating. The demolition followed sustainable deconstruction guidelines, and much of the building was salvaged, including some pews, the beautiful stained glass windows, and the cross that rose hundreds of feet in the air. Salvaging the windows was a labor-intensive and complicated process because it was determined that the windows had asbestos material around them. As a result, an asbestos contractor had to remove the windows and encase them entirely in plastic.
While it is always sad to see a once beautiful and once viable building removed, there are times when that is the only option.
After the church demolition was completed, the Saint Paul Port Authority contacted CAS to work on another demolition project. Because the Port Authority does not have a purchasing department, CAS does many of the larger demolitions and business park bidding for it. This demolition involves another landmark property, this time affecting the East side of Saint Paul. Bordered by Arcade and Minnehaha Avenue, this acreage was the former 3M plant campus. In order to develop the property for viable businesses, the Port Authority is removing several buildings and rehabbing others, including its former headquarters building, to develop a new office park that will be named Beacon Hill.
Since the demolition and hazardous material remediation was estimated to cost between $4,000,000 and $6,000,000 million dollars, there was much interest among the demolition and remediation community. The Port Authority hired Loucks Associates to write the specifications and to manage the project.
Once the bid was issued, it drew so much interest, including from many out-of-town vendors, that CAS used a novel approach to distributing the plans. CAS sent April Cote and Liz Maher to the pre-bid conference and site tour in order to sell and distribute the plans. This effort was greatly appreciated by the Port Authority, Loucks Associates, and the bidders.
This is a Federal Environmental Protection Agency project and carries a Disadvantaged Business Enterprise goal, a project labor agreement, and a federal wage decision. Bids are not due until February 11, so we are not certain what the actual bid price will be, but we are certain that the bid opening room will be packed full of vendors. Stay tuned for the next issue for an update on the bid results.
For more information, please visit the Contract & Analysis Services division website at http://www.stpaul.gov/cas or call 651-266-8900.
Minority Business Development & Retention Forums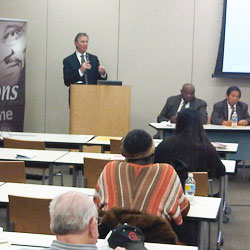 The Minority Business Development and Retention (MBDR) division, along with our community partners, launched its first "Town-Hall Style" Business and Community Development Forums to discuss how the economic recession is affecting small businesses and how elected officials, city departments, and the banking community can provide resources beyond, and including, monetary help.
Approximately 160 small- to medium-sized minority, women, and disadvantaged business owners attended the Minnesota Centennial Showboat on Tuesday, October 13th and Monday, December 14th at the Wilder Foundation Forum. The special broadcast of "Conversations with Al McFarlane" featured live music by Wain McFarlane & Jahz, resource presentations, and networking with panelist and like-minded entrepreneurs.
Saint Paul Mayor Chris Coleman affirmed the City's commitment to small, women-owned, and other disadvantaged businesses, and to communities of color through restructuring city government to create new ways to do business with the City of Saint Paul. This was followed by panel presentations from City Council Members Dave Thune and Melvin Carter, Departments of Planning and Economic Development, Safety and Inspections, Human Rights and Equal Economic Opportunity, and our Socially Responsible Investment Bank Vice Presidents from Park Midway Bank and University Bank.
Special thanks to our partnering sponsor, the Local Initiatives Support Corporation (LISC) and Golden Thyme Coffee Shop and our community partners: Riverview Economic Development Association (REDA), Selby Area Community Development Corporation, and the Neighborhood Development Center. Additional Information/Media Partners include: Conversations with Al McFarlane and the Multicultural Media Consortium; consisting of Aldolfo Cardona - Latino Midwest, Nghi Huynh - Asian American Press, Tom Gitaa, Publisher Mshale Newspaper, Al McFarlane - Insight News and KFAI Fresh Air Radio - David Glass, on behalf of The Circle, Bashe Said - African News Journal, and Ali Musse - Bulsho TV.
For more information, please visit the MBDR division website at http://www.stpaul.gov/mbdr or contact Angela Burkhalter at 651-266-8900. The Forums are posted at www.stpaul.gov/mbdr.
Best Practices Officer & Procurement Initiatives
As part of the Department of Human Rights & Equal Economic Opportunity (HREEO)'s initiative towards smarter use of resources, Lucie Passus was hired in September 2009 as the City's Best Practices Officer. As an entirely new position, the Best Practices Officer is leading the effort to streamline the City's procurement processes by utilizing industry best practices in order to save money and to increase value to the City's residents.
To start making progress towards this initiative, HREEO partnered with Saint Mary's University - Master of Business Administration (MBA)'s program and engaged their fall MBA capstone class to study best practices in procurement for the City of Saint Paul. On December 18, 2009, HREEO's director, Luz Maria Frias, the Deputy Mayor, Ann Mulholland, and other City directors, were presented with recommendations on cost-effective and sustainable procurement best practices to provide value to the residents of Saint Paul.
Led by Lucie Passus and Adolfo Rudy Cardona, MBA Faculty Student Advisor for Saint Mary's University, the 16 MBA students undertook eight weeks of intense data gathering, research, classroom instruction, and interviews to analyze four procurement areas: cell phone contracts, water meter replacement, training contracts, and performance-based contracting. By evaluating the strengths, weaknesses, opportunities, and threats in these four procurement areas, the MBA students identified internal and external aspects that are both favorable and unfavorable to achieving best practices in procurement.
With the research concluded, HREEO is set to move forward with some of the recommendations that were set forth by the MBA students. Look forward to future information on progress in this area in future editions of the HREEO newsletter.
Saint Paul's 2010 Census Continues to Gain Momentum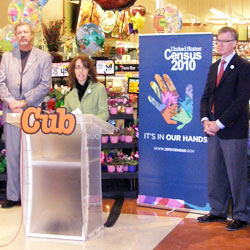 With the expansion of staff assigned to work on the 2010 Census project, the Mayor's Census Task Force is poised to successfully continue its mission as directed by the Mayor and the City Council. The Census team at the City now includes Leila Paye, Brian Joyce, Angela Burkhalter, Lucie Passus, and two interns.
Fall 2009 was a time full of activity for the Census team. It distributed over 30,000 Census calendars to various locations in Saint Paul, including libraries, food shelves, government buildings, parks and recreation centers, fire stations, charter schools, homeless shelters, women's battered shelters, and non-profit organizations, such as Catholic Charities, Goodwill/Easter Seals, and the Salvation Army.
Census staff also worked with community partners and the Census Bureau to promote the Census at 22 events throughout the Saint Paul area. Events attended included: La Familia Latino Family Festival, District Councils 2, 6, 7 Neighborhoods Clean-Up, a District 10 Halloween event, the Hmong New Year celebration, a Highland Park water tower tour, a Minnesota Centennial Showboat viewing, a Light Rail workshop, Fire Station open houses, the Hallie Q. Brown 80th Anniversary Gala, a health fair workshop at the Skyline Towers, and the Saint Paul Public Library bookmobile tour.
On Tuesday, January 26, Mayor Chris Coleman, elected officials, and other community leaders and members gathered at Cub Foods-Midway to kick-off the 2010 Census. The kick-off marks Saint Paul's push to have every person in Saint Paul counted in the upcoming Census.
The City's Census website went live on November 2, 2009 and a direct link to the website can be accessed at www.stpaul.gov/census. A Census email account was also created where questions and comments to the Census Team can be sent to census@stpaul.gov.
The next Saint Paul Census Task Force meeting is scheduled for February 24, 2010 at the Paul and Sheila Wellstone Center, 179 E. Robie Street, Saint Paul, MN 55107 from 1 – 3 p.m. Everyone is welcome to attend the meeting.
Mark Evangelist Wins Buyer of the Year Award
Mark Evangelist has received the 2009 Buyer of the Year Award from the Minnesota Chapter of the National Institute of Government Purchasing (MNNIGP). The MNNIGP Board reviews nominations for the award, which recognizes professional achievement as well as active participation in MNNIGP functions. Mark's list of accomplishments include saving Saint Paul and Ramsey County $2,400,000 over six years by writing contracts for fuel at Fixed-Rate Pricing and leading efforts to rewrite specifications for the housing demolition program to make demolition bids adopt a greener process that aims to get 100% of the materials from demolitions to be recycled. This is Mark's third nomination for Buyer of the Year and the second time he has received the prestigious prize, having also won the award in 2005. Mark attributes his successful career to a trustworthy approach: "Keep your head down, do your work and you'll be rewarded." Congratulations Mark!
Getting to Know More About . . .
B2Gnow / LCPtracker
The Contract Compliance Division of the Department of HREEO has recently launched two online reporting systems— B2Gnow and LCPtracker — to streamline the reporting requirements for firms doing business with the City of Saint Paul.
With B2Gnow, contractors can satisfy the City's Subcontractor Utilization reporting requirements by electronically submitting the payment amounts made to their list of subcontractors. Similarly, LCPtracker allows contractors to complete their Certified Payroll reporting through an automated and secure online reporting system. Both systems promise to enhance the Division's accuracy and efficiency in managing compliance, as well as its ability to proactively identify compliance deficiencies.

Why is it important that the City collect compliance information?
Compliance information can help maintain funding levels,
Is often mandatory when working with federal, state, county, and local governments,
Informs city leadership and other government departments,
Makes the City accountable to the public
What are some of the benefits of using B2Gnow and LCPtracker?
They review reports for any errors prior to submission,
Reduce the need for paper reporting,
Can track the performance and compliance records of contractors over time
How do B2Gnow and LCPtracker work?
B2Gnow –

Prime Contractors receive an email link to log into the system
They then enter payments made to their listed subcontractors
Subcontractors receive an email link after the Prime Contractors enter their payment amounts
The subcontractors log-in and confirm that payment amounts reported
LCPtracker –

Contractors receive an email link to log into the system
They select the appropriate wage rates and worker classifications from a menu
They then enter payroll data directly into the system or upload it from major construction accounting and payroll programs.
To learn more about the B2Gnow and LCPtracker, visit the Contract Compliance division website at https://stpaul.diversitycompliance.com or contact the Department of HREEO at 651-266-8900.
Ensuring Equal Access: HREEO's New ADA Coordinator
The City of Saint Paul wants to ensure that all people have equal access to its services, programs, and activities. HREEO has been a leader in the City's efforts to comply with Title II of the Americans with Disabilities Act (ADA) by appointing Alyssa Wetzel-Moore as ADA Coordinator for non-employment related issues. Title II of the ADA requires that cities provide equal access to its programs, services, and activities. To ensure compliance with Title II, the ADA Coordinator has formed a City-wide Team of liaisons from several City Departments to streamline communications between persons with disabilities and the City. These communications include disseminating information to persons with disabilities about their rights under the ADA and creating a process for requesting access or filing a grievance. Alyssa has developed the necessary notice, request for access, and grievance forms and a grievance procedure. She has convened a meeting with the City-wide Team to share Title II requirements and facilitate interdepartmental cooperation. As ADA Coordinator, Alyssa will be the first point of contact between the community and the City of Saint Paul.
Alyssa also serves as the City's liaison to the Mayor's Advisory Committee for People with Disabilities (MACPD). The MACPD advises and makes recommendations to the Mayor and City Council on problems, issues, and opportunities facing people with disabilities. The partnership between the MACPD and the ADA Coordinator is mutually beneficial, giving both parties the opportunity to learn from and educate each other. Ultimately, this makes the City more responsive to people with disabilities.
For more information on the ADA or the MACPD, visit the Human Rights division website at http://www.stpaul.gov/index.aspx?NID=2403 or contact Alyssa Wetzel-Moore at ADACoordinator@ci.stpaul.mn.us or at 651-266-8900.
If you have any ideas or suggestions for HREEO's future newsletters, please feel free to contact Luis Morales at Luis.Morales@ci.stpaul.mn.us, or at 651-266-8900.
Notice: You have received an introductory edition of HREEO's department newsletter. If you are interested in receiving future editions of the newsletter, please subscribe by clicking here or visiting www.stpaul.gov and clicking on the e-Subscription icon. You'll find our newsletter under Newsletters > Human Rights & Equal Economic Opportunity.