HREEO Partners with the Saint Paul YWCA
to Launch "Road to Success"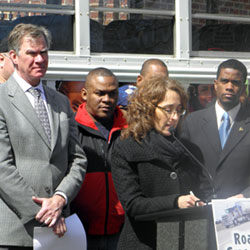 The City of Saint Paul launched the Road to Success, an exciting workforce collaboration designed to assist people hit hard by the Great Recession to train for, and obtain, a Class B Commercial Driver's License (CDL). A CDL is a powerful credential that allows people to access good paying jobs in multiple industries- public works, waste management, delivery, construction, food service, and transportation. The Road to Success program targeted residents of Saint Paul's Promise Neighborhood, an area of the City with a disproportionately high level of unemployment, in an effort to create new job opportunities and close the unemployment disparity.
Spearheaded by HREEO, the City partnered with the Saint Paul YWCA to provide participants with the opportunity to attend free training and obtain a Class B CDL. Phase one of the program was launched to create a pipeline of applicants to city public works jobs. However, the City quickly realized that there was an opportunity to do much more. Through connections with local business owners, Mike McHugh and Bob Perry of MBE Trucking, a second phase of the program was initiated. The City and its partners are offering further assistance and opportunities for those interested in becoming independent truck operators (ITOs) by obtaining a Class A CDL to enable them to perform work on the Central Corridor Light Rail Transit project.
The City in collaboration with local lending agency, Neighborhood Development Center, established a working capital loan fund totaling $400,000 for Road to Success graduates interested in becoming ITOs. Interested participants will receive training for their Class A CDL and have the opportunity to apply for a zero-interest loan to purchase the cabs necessary to become an independent truck operator to perform hauling work on the CCLRT project.
Road to Success has the potential to provide Promise Neighborhood residents with consistent, high-paying work in a variety of industries from public works to an independent truck operator, in an effort to drive down unemployment. This is important because within the 250 block area of Saint Paul's Promise Neighborhood, which includes the Summit-University and Frogtown neighborhoods, 56% of households have annual incomes below $35,000 and almost 90% of school children are eligible for free or reduced price lunches. In addition to the Road to Success program, in late 2010, Saint Paul received a federal grant to invest in this community to help remove educational barriers. Mayor Coleman has made the revitalization of this sector of Saint Paul, including the creation of new job opportunities, a priority of his Administration.
The Road to Success initiative was highlighted at a press conference held in early April with Assistant HUD Secretary Trasviña, Mayor Coleman, Council Member Carter and HREEO Director Luz María Frías in attendance.
The Central Certification (CERT) Program is Expanding
For over ten years, the City of Saint Paul has partnered with the City of Minneapolis, Hennepin County and Ramsey County to coordinate the certification of local minority-owned (MBE), women-owned (WBE), and small businesses (SBE) under a joint powers agreement known as CERT. As a result, CERT houses the largest and most comprehensive database of certified S/W/MBE in the region with over 1,200 certified S/W/MBEs in our CERT database.
Historically, access to the CERT database was limited to the aforementioned four governmental units. For the first time ever, we are offering external stakeholders access to the CERT database. Our goal is simple: stimulate the local economy by creating opportunities for local S/W/MBEs to participate in procurement opportunities among metropolitan based corporations and organizations.
According to the Small Business Administration, small businesses in the U. S. accounted for two-thirds of net-new jobs created between 1993 and 2008. "Small businesses almost single-handedly sparked the economic recovery during the nation's two previous recessions," according to Jonathan Bowles, director of the Center for Urban Future. Nationally, minority-owned firms generate $1 trillion in economic output to the U.S. economy and create 5.9 million jobs. Women-owned firms produce employment for more than 23 million people in the United States, or 16% of our 2008 workforce.
Specifically, MBEs are a source of jobs:
2/3 of MBEs have an existing employee base that is at least half persons of color as compared to 1/6 of Caucasian owned businesses
70% of new hires by MBEs are persons of color
Our initiative allows companies to easily integrate supplier diversity into their regular sourcing process, efficiently and effortlessly. In essence, our initiative makes it easy for companies to do the right thing.
If you would like more information on the CERT collaborative, including how to apply for certification as an S/M/WBE, contact CERT program staff at cert@stpaul.gov.
If your organization is interested in joining the CERT collaborative, please contact Kelly Francis at Kelly.Francis@stpaul.gov or at 651-266-8913. City staff will be happy to set up a demonstration of the database for your organization.
2010 Census Data Results - Population Shift in Saint Paul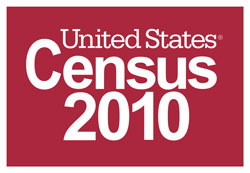 The 2010 Census results are in, and confirm what many have been observing for quite some time — almost half of Saint Paul's population is now of Black, Asian, Hispanic/Latino, American Indian, or mixed race heritage.
| | |
| --- | --- |
| Saint Paul 2010 Total Population | 285,068 |
| Saint Paul 2010 Communities of Color Population | 125,631 |
| African American or Black | 43,620 |
| American Indian and Alaska Native | 2,316 |
| Asian | 42,494 |
| Hispanic or Latino | 27,311 |
| Native Hawaiian & Other Pacific Islander | 120 |
| Some Other Race | 494 |
| Two or More Races | 9,276 |
Saint Paul, like many other cities across the nation, experienced significant population changes since the last U.S. Census was taken in 2000. Today, nearly one out of every four persons in the Twin Cities metropolitan area is a person of color.
Saint Paul Gains
| | |
| --- | --- |
| Asian | +18% |
| Black | +28% |
| Hispanic | +21% |
Saint Paul Losses
| | |
| --- | --- |
| American Indian | -23% |
| White | -7% |
This population shift means that Saint Paul and other metropolitan cities must fundamentally change how they deliver services to residents and visitors. At present, the City of Saint Paul Department of Human Rights and Equal Economic Opportunity has taken proactive approaches to meet its growing diverse population with efforts such as maintaining a strong Limited English Proficiency (LEP) program, the Saint Paul Fire EMS Academy, and Road to Success.
HUD Secretary Shaun Donovan Visits Frogtown Square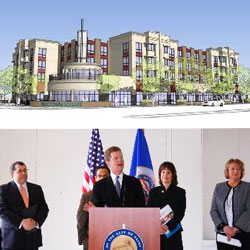 On March 4, 2011, Shaun Donovan, Secretary for Housing and Urban Development (HUD), visited Saint Paul to recognize the City's efforts with the nearly complete Frogtown Square project. Secretary Donovan lauded Saint Paul for helping to realize the Frogtown community's vision of creating economic opportunities for small area businesses while providing affordable housing for area residents. Several public officials joined Secretary Donovan for a press conference and tour of Frogtown Square, including U.S. Representatives Betty McCollum and Keith Ellison, Deputy Mayor Paul Williams, and Councilmember Melvin Carter, III.
The Frogtown Square development, located at the intersection of University Avenue and Dale Street North, is a success for a variety of reasons. First, the project exemplified collaboration among a variety of jurisdictions and organizations, including the City of Saint Paul, HUD, HRA, the U.S. Department of Health & Human Services, the Minnesota Department of Employment and Economic Development, the Met Council, and Ramsey County. These entities worked together to provide grants and loans for site acquisition and construction. Nedu, LLC, the Developer of Frogtown Square is itself a partnership of community groups composed of Model Cities, Inc., the Neighborhood Development Center, Aurora St. Anthony Neighborhood Development Center, and Greater Frogtown Community Development Corporation.
Beyond the success of the collaboration, Frogtown Square is a model project in terms of inclusion in contracting. The project generated over $6 million in construction contracting opportunities. Of that amount, over $4 million dollars were directed to fourteen minority-owned, women-owned, and small business enterprises. In addition, and of interest to low-income residents, was the success of the Section 3 businesses represented in the Frogtown Square project, which met and exceeded established Section 3 goals. Eight Section 3 contractors were awarded over $1.5 million dollars for performing a variety of consulting and construction services during Frogtown's development. Finally, Frogtown Square will benefit a variety of businesses, most of which are locally owned. The retail space will house several shops, an Ethiopian restaurant, an ethnic grocery store, and a Subway restaurant. Construction of Frogtown Square began in May 2010 and was substantially completed in February 2011.
Visit Rebuild Saint Paul for more information on Frogtown Square and other City of Saint Paul construction projects.
Highlights from the Human Rights Forum
On April 7, 2011 numerous human rights commissions throughout the metro area met to discuss state and local efforts to enforce the Minnesota Human Rights Act. The event was sponsored in part by the Minnesota Department of Human Rights, City of Roseville, City of Saint Paul, City of Bloomington, and City of Shoreview. The various participants spoke on their community outreach efforts and to address human rights discrimination complaints through enforcement, mediation, and education.
There was a sizeable presence of interested residents from communities throughout the metro area. After the presentation portion of the event concluded, there was a question and answer session in which attendees provided comments, shared ideas, and discussed current topics in the area of human rights. Commissioner Harris, Saint Paul Human Rights & Equal Economic Opportunity Commission Chair, noted how the City of Saint Paul, led by HREEO, has linked human rights issues with economic issues. HREEO recognizes that without access to well paying jobs and financial stability, true equality can never be realized. As an example of HREEO's work in this area, Commissioner Harris highlighted the City's EMS Academy, which provides opportunities for young adults meeting eligibility criteria. HREEO has continued to develop this and other partnerships with the intent of broadening access to training, jobs, and working capital and reducing economic disparities.
The next EMS Academy will begin on June 20, 2011. More information on the EMS Academy can be found on the EMS Academy website or contact Anne O'Connor in the Department of Human Rights and Equal Economic Opportunity at 651-266-8916.
Saint Paul Mayor's Advisory Committee for People with Disabilities and Ramsey County Launch the Residential
Emergency Response Form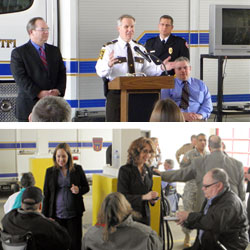 On April 18, 2011, the Saint Paul Fire Station hosted a press conference to launch the Residential Emergency Response Information Form ("Emergency Form"). Developed by the Mayor's Advisory Committee for People with Disabilities and Ramsey County, this form provides a way for people with disabilities and others needing special assistance to alert emergency responders to be prepared in the event of an emergency. HREEO Human Rights Specialist Alyssa Wetzel-Moore as the City's Liaison to the Mayor's Advisory Committee for People with Disabilities worked closely on this initiative.
The Emergency Form asks for basic information including medical and emergency contacts, medications, special conditions, and instructions (e.g., how to enter the building, whether a person is deaf or hearing impaired). This information is only shared with emergency personnel for the purpose of responding in the event of an emergency. Submission of the Emergency Form is voluntary. The form expires after a year, so in order to remain active individuals are required to submit the form annually.
Ramsey County Sheriff Matt Bostrom discussed the creation and implementation of this form, an excellent example of partnership between the City of Saint Paul and Ramsey County. About two and a half years ago, the Saint Paul Mayor's Advisory Committee for People with Disabilities (MACPD) identified a need in the disability community. In the event of an emergency, people with disabilities did not have a way to notify emergency responders in advance of any special needs. The MACPD developed a draft form and worked with then-Assistant Chief of the Saint Paul Police Department, Matt Bostrom, to explore options available to the City of Saint Paul. Since Ramsey County Emergency Communication Services manages emergency response for much of Ramsey County, including the City of Saint Paul, it made sense that they would need to come on board. Scott Williams, Director of Emergency Communications, worked closely with the Ramsey County Attorney's Office and his own department to work through the legal and logistical considerations necessary to implement this project. He met with the MACPD several times for feedback and ideas until the form was finalized and posted on their website.
Saint Paul Fire Chief Tim Butler explained that about half of the emergency calls in the county are directed to the Saint Paul Fire Department. They make about 40,000 emergency medical service and rescue runs. They already have a system of obtaining pre-arrival instructions so they can prepare the necessary medications and equipment ahead of time. Scott Williams reported that the Ramsey County Emergency Communications Center receives over 100,000 calls a year. The Emergency Form will help their emergency responders avoid surprises and arrive prepared for individuals needing special assistance. Mark Hughes, MACPD member, proudly shared with the group that this form is the first in the country. He thanked Ramsey County and Saint Paul for their partnership and said that the Emergency Form can save lives.
Kare 11 and Access Press provided press coverage for the event and the Pioneer Press included an article on the event. HREEO Director Luz María Frías, MACPD Staff Liaison Alyssa Wetzel-Moore, and HREEO Public Information Officer Alex Dumke also attended the event. Registration forms can be found on Ramsey County's website.
Watch the Kare 11 news clip starting at 9 minutes15 seconds.
7TH Annual Multicultural Marketing Conference Diversity and Marketing Awards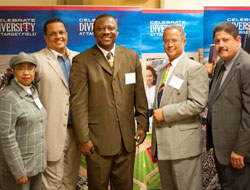 On April 5, 2011, the City of Saint Paul participated in the 7th Annual Multicultural Marketing Conference at the Saint Paul Area Chamber of Commerce. The event was presented by Aguilar Productions and included over 75 multicultural marketing executives for presentations on the ever-changing U.S. Asian-American, African, and African–American markets.
This year's presenters included experts from the world of multicultural advertising, marketing, and research led by Saul Gitlin, Kang & Lee Advertising; Baron Carr, B Carr Group; Al McFarlane, of McFarlane Media Interests; and Joel Glaser, of AMPERS (Association of Minnesota Public Educational Radio Stations). The presentations covered a variety of topics including cultural relevance when marketing to multicultural Asian consumers, a preview of the 2010 Census results for multicultural populations in Minnesota, and using Facebook, Twitter, and other social media as effective marketing strategies.
The conference included an awards luncheon that recognized the following corporations and organizations for their achievement in diversity and marketing: Minnesota Twins, HealthPartners, Metropolitan Economic Development Association (MEDA), Opus College of Business, National Black MBA-Twin Cities Chapter, Minnesota Multicultural Media Consortium, and Jovenes de Salud.
Minneapolis School District Exceeds Participation Goals on the new Minneapolis Educational Service Center
HREEO Director, Luz María Frías, was selected to serve on the Minneapolis Public Schools Minority, Women and Diverse Business Participation Oversight Committee (MWDB-POC) aimed at increasing minority-owned and women-owned business participation on the construction of the new Minneapolis Educational Service Center (ESC). The MWDB-POC committee is composed of five voting members, including Director Frías, and is charged with providing external review to ensure the project goals for minority, women, and diverse business participation were met during the construction of the ESC.
On March 10, 2011, the MWDB-POC announced the participation results of women-owned and minority-owned businesses on the ESC. The ESC project exceeded its 25 percent participation goal by 20 percent, and raised women-owned and minority-owned business participation to nearly half of all business partners.
The full Insight News article can be found here.
Results just in!
The road construction season is under way in the City of Saint Paul and the first residential street vitality project (RSVP) has just been awarded. Thomas & Sons Construction, Inc. was awarded the Page-Woodbury RSVP project for a bid price of $2,504,032.
This project carried a 25% Vendor Outreach goal of which 10% was to be subcontracted to small businesses, 10% to woman-owned businesses and 5% to minority-owned businesses.
We are very pleased to report that Thomas & Sons met the 25% goal with a total of $639,400 awarded to Vendor Outreach certified vendors with the following breakdown:
10% WBE goal - Achieved $260,000 (10.4%)
10% SBE goal - Achieved $250,400 (10%)
5% MBE goal - Achieved $129,000 (5.1%)

We continue to strive for increased opportunities for all of our businesses.
___________________________________
If you have any ideas or suggestions for HREEO's future newsletters, please feel free to contact Kelly Francis at Kelly.Francis@stpaul.gov, or at 651-266-8913.
Notice: If you are interested in receiving future editions of the newsletter, please subscribe by clicking here or visiting www.stpaul.gov and clicking on the e-Subscription icon. You'll find our newsletter under Newsletters > Human Rights & Equal Economic Opportunity.