Mayoral Internship Program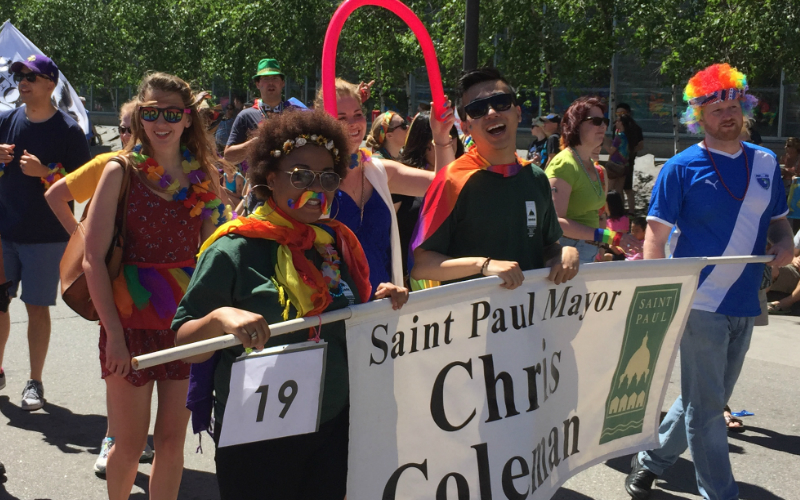 Image: Mayor's Office staff and interns marching at the 2016 Twin Cities Pride Parade.
The Office of Mayor Chris Coleman offers unpaid, full or part-time internships to undergraduate or graduate students currently enrolled at an accredited college or university and non-traditional students. Recent graduates will also be considered. Those selected will have the opportunity to work closely with local Government appointees, gain networking experience, obtain institutional knowledge of government practices, engage residents and support the Most Livable City in America.
Applicants must be proficient in Microsoft Office programs. The ideal candidate will have strong written and oral communication skills and an ability to work in a fast-paced environment. They will also have good customer service experience and a dedication to public service. The City of Saint Paul is an equal opportunity/affirmative action employer. Women, persons of color, members of the LGBT community, and individuals with disabilities are strongly encouraged to apply.
Responsibilities:
Supporting outreach staff: attending meetings and events, conducting research, communicating with constituents and key community groups, conducting research, drafting letters and memos and writing reports.
Supporting media staff: compiling news clips, conducting research, and writing press releases, briefing memos, talking points and correspondence.
Supporting marketing staff: promoting the music scene, producing web content, writing review, curating events for the Year of Music calendar.
Have some administrative duties: answering phones, data entry and filing.
Mayor's Office internships provide students with valuable work experience for professional careers. Interns have the opportunity to work with and assist various divisions of the Mayor's Office, including administrative, policy, government relations, outreach, and press staff.
Hours and compensation: All internships are unpaid. Part-time (15-20 hours per week) and full-time internships are available year-round (Sept-Dec, Jan-May, June-Aug).
Application process: In order to process your internship application, please submit the following materials listed below in one package.
Cover Letter (indicating availability)
Resume
Writing Sample (one page maximum)
References
Only complete application packages will be accepted for consideration.
Send cover letter indicating availability and areas of interest, resume, writing sample and references to mayor@ci.stpaul.mn.us or:
Office of Mayor Chris Coleman
Attn: Internship Program Coordinator
390 City Hall
15 W. Kellogg Blvd.
Saint Paul, Minnesota 55102
---
We are taking applications NOW for the SUMMER PERIOD (June-August)
Applications will be considered on a rolling basis until positions are filled.
---
If you have questions, please call call 651 266 8510