Mayoral Internship Program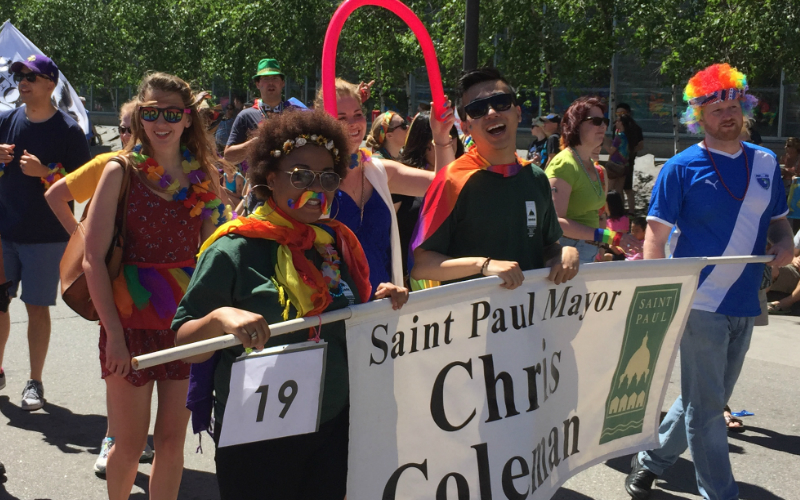 Image: Mayor's Office staff and interns marching at the 2016 Twin Cities Pride Parade.
The Office of Mayor Chris Coleman offers unpaid, full or part-time internships to undergraduate or graduate students currently enrolled at an accredited college or university and non-traditional students. Recent graduates will also be considered. Those selected will have the opportunity to work closely with local Government appointees, gain networking experience and obtain institutional knowledge of government practices.
The City of Saint Paul is an equal opportunity/affirmative action employer. Women, persons of color, members of the LGBT community, and individuals with disabilities are strongly encouraged to apply.
---
MAYORAL INTERN PROGRAM OVERVIEW
The Mayor's Office Internship Program comprises of three major components:
Learning Project: As the focal point of this internship, interns will develop and work on a special project that meets their interest and an identified public service need.  Candidates will have the opportunity to propose ideas, receive ample feedback and execute a meaningful body of work.
Professional Development for Public Service: Interns can expect networking opportunities and unmatched mentorship for a positive launch into the public sector. Interns will participate in keystone efforts, such as the Vitality Perspective Series, the Citywide Racial Equity Initiative, as well as attend City Council hearings and major events. Interns will be exposed to a wide range of cross-sectoral collaborations and policymaking, helping them to stand out as connected, people-centered and effective leaders.
Office Support: Interns will assist various functions of the Mayor's Office, including but not limited to: administrative support, conducting research, managing incoming constituent inquiries, drafting memos, staffing the Mayor and joining staff at events.
Essential Duties and Qualities:
Support front desk coverage; support constituent communications and requests
Research and compile media clips
Limited content writing/editing for City of Saint Paul webpages
Fulfill all three components of Mayoral Internship Program
Proficiency in Microsoft Office software
Effective communicator – both written and oral; impeccable grammatical, spelling, and proofreading abilities
Demonstrate welcoming, respectful and equitable service to all constituents and parties
Detail oriented, self-directed and willing to take initiative
Reliable transportation to our office in City Hall and local offsite assignments
Training & Supervision
Attend intern office orientation and work planning session
Complete technical and skills training as needed
Time Commitment
Must be able to work at least 8 hours/week during business hours
Must commit to 1 weekly supervisor meeting
Optional opportunities to staff the Mayor and/or attend events with staff on some evenings and weekends
Benefits
Build your portfolio of work
Unparalleled networking opportunities and job skills development
Opportunity to attend local music shows, free of charge
A creative, challenging, and supportive work environment
We are taking applications NOW for the Fall period (September - December). 

To apply, please submit the following materials to liz.xiong@ci.stpaul.mn.us. 
Cover Letter (indicating availability)
Resume
Writing Sample (two page maximum)
Letter of Recommendation
Applications may also be mailed:
Office of Mayor Chris Coleman
​Attn: Liz Xiong, Marketing & Outreach Manager
390 City Hall
15 W. Kellogg Blvd.
Saint Paul, Minnesota 55102