After-school and Summer Learning
Summer Learning - Keeping kids active and learning all summer!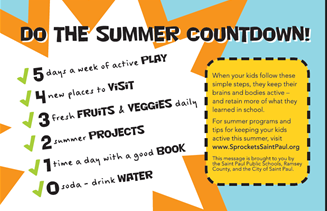 Research shows young people experience learning loss when they do not engage in educational activities over the summer. Start planning activities to avoid learning loss today! A starting point is to Do the Summer Countdown. Mayor Coleman and Superintendent Silva have created six simple steps to help children's brains and bodies stay active all summer long and retain more of what they learned. View this video on summer learning.
Looking for other activities? Check out the Sprockets Program Finder and Event Calendar. Don't forget to also check out what Parks and Recreation summer activities are available. Parents! Sign up for the new parent-focused summer text service.
To subscribe for text alerts, text STPAUL SUMMER to 468311
To subscribe for email updates through text, text STPAUL SUMMER to 468311
The summer program text reminders will run from early June to late August. Standard messaging and data rates may apply. Parents should refer to their wireless plan for details.
Summer Learning Messages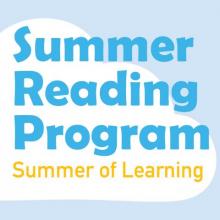 Celebrating Independence Day -July 1, 2014 With July 4th around the corner, challenge & engage your child to learn more the holiday's origin. Treat him/her to a cool, free fireworks show at the Capitol Mall. The Saint Paul annual fireworks display will be open to the public at 8 p.m. at the State Capitol Mall. Pre-packaged foods and beverages are allowed, but grills, alcohol, and personal fireworks are prohibited.
The event area will be closed to vehicle traffic from Rice Street to Cedar Street and from University Avenue to 12th Street West. While there are parking ramps nearby, consider taking public transit, including the new light rail, to and from the show.
Happy 4th of July! --------------------------------------------------------------------------------------------
Saint Paul Public Library's Summer Reading Program
The Saint Paul Public Library's Summer Reading Program is for kids ages 0-18. Earn prizes for reading and doing fun activities! Download a copy of the 2014 Summer Reading Program Calendar today and plan your family's summer visits to the libraries. Don't forget to stop by the summer kickoff events.
Don't have a library card? It's free for Saint Paul residents and easy to sign up. More about the Library's Summer Reading Program. -------------------------------------------------------------------------------------------- Create a Green Line experience with your family The METRO Green Line officially opened June 14th. Take the Green Line as part of your transportation method on a family outing. More about the Green Line at: http://www.metrotransit.org/greenline -------------------------------------------------------------------------------------------- Sprockets Program Finder
Looking for summer programs or fun things to do in Saint Paul? Discover your options with Sprockets Program Finder. The finder allows users to narrow their search by location, keyword, program type and more to find youth programs and activities near their home or school. Use the Sprockets Program Finder. --------------------------------------------------------------------------------------------
Engage your child in research Is your family visiting a new place this summer? Engage your child and have him/her help with online research. More at: bit.ly/1meZ1n5
Sprockets
In 2006 Mayor Coleman launched a citizen commission to come up with a plan for quality afterschool and summer programs for youth. The result is a citywide network called Sprockets. Looking for after school activities, summer programs, or just fun things to do in Saint Paul? Visit Sprockets' Program Finder page to learn about options available. Don't forget to also check out the calendar of events. Are you an after-school and/or summer provider not yet connected? Join the Sprockets Network. Being part of the network gives your organization access to many tools and resources, and to be a part of the collaborative effort to improve quality out of school time experiences for youth in Saint Paul.
NLC Afterschool Video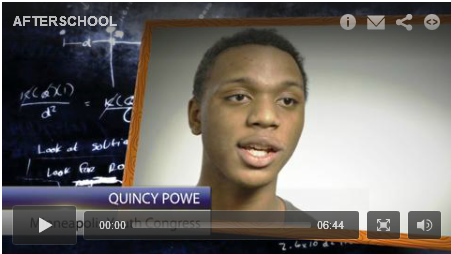 Click here to watch the video.
Afterschool hours serve as a great opportunity to further learning for children and youth. Watch this video produced by the National League of Cities (NLC), featuring Mayor Chris Coleman and other mayors across the nation, talking about the importance of afterschool.
The elected officials highlighted in the video are:
Mayor Chris Coleman, Saint Paul, MN
Mayor Jean Quan, Oakland, CA
Mayor Michael Hancock, City and County of Denver, CO
Mayor George Heartwell, Grand Rapids, MI
Councilmember Espino, Fort Worth, TX
Former Mayor Menino, Boston, MA
Mayor Rahm Emanuel, Chicago, IL
Mayor Stephanie Rawlings-Blake, Baltimore, MD
More information on NLC's afterschool initiatives can be found here.
No School Day Programs
In partnership with the Parks and Recreation Department, No School Day programs are available at recreation centers across the city over Spring Break, Winter Break and during the Statewide Teacher Conferences. The City provides fun and safe places to learn while the adults in their lives are at work.
Youth Commission
High school students from neighborhoods across the city work with civic and community leaders to solve community issues. The youth commission organizes community action projects that advance the goals of the Saint Paul Youth Policy Platform, a document that outlines the top five issues youth feel are most important to address. Together, young people on the youth commission stand up, speak up, LEAD. For more information, visit the Youth Commission website.