Safe Housing
In alignment with public health official guidance, the public hearing for the S.A.F.E Housing Saint Paul has been laid over by the City Council until May 20, 2020.​
The S.A.F.E. Housing Tenant Protections are a set of five stable, accessible, fair and equitable policies for the City of Saint Paul. It includes the following policies:
Tenant Rights and Responsibilities Information:

The Tenant Rights and Responsibilities Information policy ensures tenants and landlords know their rights, responsibilities and what resources are available to them. It requires that a packet and poster summarizing this information be provided to tenants by the landlord at lease signing.

​​

​

Security Deposit Limit:

The Security Deposit Limitation policy ensures equitable access to housing by ensuring tenants will not be required to pay more than a single month's rent as a security deposit. It also includes a prepaid rent limitation that ensures tenants will not be required to pre-pay more than one month's rent at move-in.

Tenant Screening Guidelines:

The Tenant Screening Guidelines policy ensures fair access to housing by creating uniform screening criteria for applicants related to rental, criminal and credit history.

Just Cause Notice:

The Just Cause Notice policy increases housing stability by ensuring landlords provide just cause for nonrenewal of lease or termination of tenancy at the time notice is given. Just cause includes nonpayment of rent and repeated late payment of rent,  among other criteria.

Advance Notice of Sale:

The Advance Notice of Sale policy supports the preservation of affordable housing and addresses displacement pressures faced by tenants. It ensures that a notice of a proposed sale be provided to the City and tenant before an affordable property is placed on the market as well as after the transfer of ownership occurs, coupled with a tenant protection period after the sale.​
Learn more about the S.A.F.E. Housing Tenant Protections here.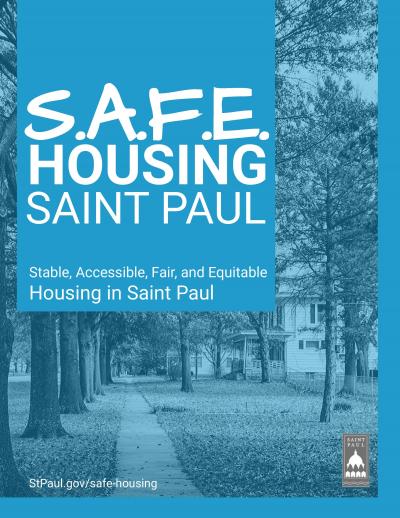 ---
In the summer of 2019, the Office of Financial Empowerment, Department of Planning and Economic Development and City Council held a series of convenings with fair housing stakeholders to gain perspective on the housing barriers facing our community.  View a summary report of these meetings here: