Margaret Park Site Improvements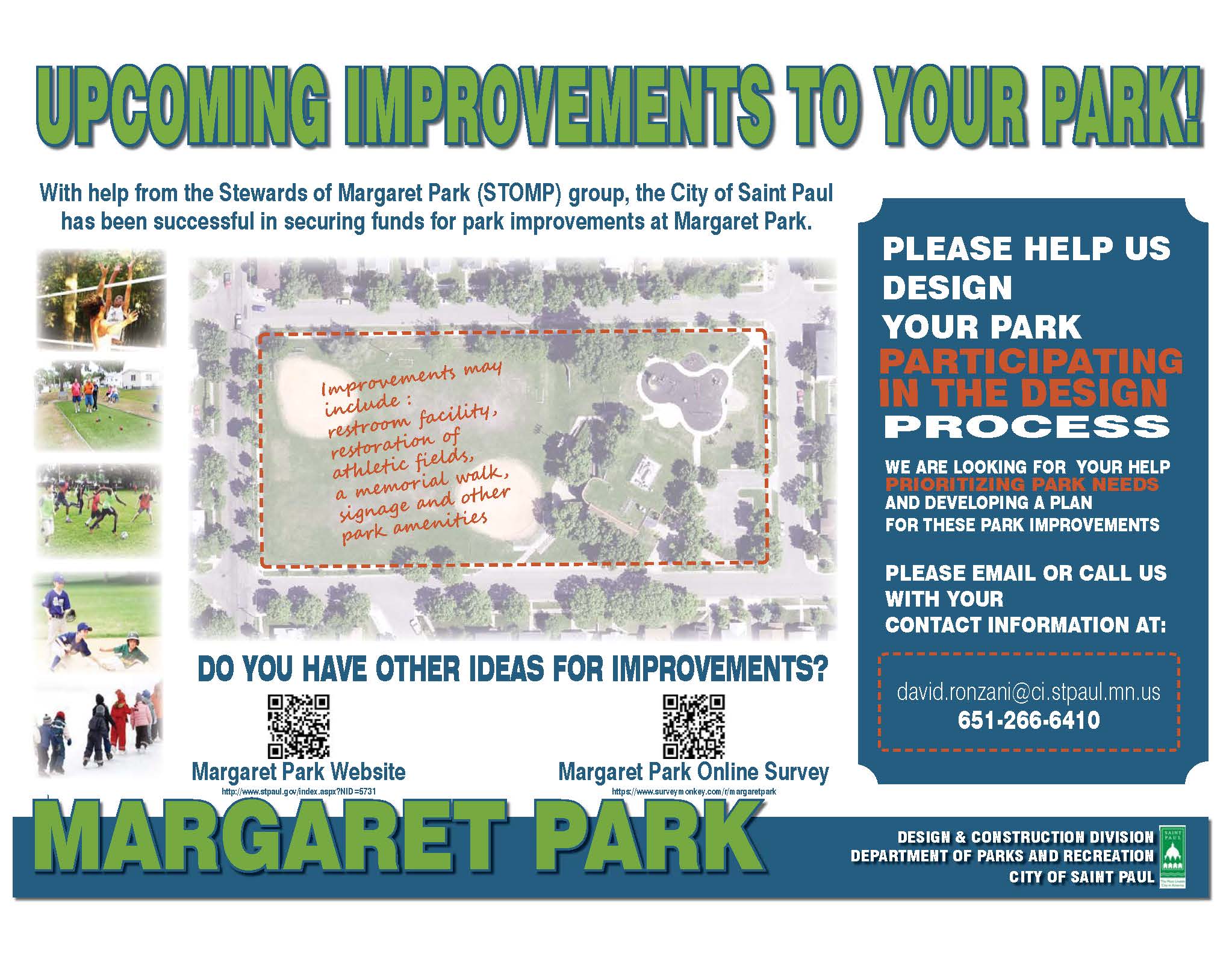 Updates
To sign up for email updates click here.
UPDATE: 6/15/2
Despite the recent rain, Margaret Park site construction has been progressing quickly and is expected to wrap up in the coming weeks.  Once the park has re-opened,  many of the newly re-seeded areas will remain fenced through September to ensure proper turf establishment. During this time, we ask that park users try to avoid these areas whenever possible.
Project Overview
In 2012, the Margaret Recreation Center building had deteriorated beyond repair and subsequently removed. With the help of the Stewards of Margaret Park (STOMP), the City of Saint Paul has been successful in securing funds for park improvements at Margaret Park. These improvements may include:
A new restroom facility
Restoration of Athletic Fields
Signage
Additional walking paths
Community Events
Community Meeting #1: October 5, 2015. 6:00 - 7:30 PM - Eastside Enterprise Center
Community Meeting #2: December 14, 2015. 6:00-7:30 PM - Eastside Enterprise Center
Community Meeting #3: February 1, 2016. 6:00-7:30 PM - Eastside Enterprise Center
Saint Paul Parks and Recreation staff held three informational sessions to gather community feedback prior to the start of Margaret Park Design Process. These sessions included two Pop-Up Community Meetings (in conjunction with previously scheduled events) at Margaret Park for the upcoming park improvements project, and an appearance at the Duluth and Case Family Fun Night. During these events, staff encouraged members of the community  to stop by our table to let us know how we can improve Margaret Park to best meet the needs of your neighborhood.
Event #1: During Youth Soccer at Margaret Park - Monday July 27, 2015. 2:00 pm- 4:00 pm
Event #2: During Safety Summer Night Picnic -Thursday August 13, 2015 4:30 pm - 6:30 pm
Duluth and Case Family Fun Night: Thursday June 25, 2015 6:00pm - 7:30pm
In addition to attending the scheduled events, a brief survey was also provided:
Your responses will help our design staff understand how the proposed improvements can best accommodate the surrounding community: