Events Calendar
Citywide Spring Cleanup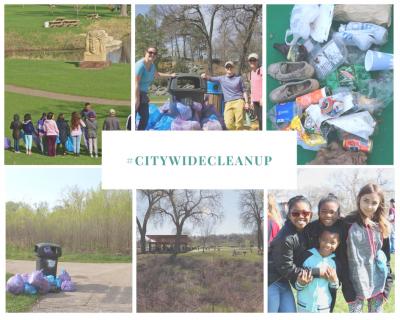 Due to the recent snowfall and unseasonably cooler weather, the Citywide Spring Cleanup will not be held on April 21, 2018. We do understand the need to help take care of our environment by cleaning our parks and streets, so we are asking the public to stop by a designated recreation or community center from April 25 - 27 to pick up supplies to help clean up the city anytime between April 28 - May 5.
NEW 2018 Citywide Spring Cleanup details:
Supply pick up between April 25 - 27 while supplies last.  A limited quantity of thank-you gifts will be available at pick-up sites.
Cleanup your parks and neighborhoods anytime between April 28 - May 5.
We ask you to either leave your bag by a park trash can or dispose of them yourselves. Please do not leave items along the streets as they will not get picked up in a timely manner.
April 25-27 supply pick-up locations:
Ward 1: Jimmy Lee/Oxford Community Center (270 N Lexington)
Ward 2: El Rio Vista Recreation Center (179 E Robie St)
Ward 3: Highland Park Community Center (1987 Ford Pkwy)
Ward 4: Hancock Recreation Center (1610 Hubbard Ave)
Ward 5: North Dale Recreation Center (1414 N St. Albans)
Ward 6: Phalen Recreation Center (1000 E Wheelock)
Ward 7: Dayton's Bluff Recreation Center (800 Conway St)
Please note that you must pick up supplies during rec center open hours. We thank you for being patient with us in making this decision and we hope to see you out in the parks soon!

---
Bruce Vento EcoStewards Drop-in Events
We are holding drop-in events to assist in restoration of Bruce Vento Nature Sanctuary. All tools will be provided. No experience is necessary- this is a great activity for anyone who wants to get outside, explore a new park and learn about restoring our natural areas. Join us on your way home from work!
Who: Individuals or small groups of all ages
Why: Explore a new park, give back to the community, be outside and meet awesome people!
Meeting Location: Bruce Vento Nature Sanctuary (4th St E, Saint Paul 55106). CLICK HERE for a map of the meeting location.  Please note the parking lot is still under construction so you may park along the road. 
​When:
Thursday, April 19

 | 

5:30-7:30 pm ** location change please email Tricia at tricia.wehrle@ci.stpaul.mn.us for more details ** 
Saturday, April 28 

 | 

9:00-11:00 am
Tuesday, May 1 

 | 

 5:30-7:30 pm
Saturday, May 12 

 | 

 9:00-11:00 am
Thursday, May 17 

 | 

 5:30-7:30 pm
More dates listed in the registration page below
Registration: Pre-registration is appreciated. Register here, as this will help us determine the amount of supplies we need to bring each week.