Events Calendar
Citywide Spring Cleanup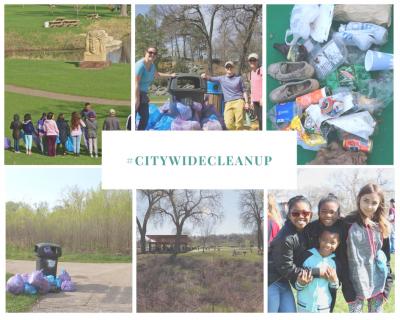 Join forces with family, friends and neighbors for the 32nd annual Citywide Spring Cleanup!
When: Saturday, April 21 | 9-11:30 am
Why: Each year, hundreds of volunteers gather across Saint Paul for the Citywide Spring Cleanup to pick up garbage that has recently become exposed due to the melting snow.
Who: Individuals and groups of all ages come together to help beautify the city of Saint Paul.
Where and How: Participating is easy! Register below, and then drop by your selected CLEANUP SITE any time between 9 and 11:30 am, on Saturday, April 21st to pick up bags, gloves and snacks and meet your neighbors and community members. Then, head out and clean up your park or neighborhood of choice.
Cleanup Sites
Como Lakeside Pavilion (1360 N Lexington Pkwy)
Central Village Park (457 Central Ave W)
Cherokee Park (700 Cherokee Heights Blvd)
Frogtown Farm Park (662 N Victoria St)
Highland Picnic Pavilion (1200 Montreal Ave)
Midway Peace Park (Intersection of Bigelow Ln and Griggs St)
Phalen Picnic Pavilion (1600 Phalen Dr)
Swede Hollow Park (Intersection of Greenbrier St and Margaret St)
Trout Brook Nature Sanctuary (1200 Jackson St)
Thank you to Andeavor for sponsoring all the donuts this year!
---
Bruce Vento EcoStewards Drop-in Events
We are holding drop-in events to assist in restoration of Bruce Vento Nature Sanctuary. All tools will be provided. No experience is necessary- this is a great activity for anyone who wants to get outside, explore a new park and learn about restoring our natural areas. Join us on your way home from work!
Who: Individuals or small groups of all ages
Why: Explore a new park, give back to the community, be outside and meet awesome people!
Meeting Location: Bruce Vento Nature Sanctuary (4th St E, Saint Paul 55106). CLICK HERE for a map of the meeting location.  Please note the parking lot is still under construction so you may park along the road. 
​When:
Thursday, April 19

 | 

5:30-7:30 pm
Saturday, April 28 

 | 

9:00-11:00 am
Tuesday, May 1 

 | 

 5:30-7:30 pm
Saturday, May 12 

 | 

 9:00-11:00 am
Thursday, May 17 

 | 

 5:30-7:30 pm
More dates listed in the registration page below
Registration: Pre-registration is appreciated. Register here, as this will help us determine the amount of supplies we need to bring each week.