Planning and Economic Development Leadership Team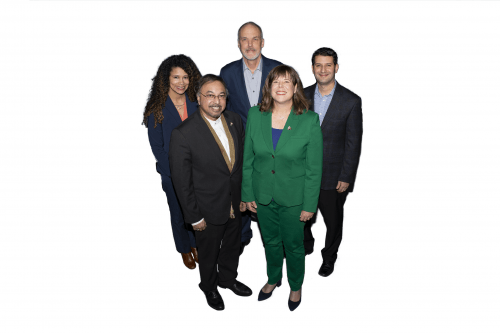 Front row (L-R): Dr. Bruce Corrie, Kristin Guild. Back Row (L-R): Kayla Schuchman, Martin Schieckel, Luis Pereira.
Dr. Bruce Corrie is the director of Planning and Economic Development, appointed by Mayor Melvin Carter in 2018. He brings to PED over 30 years of experience as an economist rooted in the diverse neighborhoods of Saint Paul. Through this work, he has documented the economic contributions and potential of immigrant and minority communities to change perceptions of these groups from deficits to assets.  In 2000, Governor Ventura appointed him to chair the Working Group on Minority Business Development, creating strategies to tap into the dynamic entrepreneurial energy in Minnesota's immigrant and minority communities. That effort resulted in a report elevating the important role of minority and immigrant entrepreneurship across the state. As an active community leader, he has served on multiple boards and groups including the Federal Reserve Bank of Minneapolis, Midway Chamber, Minnesota Hmong Chamber of Commerce, Minnesota Indian Business Alliance, US Small Business Administration, and the Saint Paul Neighborhood Star Board. With community leaders,  he pioneered a strategy of economic development in low income areas rooted in the cultural assets of residents. This strategy is reflected in Saint Paul's vibrant cultural districts including Little Mekong, Little Africa and Rondo. His views have appeared in a wide range of local, national and international media and academic publications. As a former Dean of the College of Business and Associate Vice President at Concordia University, he developed academic program in Business and served on business accreditation panels that evaluated institutions and programs in India, Hong Kong, Mongolia and the US. Dr. Corrie has co-edited four books, and holds a PhD in economics from the University of Notre Dame. He loves to travel and has visited 27 countries in six continents. He is actively implementing Mayor Carter's vision of building a Saint Paul that works for all.
---
Kristin Guild is the Deputy Director of Planning and Economic Development, responsible for department operations and assisting Director Dr. Bruce Corrie in department governance and overall management. Kristin has 25 years of experience in the field, including a decade leading the Business Development team in Minneapolis and work in planning and historic preservation in Upstate New York, New York City and Minnesota.
Kristin a Master's degree in Regional Planning from Cornell University, a Bachelor's degree from Carleton College, and holds a certificate in Economic Development Finance. She serves on the Ramsey County Workforce Innovation Board and is involved with the Metropolitan Consortium of Community Developers mentorship program.
Kristin enjoys travel and has visited Japan, Kenya, several European countries, and most recently Mexico and Peru. She and her husband Mike make regular trips to the Boundary Waters Canoe Area and have a goal to visit every Minnesota State Park.
---
Planning Director Luis Pereira previously worked as a city planner for the City of Saint Paul from 2006 to 2012. He also has experience working for the Metropolitan Government of Nashville-Davidson County in Tennessee and served as team lead for Minnesota Housing Finance Agency single family community development programs. He most recently served as economic development program manager for a neighborhood-based development initiative supporting Latino-owned businesses in Moline, Illinois, and provided technical assistance to rural and tribal communities in Arizona, Maine, North Carolina, and South Dakota.
Luis is an AICP-certified planner with the American Planning Association, a Housing Development Finance Professional, and has a certificate in program evaluation. He has a Bachelor's degree in economics and political science from the University of Minnesota, and a Master's Degree in regional planning from Cornell University. Luis has lived in Colombia and the Dominican Republic, visited several other countries in the Americas, and speaks Spanish with some proficiency in Portuguese.   Fun facts:  He has played percussion in two now-defunct Latin fusion bands in the Twin Cities, and has more recently learned to play steel pan quads.  Yuselmi is Luis' network-administrator, soccer-playing wife, and Alexandra is their expressive 19-month old daughter.
---
Economic Development Director Martin Schieckel is an experienced economic development professional, non-profit administrator, and small-business owner. In his twenty years with the city Martin has worked on countless projects large and small, but gets the most satisfaction out of helping small business owners realize their dreams.  Significant projects with the City include the Smith Avenue Transit Center, downtown Green Line infrastructure, the re-opening of the Palace Theater, CHS Field, Victoria Park redevelopment, Schmidt Brewery commercial redevelopment and Lawson Ramp retail Prior to coming to Saint Paul, Martin spent ten years doing economic development work in the Cedar-Riverside neighborhood of Minneapolis, and before that owned and operated several small businesses. Martin holds a Bachelor of arts degree from Carlton. When not working to build our city, he enjoys hiking, biking, and canoeing near his home in Stillwater.
---
Housing Director Kayla Schuchman spent nine years implementing affordable housing policy through successive roles at Minnesota Housing, the state's affordable housing agency. Most recently, she was a project manager for the Saint Paul-based affordable housing developer CommonBond Communities, where she structured deals and built community support to develop affordable multifamily projects. She also served as co-chair of the Metropolitan Consortium of Community Developers Housing Committee, a regional association of community development organizations; and serves as a board member for Urban Homeworks, a nonprofit that transforms vacant properties into housing.
Kayla is a certified Housing Development Finance Professional through the National Development Council. She has a Bachelor's degree in economics from Macalester College, and a Master's degree in public policy with a concentration in economic and community development from the University of Minnesota's Humphrey Institute of Public Affairs.