Shepard Davern Area Planning and Zoning Study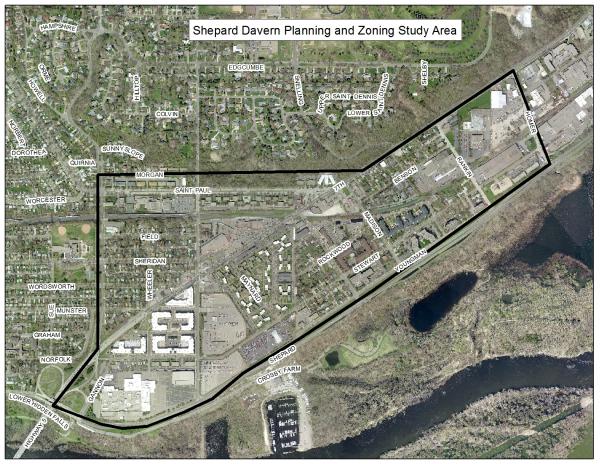 The Shepard Davern area is located at the southern end of West Seventh Street in Saint Paul. Just over the river from the Minneapolis-Saint Paul International Airport, this area is a truly mixed-use district with high density housing, commercial buildings and industrial uses all within close proximity. The area is adjacent to the Mississippi River and Crosby Farms Park as well as the Highland bluffs as well, providing natural amenities for residents. With these unique resources, the Shepard Davern area is important to the landscape of Saint Paul.
In 1999, a small area plan was written for the area, and zoning overlay districts and a sign plan were put in place to help guide development. In 2005, the area was called out in the Highland District Plan as an important commercial district. The study examined existing tools and plans for the area, and put forward updates for the future of Shepard Davern. As seen in the image above, the Shepard Davern study area starts at the west with the Highway 5-West Seventh Street Bridge, following Shepard Road east to Homer Street, north to West Seventh Street, west to Saint Paul Avenue, west to Edgcumbe Road.
Project Completion
The Saint Paul City Council held public hearings on the Shepard Davern Plan & District 15 Plan Amendment and the Shepard Davern Zoning Study on January 21, 2015. On January 21, the City Council passed a resolution adopting the final version of the Shepard Davern Area Plan. On January 28, the City Council passed an ordinance adopting zoning changes consistent with the recommendation from the Planning Commission. See this memofrom the Neighborhood Planning Committee for more details on process.
Shepard Davern Area Plan and Zoning Study information
Shepard Davern Area Plan
Shepard Davern Zoning Study
Community Task Force
A task force was appointed by the Saint Paul Planning Commission to develop recommendations for the study area. The task force is comprised of residents, business owners, and non-profit representatives from the area, and met regularly through 2013 and into 2014.
History of Planning and Zoning
The Shepard Davern area has been the focus of many planning efforts in recent years, as summarized below with links to full documents.