Community Liaison Officer
Community Liaison Officer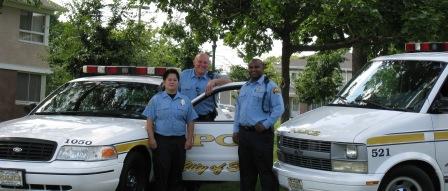 CLO – Community Liaison Officer
A Community Liaison Officer (CLO):
works with sworn police personnel in the field and/or office
assists sworn police officers with criminal investigation cases
attends community meetings
provides assistance with translation, interpretation and information gathering during neighborhood events and/or with victims of crimes
may be assigned to special events (winter carnival, taste of Minnesota, parades etc)
Qualifications
You must:
be at least 18 years old
be a United States citizen
not have any felony convictions; including pardons and/or expungements (according to Minnesota Statute 364.09)
have a High School Diploma or GED Certificate
have a valid MN Class "D" driver's license or equivalent out-of-state license, with no suspensions or revocations (suspension for parking related offenses may be excluded)
be in good physical condition (for information on Physical Requirements contact the Saint Paul Police Department/Recruitment Unit at 651-266-5886
be bilingual and fluent (speaking, reading and writing) in a secondary language, which may include (but not restricted to) Spanish, Hmong, Cambodian, Laotian, Vietnamese, Somali or any other foreign language. American Sign Language is also recognized as a second language
be enrolled in a POST (Police Officer Standards and Training) approved Law Enforcement/Criminal Justice Program
maintain a satisfactory level of progress while in college /university and skills program
complete education and license requirements within the four years
For more information regarding the SPPD, please contact our background/recruiting office at 651-266-5595.
Application Process
The City of Saint Paul must have a current posting for the position of "Community Liaison Officer." If you would like information on current job openings contact the City of Saint Paul Human Resources Office at:
Office of Human Resources Telephone: 651-266-6500
City Hall Annex, Room 200
25 West 4th Street
Saint Paul, Minnesota 55102
You can also visit our Saint Paul Job Openings site to browse current job openings.
General Position Information
Salary: Community Liaison Officer (CLO) $34,300.00 annually
Vacation: 1 – 4 years …………….12 days
After 5 years ……….....18 days
Holiday: Ten days per year
Sick Leave: 14 days per year
Insurance: After thirty days of employment, you and your dependents qualify for City paid contributions toward health and life insurance benefits
Promotional Rights: After two years of employment with the SPPD you will qualify for promotional rights, which will guarantee your eligibility for a position in the SPPD Academy
Tuition Allowance: The City of Saint Paul has a tuition reimbursement program. Depending on availability, you may receive up to $625.00 per year for Law Enforcement related education.