Police Chaplain Program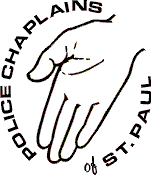 Since its inception in 1968, the Saint Paul Police Chaplain Program (SPPC) has served police officers and citizens in times of need. Whether assisting individuals in searching for spiritual or religious understanding, or offering a compassionate, caring, and spiritual presence to those in difficult circumstances, the Police Chaplains provide a range of support to those in need of guidance. In addition to providing pastoral care and ministry to Saint Paul Police Officers, Police Chaplains have been called upon to assist officers in rendering assistance to victims, family members, and other citizens with whom police officers come into contact. Although the program is non-denominational, Chaplains come from a variety of faiths and belief systems, and offer practical and spiritual guidance to everyone irrespective of their religious affiliation. See more information about the Chaplain program.
Police Reserve Program
The purpose of the Saint Paul Police Reserve is to augment the Saint Paul Department of Police with well trained reserve officers to be utilized in non-law enforcement situations that (1) will be of such duration so as to deplete the regular patrol force on the street, or (2) the number of regular officers on duty is inadequate to cope with the situation. Since September 19, 1966, the Saint Paul Police Reserve, by authority of the Chief of Police, has been approved for utilization in limited situations for traffic and crowd control at civic events, natural and man-made disasters (major storms, floods, fires and accidents) and like happenings. Reserve officers' duties do not include enforcement of the general criminal laws of the State unless accompanied by a licensed peace officer.
Police Band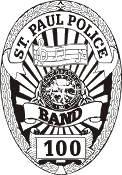 The Saint Paul Police Band was formed with three police officers in 1923. The band now consists of police officers as well as civilians, and consists of both a marching band and a concert band. It participates in about 20 parades per year and performs concerts and rehearsal throughout the year. For more information come sit with the Concert Band any Tuesday at 7:30 pm, at Harding High School Band Room (1540 E. 6th St.) or call: Stephanie Christensen, Band Secretary, 952-935-4052.
You can also follow the band and learn more about them at : www.stpaulpoliceband.com
On November 7, 2008, the Saint Paul Police Department Band was inducted into the Minnesota Music Hall of Fame.
See a sample of the Saint Paul Police Band (drummers) in recent action!
Police Internships
The Saint Paul Police Department offers a limited number of internships throughout the year. This non-paying internship is open to college level students who wish to purse a career in law enforcement and who must complete an internship as part of their academic requirements.
The structural or procedural guidelines for this internship program are based on each student intern's area of interest and their expectations of the Saint Paul Police Department. As an intern, the student will be exposed to many different aspects of the department. Intern duties and responsibilities will vary from student to student, and may include some clerical duties and other specified areas of interest and needs of the department. In addition, we will ascertain what type of skills and abilities the student has to offer in order to utilize them in a manner that benefits them as well as the Department. The Internship Program is a great opportunity for students who wish to experience the internal operations of a major police department before entering the competitive world of law enforcement.
Students wishing to apply must be 18 years old, and be currently enrolled in Criminal Justice or Criminology studies. Interns must complete all of their required hours to satisfy the internship requirements. Most important of all, students must agree to a criminal history record check. Each student must have a clear record in order to be eligible. Failure to comply with this requirement will be reason for no acceptance. Consideration is given on a first come, first served basis.
The Saint Paul Police Department Internship program is unpaid and usually scheduled Monday - Friday, 8 AM - 4 PM.
To be considered for an internship with the Saint Paul Police Department, you should complete the following:
Submit a request in writing to the Chief's Office stating your interest with the Saint Paul Police Department to, SPPD 367 Grove Street, Saint Paul, MN 55101.
Submit a letter to the Community Services Unit 367 Grove St, Saint Paul, MN 55101 from your school Advisor or Department Head stating that you are required to complete an internship for school credits. This letter should be written on letter head paper from your college and state how many hours are required to complete your internship.
Be willing to submit to a background investigation. This process may take up to 3 months. Note* All students should apply 3-4 months prior to the desired start date.
The Community Services Unit will call you to schedule an interview if you meet the criteria.
Once your background has been approved, you may be able to work the following areas; ACOP, Auto Theft, Crime Prevention, Family/Sexual Violence, Fraud and Forgery, Gangs, Investigations, Training, Homicide, Narcotics, SIU, VICE, etc.
We have a limited amount of space so your acceptance will be based on qualifications and when you turn in your application. Please note that the maximum time allowed to complete your internship is 12 weeks (approximately 480 hours, full time).
If you have any questions, please call Sergeant Eric Reetz at the Saint Paul Police, Community Partnerships Unit.
651-266-5485 Main