Police Explorer Program
Exploring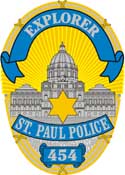 The Exploring program provides young adults ages 14-21 with hands-on experiences, skills, and opportunities to explore careers and lifetime interests. Through Exploring, you will investigate, learn, experience, be challenged, and have fun! These work-site based career exploration programs in your area let you see first-hand what a career really entails.
This post usually meets Tuesday evenings during the school year and costs only $35 to join. You are not required to stay in the program all year, but if you like what you're doing here, you probably won't want to leave!
History
The Saint Paul Police Explorer Post #454 is sponsored by the Saint Paul Police Department and is affiliated with the Exploring Division of the North Star Council, Boys Scouts of America. The goal is to offer young adults the opportunity to explore a career in law enforcement. Explorers will also assist the Saint Paul Police Department, the City of Saint Paul and its citizens in providing for the safety and order of our community. As part of this Explorer Post, you will be involved in assisting the police department with such events as the St. Paul Winter Carnival, The Minnesota State Fair, and The Taste of Minnesota.
As an explorer, you will also receive scenario-based training that you will use each year during the regional conference held at Breezy Point (near Brainerd, Minnesota) every April, and at the national conference held every other year at locations throughout the United States. We conduct an open house every September, followed by academy training, which continues through December. After the academy, training focuses on the Breezy Point Conference (which occurs every April). The national conference is held during the month of July every even numbered year. A June summer academy is held during the odd numbered years.
Requirements
Between the ages of 14 and 21
Pass written test
Pass thorough background investigation
Pass oral interview panel
$35.00 fee (payable to Boy Scouts)
Training
Basic first-aid & CPR
Minnesota State Statutes & St. Paul City Ordinances
St. Paul Police Department Policy and Procedures
Scenario based training in 12 law enforcement related topics
Meetings
Held at the Richard Rowan Training Center 600 Lafayette Road
Tuesday Evenings from 6:30pm until 9:30pm
Some Saturday trainings throughout the year
Ride-Along Program
Members who satisfactorily complete their 1 year probationary period are eligible for 3 ride-a-longs per calendar year
No uniforms or police related clothing
Must attend training class
St. Paul Police Explorers are NOT police officers and not allowed to make arrests or conduct other police related activities unless specifically instructed to do so by a post advisor and under direct supervision. This program is designed to be a safe, fun and educational learning experience for the youth in our community. Members are expected to follow all exploring guidelines and remain law abiding or they will be asked to leave the program.
If you have questions or concerns please contact us via our e-mail address: e-mail