Dockless Bikes and Scooters
In Saint Paul, we want you to have choices. That's why we offer a number of ways to get around that are both cost efficient and reliable. By using bus, light rail, bikes, scooters, or walking you can find a simple and safe way to get to your destination.
Metro Transit  Bike  Walk  Future Mobility
Shared Mobility Options to Travel Throughout Saint Paul
More About Scooters        More About Dockless Bikes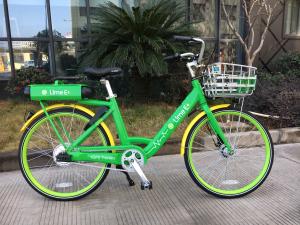 In August 2018, Saint Paul added two new ways for residents and visitors to explore the city and get to their final destination – dockless bikes and electric-assist scooters, or e-scooters. Riders can begin their ride anywhere in the city where a dockless bike or scooter is available. When the rider reaches their designation, they safely place the bike or scooter in the public right-of-way, or boulevard (the city-owned property between the street curb and sidewalk). Both options are operated with smartphone apps in which riders set up individual accounts with third-party vendors to find, unlock and rent a bike or scooter.
These new transportation options can be fun and affordable, connecting people in new ways. They are also new additions to our community and all users have a responsibility to use them safely. Vendors have tools and resources to help you keep yourself and others safe when using the bikes and scooters. View Lime's safety and instructional videos. View Bird's safety instructions.
Dockless Bike Program
Saint Paul has partnered with Lime to provide dockless bike sharing services citywide. Lime will provide both traditional pedal bikes, and, eventually, electric-assist bikes which can help make traveling up some of Saint Paul's many hills a bit easier. The Nice Ride docked bike stations will continue to be available this season. 
Access for All
Lime has a special program called Lime Access to allow users without smartphones or credit cards to access Lime vehicles (dockless bikes and scooters), as well as a discounted rate program for individuals who qualify. For more information about this program, click here. 
Saint Paul's Electric Scooter Sharing Pilot Program
On August 1, the City Council unanimously approved an e-scooter pilot program allowing residents and visitors to use e-scooters from a variety of companies. The pilot program ended on November 30, 2018. There were two scooter vendor companies operating in Saint Paul: Lime and Bird. The program will be evaluated to determine if it should continue long-term. Please take this short survey to share your feedback about Saint Paul's scooter pilot program. 
Here's some quick tips about using electric scooters:
Scooters are motorized, and must follow the rules of the road. They are permitted on city streets and on bike lanes and bike trails that allow motorized vehicles. Saint Paul Parks do not allow motorized vehicles on trails or bike paths.
Scooters should NEVER be used on the sidewalks, except when briefly entering or exiting a scooter from the parked position on the public right-of-way or boulevard.
What should I do if a scooter (or bike) has been damaged or parked incorrectly?
Contact the scooter or bike company directly to report a damaged or incorrectly parked scooter or bike that is on private property or blocking sidewalks: 
Lime:  888-LIME-345
Bird:  866-205-2442
Each scooter or bike should display a phone number to call, as well as a visible unique ID number you can use to help the companies quickly determine the location.
Scooter and dockless bike companies are required to address incorrectly parked scooters within 2 hours of being notified of a problem during weekdays.
If the same scooter or bike has not been moved within the two hour time frame - only after it has been reported to the company - please contact Saint Paul Public Works at 651-266-6100 or publicworksinfo@ci.stpaul.mn.us (regular business hours only).
Except for extraordinary circumstances, city staff will not relocate scooters.