Phone Books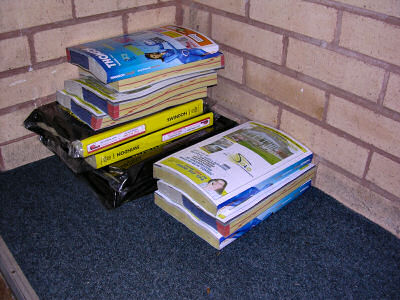 Remember to recycle your old phone books after the new phone books arrive at your home and/or business. Residents can set out phone books with all other paper products such as newspapers, magazines, junk mail, and cardboard that are collected at the curb or centralized container.
Don't include the plastic bag the phone book comes in. Plastic bags need to be taken to grocery stores for recycling. Businesses should check with their recycling hauler for collection options, or they can check with companies such as West Rock (Formerly RockTenn) in Saint Paul or International Paper in New Brighton to set up a collection system. 
Opt Out
400 million telephone directories are distributed each year. You can Opt Out! To receive fewer or no phone books, use the following contact information:
Verizon: Call Idearc, Inc.at 1-800-888-8448 > Select Option 2.
Other Companies: To opt out of directories published by other companies, visit www.yellowpagesoptout.com. This link can also be accessed within the Dex One website.