Recycle Smart
Know what goes in your recycling cart!
Recycling has been in the news a lot lately due to shifts in markets and international policy changes. This has left many Minnesotans wondering what is happening to the recycling placed in their carts, and what they can do now to support recycling.  In Saint Paul, 100% of residential materials are marketed in North America  with 85% of recyclable materials marketed in Minnesota.  Even with local and regional markets, the quality control and demand for clean material is ever increasing.  It is important now, more than ever, to know what can be recycled and keep problem materials out of your cart.
With support from Hennepin and Ramsey Counties, Saint Paul is partnering with the City of Minneapolis on a new Recycle Smart campaign to raise awareness about the importance of recycling the right things. The campaign will focus on important items to keep out of your recycling cart, such as plastic bags, large plastic items, and random metal items. Look for the campaign on Metro Transit ads, social media, and other media outlets starting in April. Learn more here throughout the campaign.
Learn what can be recycled in Saint Paul             Information for Minneapolis Residents
---
6/1/19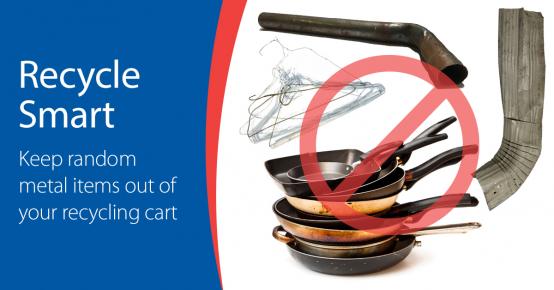 Random metal items such as pots and pans, pipes, hangers, and tools can damage equipment and harm workers at recycling sorting facilities and cannot be placed in your recycling cart. Recycle smart and do your part by taking random metal items to a scrap metal recycler or bring them to a Saint Paul Citywide Drop Off event. Contact our office for more information.
5/15/19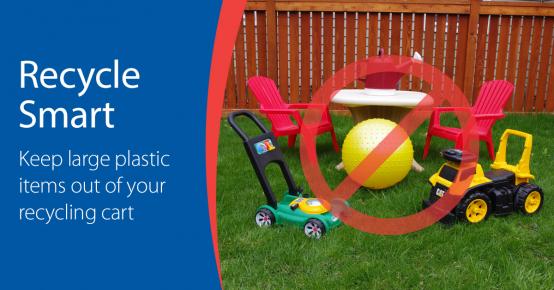 Kids toys, large or small, are not designed to be sorted at recycling facilities. They often contain more than one material (plastic, metal, textiles, or batteries) making it difficult or impossible to recycle.
Recycle smart and do your part by purchasing high-quality toys – and even better, buy them used. If they're still in good shape when your family is done with them, donate, sell, or give them away. 
5/1/19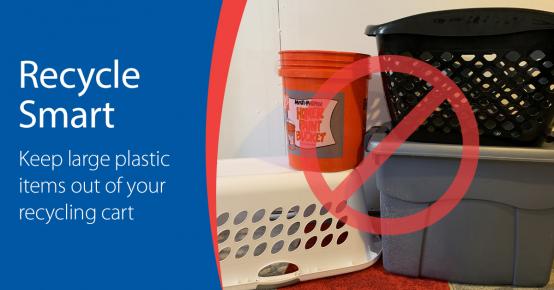 Laundry baskets, plastic lawn furniture, storage bins, plastic toys, and other large plastic items can't be recycled in your recycling cart. Recycling facilities are not designed to handle larger plastic items. They are difficult to sort at recycling facilities, and there are no good markets to recycle them.
Recycle smart and do your part by purchasing high-quality items, using them for as long as possible, and donating items that are in good shape when you're ready to get rid of them.
4/15/19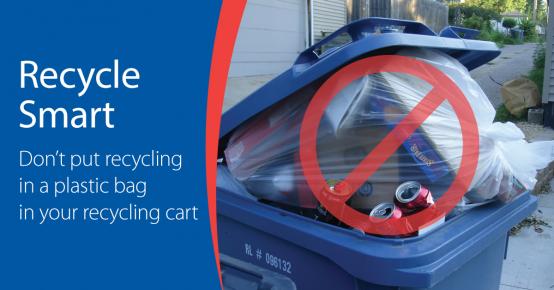 Make sure your recyclables are placed loose in your recycling cart. Recyclables in plastic bags don't get properly sorted at the recycling facility and recyclers can't tell what's in the bag. Plastic bags contaminate the recycling, and recyclables inside of plastic bags often end up in the garbage. Recycle smart and do your part by putting your recyclables loose in your recycling cart.
3/29/19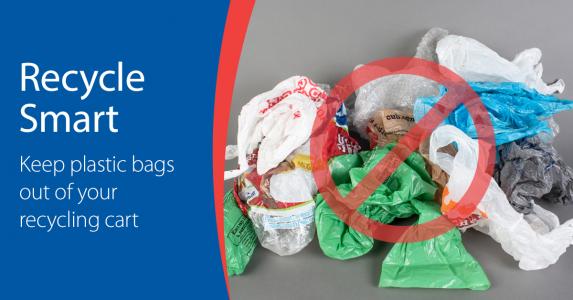 Plastic bags and wrap get tangled in the equipment at recycling sorting facilities and workers spend hours each day removing them. plastic bags and wrap can be recycled if brought back to a retail drop-off location.
Recycle Smart and do your part to reduce and recycle plastic bags and wrap. Bring reusable bags with you when shopping, and recycle plastic bags and wrap at drop-off locations including, grocery stores, food co-ops, retail stores.
Find drop off locations at PlasticFilmRecycling.org