10th Street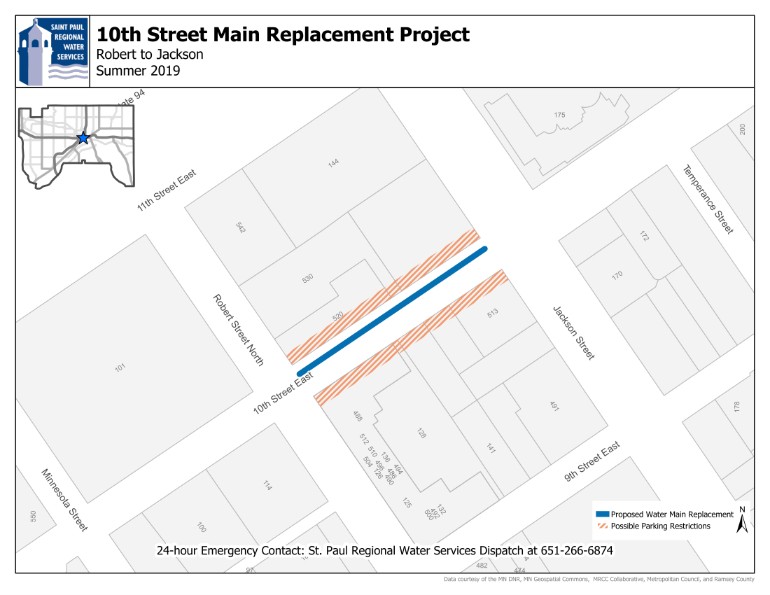 SPRWS will be hiring a contractor to replace the water main below 10th Street during the spring/summer of 2019.  Replacing this water main will help SPRWS continue to provide consistent, reliable service to businesses and residents in the area.  The existing 4" water main will be replaced with a 12" water main during this project which will improve flow and fire protection on 10th St. and blocks nearby.
Project Scope:
Replace approximately 400 feet of 4" water main with new, 12" water main
Replace valves
Restore street pavement, curb, and sidewalk as needed.
Project Updates
Wednesday, July 10, 2019
Water main work on 10th Street has been completed, and all water services have been reinstated. No more water shutoffs are anticipated in conjunction with the project.
Concrete base paving was poured today (7/10). The base will cure for several days before final concrete/asphalt paving is completed. Final paving is tentatively scheduled for Monday (7/15) or Tuesday (7/16), weather dependent.
Residents of the Produce Exchange building that regularly park in the lot accessed via the underpass should have received parking passes from Amy Lowry that will provide alternative parking during paving activities. The passes may be used in the lots across tenth street, provided that the parking space has only a yellow numbered tag. The parking passes are not valid for spaces that contain additional signage (for example: Jimmy John's Parking Only, or "Green Hangtag Required")
Once paving has been completed and has cured sufficiently, traffic control signs will be removed and traffic will be returned to normal on 10th Street.
Tuesday, June 25, 2019
The contractor has nearly completed installation of the new water main. Work on water main installation should culminate tonight (6/25) with nighttime work.
Beginning at 9 pm on Tuesday, 6/25/2019 water service will be shutoff to the Rossmor Building and several other nearby properties. Residents and business owners were notified last week of the upcoming shutoff by means of fliers handed out to managers and/or posted on doors. Water service is expected to be disconnected for up to 8 hours, but should be restored by early Wednesday morning.
Nearby businesses may find it necessary to close early or come up with a plan for operating without water during the shutoff.
Residents of the area should plan accordingly for the shutoff. SPRWS staff would recommend that residents fill up water bottles, use the restroom, and/or shower prior to 9 pm to minimize the impact of the shutoff.
The contractor will perform all excavation work during business hours today to minimize noise disturbance to neighboring properties.