Selby/Dayton/Hague Cleaning and Lining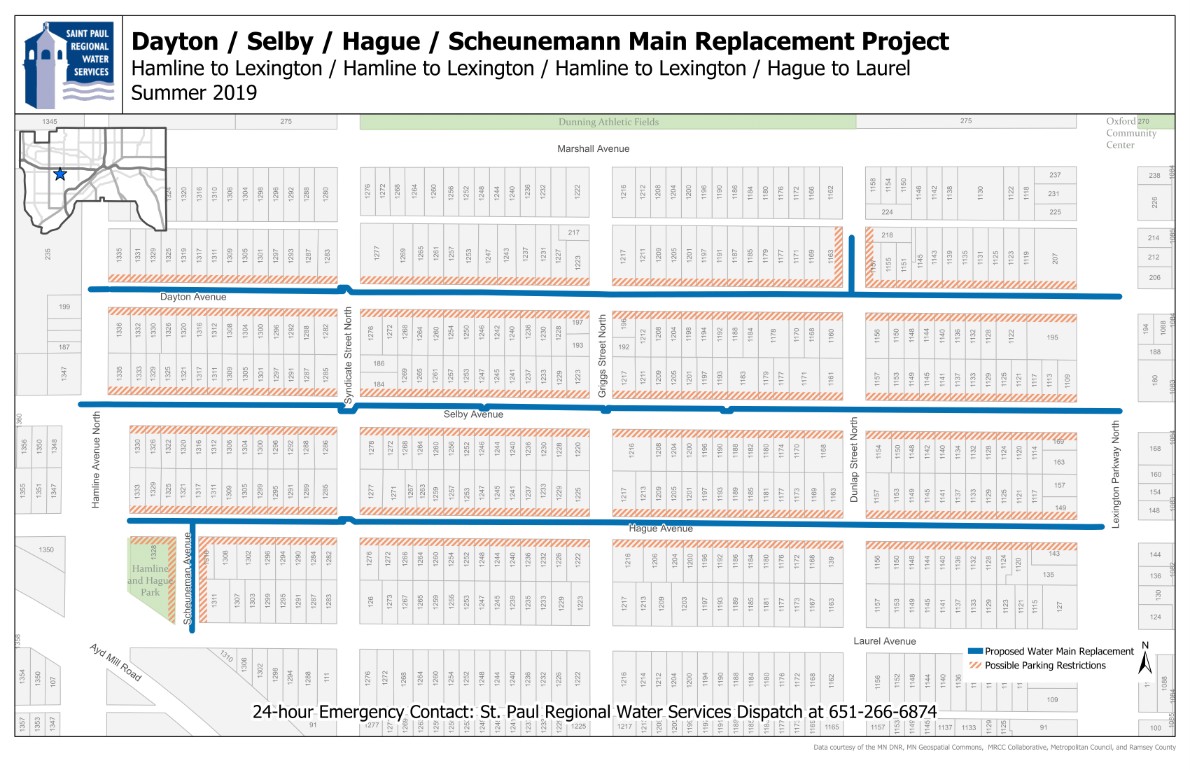 The original unlined cast iron water main within the project area was installed over 100 years ago. As unlined pipes age, mineral deposits collect inside the pipes which can decrease water volume and hinder flow for fighting fires. Such deposits can also affect water quality.
Water main cleaning and lining is a method of pipe rehabilitation that is used when water mains are structurally sound but suffer from such corrosion and mineral deposits. The water mains will be cleaned with a tool that scrapes off internal debris (or tuberculation). Then they will be sprayed with a thin layer of cement mortar.  This will increase flow capacity in the mains and provide a protective barrier against internal corrosion.
SPRWS crews will perform all excavation for the project while Michels Co. will perform the water main cleaning and lining.
SPRWS will perform lead service replacements (primarily on Dayton and Hague) after cleaning and lining is complete.
Project Updates
Tuesday, October 1, 2019
The cleaning and lining work on the water main is complete and Saint Paul Regional Water Services field staff are working hard to get the water main ready for use. The following steps will be taken to get the water main ready for resident use:
Flush the main with water to remove anything that may have entered the pipe during construction. You may see water running down the street from flushing activities in the area.
Disinfect the water main.
Perform water quality tests before the main is put into service to supply you with water.
After the main has been flushed, disinfected, passes water quality tests, and is supplying the area with water, the temporary service that has been supplying your home will be taken down.
Please help us improve future projects by taking a short, online survey to provide feedback. https://www.surveymonkey.com/r/MNHNNB8
Friday, August 30, 2019
Cleaning and lining are complete on Dayton Avenue and Hague Avenue. Lining should be complete on Selby Avenue the week of 9/2. After lining is complete, SPRWS will do the necessary work to get the water main back in service. Lead service replacements will follow the completion of the cleaning and lining work.