Water Supply & Distribution
Overview

Water pumped from the utility's McCarron pump station enters a distribution system consisting of approximately 1,200 miles of water mains in the city of Saint Paul and the suburban communities. The total water storage capacity is 131 million gallons, approximately three times the average daily demand of 40 million gallons a day.
Service Areas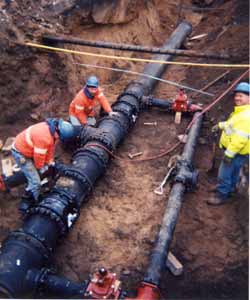 Saint Paul is often referred to as the city of seven hills. This topography requires that a substantial amount of water in the distribution system be re-pumped through the utility's booster stations to provide sufficient pressure in the high-lying areas.
The system is built on five elevation layers: low service, high service, boosted service, secondary boosted service, and reduced pressure service. More.
Field Work
All of the utility's field work is coordinated by the dispatch office in the distribution division. This work includes main construction and repair, installation of new water services, and service shut-off and turn-on functions. This office also handles emergency calls from customers and police and fire services. Emergency crews are on duty 24 hours a day.
Fire Protection
To ensure that adequate quantities of water are available in all parts of the city and suburbs at all times, the utility's system of mains, reservoirs, and pumps is designed to meet fire demands in addition to normal requirements. The city's system of fire-hydrant placement is designed to accommodate easy access to the hydrants for all types of buildings.
Every hydrant is inspected at least once a year for accessibility, flowage, and leakage. If needed, they are repaired or replaced.
Water Services
The utility maintains more than 94,800 water services to serve more than 425,000 customers. Many of the original lead services have been replaced with copper; eventually, all lead services will be replaced.
The utility offers a lead service replacement assessment program to residential and business owners who wish to replace the lead service on their property.
Meters
Except for water used for fire fighting, all water provided by the utility is metered. The utility owns all meters, except for those used on fire supplies, which are owned by the user.
All one-inch and smaller meters are read and billed on a quarterly basis; typically, these are the domestic accounts. Larger meters—mostly for commercial property and large multiple dwellings—are read and billed monthly.
Utility staff obtain the meter reading from the property by driving by and using a receiver to pick up the coded-transmission from the metering system. This reading is then uploaded to the computer billing system to produce the water use information required to create a bill.