2009 Solar Legislation
Legislative Session Provides Groundbreaking Victory for Solar Energy
Historic collaboration sets stage for energy transformation
SAINT PAUL – Groundbreaking legislation passed this session and signed into law will enable large-scale solar energy investment and keep Minnesota on the forefront of the nation's renewable energy movement.
A group of city and state leaders joined industry professionals on June 4, 2009 to shed light on the legislation and its incentives that encourage the expansion of solar energy development and infrastructure for home, business, and government.
"Today, we stand together for a clean, green and an independent energy future for Minnesota," declared Sen. Ellen Anderson, lead author of the energy legislation that will result in significant solar investments throughout the state.
Saint Paul Mayor Chris Coleman and Minneapolis Mayor R.T. Rybak joined Sen. Anderson in the announcement. Both cities worked collaboratively with state policymakers, utilities, energy and environmental advocacy groups, labor unions, and solar installers to craft this comprehensive package of legislation.
"This goes beyond creating renewable energy options for residents and energy independence for our economy," Mayor Coleman said. "This legislation represents the green economy we want, creating jobs for our residents and opportunities for businesses to grow as the industry develops."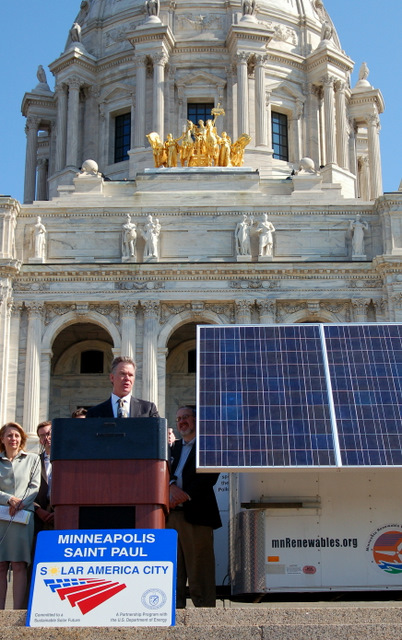 "We need to build a new economy based on clean energy technology, because the economy of the past – whether we like it or not – is over," Mayor Rybak said. "The old ways of doing business have literally run out of gas. Not only will an urgent focus on clean energy jobs, like solar power, rebuild and reinvent our economy, it will begin to undo the damage we have caused to our planet."
The legislation provides rebates for residents and small business owners and grants for schools and public buildings for the installation of solar panels that can help homeowners and building managers control energy costs. In addition, the legislation provides funding for solar job training and innovative large scale projects to usher in a new solar marketplace.
Already a leader in the development in wind energy investment thanks to legislation in 1994, the cooperative legislative effort this past session has set the stage in Minnesota for a similar solar energy transformation.
"The idea is to make a short-term, coordinated investment in solar technologies, so that we can transform the market for solar in Minnesota and allow it to stand on its own in the long-term," said Bill Glahn, director of the Office of Energy Security and Deputy Commissioner of Commerce.
"The legislation passed this year is going to jump start solar markets in Minnesota, and we're glad to be part of that action," said Dave Sparby, president and CEO of Northern States Power Co. Minnesota, an Xcel Energy company. "The new laws will position us to support our customers' interest in this renewable energy source and take advantage of declining costs as this industry grows and technologies improve."
On the local level, Minneapolis and Saint Paul are leading on solar initiatives. In 2008 they were designated Solar America Cities by the U.S. Department of Energy. Early accomplishments in addition to these state policy gains include installation of two solar charging systems for plug-in hybrid cars for the car-sharing HourCar program and a solar training laboratory at Saint Paul College.