21st Karl Neid Award winner announced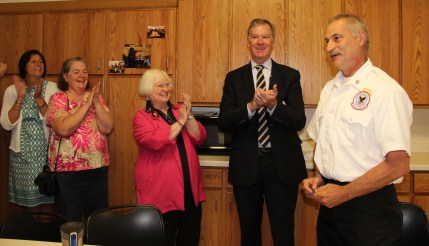 Rich Zech is surprised with the Karl Neid Award June 18, 2013
Mayor Chris Coleman, Saint Paul City Council President Kathy Lantry, Joänne Tromiczak-Neid and the Karl Neid Award Committee surprised longtime Fire Captain Richard "Rick" Zech this morning with news that he had been chosen at the 21st recipient of the annual Karl Neid Community Involvement Award.
"Congratulations to Rick on receiving the 2013 Karl Neid award," Saint Paul Mayor Chris Coleman said. "Rick's unquestioned dedication to the City of Saint Paul and his community is remarkable. Through both his work for the city and his volunteer service, he has helped to build and strengthen our city. There is no better reflection of that than this award, given to Rick by his peers."
Rick was chosen by a team of past Karl Neid Award winners, labor union representatives and City Council staff chaired by Council President Kathy Lantry.
The Karl Neid Community Involvement Award, established in 1992, honors the late Karl Neid, a city employee and a City Councilmember who died from a heart attack after devoting his entire life to serving the citizens of Saint Paul. Shortly after his death in 1992, this annual award was established to recognize a city employee who has a record of outstanding public service both at work and in his or her personal life.
Rick, an employee of the Saint Paul Fire Department for more than 29 years and currently a captain in the department, has received multiple service commendations and recognitions for performing above and beyond the call of duty as a firefighter. His co-workers report that his motto is, "treat them all like family." His motto is exemplified on every point of contact he has with residents of Saint Paul. According to his nomination, "his attention to Saint Paul residents leaves each and every one feeling as if they have been helped by their closest friend."
Members of the department also speak highly of Rick as a co-worker, supervisor and mentor and indicate he regularly highlights and promotes the work of his colleagues, but seldom takes credit for his own hard work and success.
Beyond his work in the fire department, Rick's contributions to the community are significant:
Seven years ago, Rick formed a partnership with Jackson Elementary School, encouraging members of his crew to read to kindergarten classes on a weekly basis or as often as possible. As the years have passed, the school is now filled with students who know him and have benefitted from his generosity.
Rick was the volunteer athletic director at St. Pius Church / School for 22 years, managing every facet of sports teams for hundreds of kids.
He has volunteered as a coach for boys and girls basketball, baseball, softball and football for more than 31 years.
Currently, he is volunteering as a referee in many of those same sports.
He has been a volunteer for the local Meals on Wheels program.
He has donated blood and plasma for more than 10 years.
Rick volunteers his time to honor fallen military men and women as a member of the Fort Snelling Rifle Squad.
He is currently in the application process to volunteer for the Big Brothers / Big Sisters program.
Annually, Rick has volunteered to brave the cold to ring the bell for the Salvation Army.
"Rick is a City of Saint Paul employee who exemplifies outstanding public service while at the same time making tremendous contributions to the quality of life in our community," said Council President Kathy Lantry. "He truly embodies the spirit of the Karl Neid Award."
Rick will be formally recognized at an award ceremony during the City Council meeting at 3:30 p.m. on Wednesday, July 10, 2013.