Coleman elected 2nd Vice President of NLC
Coleman earned the position at NLC's national conference on Saturday, Nov. 12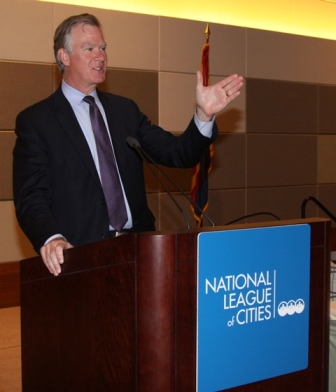 Copyright National League of Cities. Photo credit: Steve Schneider
SAINT PAUL –Mayor Chris Coleman was elected Second Vice President to the National League of Cities this weekend at the League's national conference in Phoenix, Ariz.
"I'm honored to be elected to this position," Mayor Coleman said. "The League's federal work and outreach to cities across the country is an incredible resource for America's communities. I am eager to work to raise the NLC's profile on a national scale and achieve our legislative goals to the benefit of all of the nation's cities."
Mayor Coleman's election to the Second Vice President position puts him on track to be the President of the National League of Cities in 2014.
The National League of Cities is dedicated to helping city leaders build better communities. NLC is a resource and advocate for 19,000 cities, towns and villages, representing more than 218 million Americans.
Mayor Coleman has been an NLC Board Member since 2010, formerly serving as Chair of its Council on Youth, Education and Families in 2008. The NLC's work in education helped shape Saint Paul's out-of-school-time educational initiatives.