Coleman, Hodges meet, discuss future of regio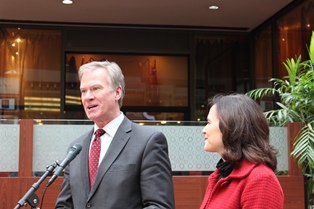 Saint Paul Mayor Chris Coleman and Minneapolis Mayor-Elect Betsy Hodges met for lunch today to discuss their visions for the future of the Twin Cities region. Both expressed a continued commitment to working together as a region for the benefit of both cities.
"I couldn't be more thrilled to have Betsy Hodges as a partner in the Minneapolis Mayor's office," Mayor Coleman said. "Mayor-Elect Hodges has a proven record of leadership in crucial areas – education, economic development and more – and I am confident in our shared commitment to closing the achievement gap and building a region with a robust economic foundation. I am truly looking forward to continuing the strong partnership that Mayor Rybak and I built between Minneapolis and Saint Paul. The future of the region is exciting."
"Mayor Coleman and I have had a close relationship for years, and we have long shared a vision for the region that will make the Twin Cities the nation's leader in the 21st century - in education, in livability, in inclusiveness and equality," said Mayor-Elect Hodges. "I am excited to build on the excellent partnership Mayor Rybak and Mayor Coleman have created between our cities. Minneapolis and Saint Paul will achieve their brightest futures working together."
Mayor Coleman also presented Mayor-Elect Hodges with an art piece titled "612/651" by artist Adam Turman. Thursday's lunch continues the tradition begun by Mayors Coleman and Rybak in 2005 of welcoming the new mayor after an election victory.
###