Cub Foods LEED Store
Cub Foods' LEED-Gold Certification Continues Saint Paul on Path of Environmental Leadership
East Side grocery store joins list of other city projects noted for sustainable design and practices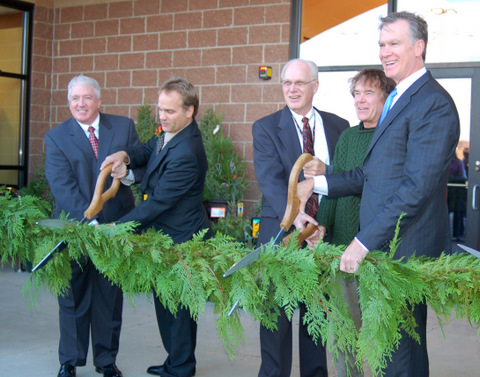 SAINT PAUL – Cub Foods and its parent company, SUPERVALU, recently announced that its new grocery store on Saint Paul's East Side is the first for the company– and the third grocery store in the nation – to achieve LEED-Gold status for its environmentally sustainable design.
LEED – Leadership in Energy and Environmental Design – is designated by the U.S. Green Building Council to identify the world's greenest, most energy-efficient and high-performing buildings. Gold certification is the second highest certification that can be achieved.
"Economic development and environmental stewardship are not mutually exclusive ideas. Savings achieved through sustainable design show that doing the right thing by the environment is also doing the smart thing," Mayor Chris Coleman said. "It's exciting that a grocery store that adds so much value to the Payne-Phalen neighborhood is also setting new standards for how such a store can be sustainably developed in an urban core."
"Cub Foods has a vested interest in supporting the communities where we do business, and contributing to the redevelopment of Saint Paul's East Side was a natural fit for us," said Brian Huff, president of Cub Foods. "Choosing to build a LEED Gold certified building was another example of Cub's dedication to preserving the environment for future generations."
The Phalen Cub joins more than 20 other LEED certified or registered buildings in Saint Paul, including two City-owned properties. The Western District Police Station is the first police station in Minnesota to earn LEED-Gold certification, and the new fire department headquarters on West 7th Street that is currently being built to LEED standards. Additionally, Saint Paul recently celebrated the completion of The Winnipeg, a mixed-use, public-private development in the city's North End that includes the first residential green roof.
On May 19 Mayor Coleman joined volunteers and families to raise walls on Twin Cities Habitat for Humanity's first LEED townhome project. Last year, the Wilder Foundation also opened its new home on the corner of Lexington and University avenues with a center that meets LEED guidelines.
Certification is a rigorous process, assigning points for each green feature incorporated into the building. LEED Gold Certification is based on a number of green design and construction features that positively impact the project and the broader community. These features include:
• 44 skylights that illuminate 75 percent of regularly occupied spaces using a solar powered GPS system that tracks and redirects sunlight as needed. • The first commercial parking lot in Minnesota to be illuminated using just LED lights that only need to be replaced every 40 years and provide 50 percent energy savings. • Half of the waste from buildings torn down on the construction site has been reused in the construction of the new building or recycled. • 35 percent savings in lighting costs compared to typical Cub stores. • A maintenance-free floor eliminating the need for chemicals during the cleaning process. • A landscape irrigation system that uses 50 percent less water than typical systems. • 75 percent of the building construction waste will not end up in landfills. Instead, it will be recycled and turned into other useful materials.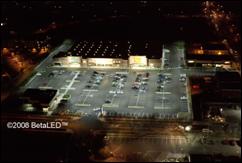 "Cub Foods submitted 41 points to the USGBC for LEED Gold consideration," said Scott Reinke, senior project manager, SUPERVALU. "To have all 41 points approved is exceptional in the industry of green building development."
In April, the city awarded the new Cub Foods store a Sustainable Saint Paul Award for Retail Green Building Design.
Saint Paul is seeing increased interest in LEED as more developers and property owners see the value in building energy efficient buildings that have improved indoor air quality and reduced environmental impact.
"The marketplace is changing. Business owners, consumers, renters, and homeowners are more conscious of the impact we have on the environment. What we are doing locally is making a difference globally, and it is showing Saint Paul as a leader in sustainability and environmental stewardship," Mayor Coleman said.