Engaging the Community
Grassroots action is a hallmark of the Invest Saint Paul initiative. In each of the four neighborhoods, residents and business owners are meeting to assess their community's strengths and weaknesses. They are knocking on doors, talking to their neighbors, finding out where problems exist and where folks need help. Together, we are charting a course for the future of our neighborhoods.To get involved in your neighborhood, contact: Dayton's Bluff District 4 Community Council Dayton's Bluff Neighborhood Housing Service Payne Phalen District 5 Community Council East Side Neighborhood Development Council North End District 6 Community Council Sparc Frogtown District 7 Community Council Greater Frogtown Community Development Council District 8 Community Council Aurora-St. Anthony Neighborhood Development Council Model Cities Selby Area Community Development Corporation
Community Days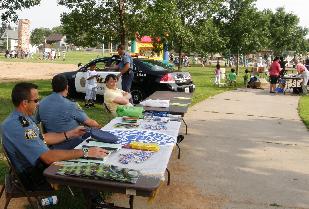 This summer, the City of Saint Paul is coming to you... As part of the Invest Saint Paul initiative, the City is hosting Community Days events across the city. Tables are staffed with representatives from each city department who will inform residents about the resources their department provides and how to access them. The City is accompanied by local neighborhood organizations that offer resources and engagement opportunities to residents. City representation includes a fire truck, ambulance, Bookmobile, Parks and Rec Mobile Team with games and arts and crafts for kids, police officers, fire fighters, and free give-aways. We also provide information on licensing and code requirements, fire prevention and safety, foreclosure prevention, business development services, city loan funds, city website and cable schedule, the city budget, recycling, and health and wellness. Community Days events are open to everyone. Please join us and bring your friends and family!
The final Community Days Event for 2010 will be held on Sat. August 21st
from 2:00 to 4:00 PM as part of Frogtown Fest at the W. Minnehaha
Rec. Center located at 685 Minnehaha Ave. W. If you have questions on Invest Saint Paul Community Days events, please contact Joe Musolf at 651.266.6594.