EV Charging Stations
The City of Saint Paul is committed to being a leader in the deployment of electric vehicles (EVs) and charging infrastructure. Electric vehicles support the city's broader sustainability mission and will help us achieve our goal of a 20% reduction in CO2 emissions by 2020.
Owning and Using Electric Vehicles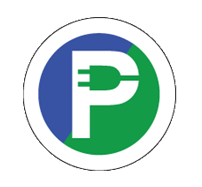 Contact Anne Hunt Phone: 651-266-8520
Electric vehicle owners in the Twin Cities share their experience in owning and operating the vehicles. The Minnesota Electric Auto Association provides a variety of information and resources for existing and potential electric vehicle owners.
Location of Charging Stations
Saint Paul has installed 23 public stations for charging all-electric and hybrid electric vehicles, and additional stations are being installed by other private and public entities. View a map and a table of existing EV charging stations. Look for these EV Charging Signs to identify charging station locations. Public and private charging stations installed by other entities locally and nationally can be found on the U.S. Department of Energy website.
How to Use Charging Stations
Two types of stations have been installed by the City of Saint Paul: Coulomb ChargePoint and Eaton Pow-R Stations. The stations provide either Level 1 or Level 2 charging.
Coulomb ChargePoint Stations
The Coulomb stations can be accessed three ways:
Call 1-877-370-3802
Contactless credit card (Visa, MasterCard, Discovery, or American Express)
Obtain a ChargePass card from Coulomb Technologies, call 1-877-370-3902 or register online at www.chargepoint.net
Eaton Pow-R Stations
The Eaton stations can be accessed using a key fob provided by the ramp manager. View a table of station locations and type. Charging Rates Some stations are available for hourly use and some are available for monthly contract parking. Parking rates, time limits and reservation options are indicated on this map and table.
Charging at Work
The report, Charging While You Work, provides information to employers and employees on how to implement a workplace-charging program. Installing a Charging Unit If you are considering installation of electric vehicle charging technology at home or your business, here are a few things to consider and how to secure an electrical permit.
Video about EV Charging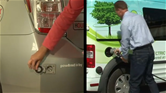 View a fun video on EV charging stations in Saint Paul (4:07)
Funding
As part of the American Recovery and Reinvestment Act (ARRA), the City of Saint Paul received $286,000 of Energy Efficient and Conservation Block Grant (EECBG) funding for the purchase and installation of electric vehicles and charging infrastructure. The funding is being used for:
Gap financing to purchase four plug-in electric fleet vehicles.
Purchase and installation of charging stations around the city.
Resources
Saint Paul is a member of Drive Electric Minnesota which has general information about electric vehicles and infrastructure.