Shooting leaves two injured on Saint Paul's West Side
Saint Paul police are investigating a shooting that left an adult male and juvenile male injured in the evening hours of Sunday, Oct. 6.
Officers were dispatched to the 400 block of Wabasha Street South at approximately 5:15 p.m. on a report of shots fired. Multiple 911 callers reported hearing gun shots and some were more specific, saying that a vehicle had crashed and rolled over with victims inside.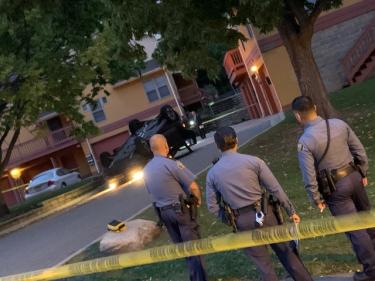 When officers arrived, they found a vehicle on its roof in a parking lot on the west side of Wabasha. An adult male victim was located in the vehicle as well as a juvenile male. The adult male was suffering from a gunshot wound to his head. He was unconscious but breathing when officers arrived. The juvenile victim is 4 years old and was conscious and alert when officers arrived. He was suffering from a gunshot wound to his foot. Saint Paul Fire Department Paramedics responded and transported both victims to Regions Hospital.
The adult male is in grave condition with life threatening injuries. The 4 year old's injury was not life-threatening.   
Officers on scene secured the crime scene and began to look for witnesses. Investigators are also scene canvassing the area for any evidence that leads them to who is responsible for this shooting. Anyone with information in relation to this incident is encouraged to call 651-266-5650. 
Any updates in relation to this incident will be released on our Saint Paul Police Department Twitter account, @sppdmn as are available.  
###