More than music | Albatross, Nepali hometown rock heroes owned every minute at Bedlam.

From left to right: Sunny Manandhar, Shirish Dali, Avaya Bajracharya and Kismat Shrestha on drums in the back.
Rock 'n' roll is a big deal in Nepal.  And Albatross, they are the biggest deal in Nepali rock today.  These guys are touring the U.S. for the second time, after playing SXSW just weeks ago.  I had a chance to chat with the frontman of the band, Shirish, before their show at Bedlam Lowertown last week and got to know the inspiration behind the boys' music, sound and why on earth, they traveled land and sea to play in our town.  (See a summary of that interview below.)
MY THOUGHTS ON THE SHOW . . . 
I got a taste of the Albatross effect and it's pretty special.  First of all, this is soul stirring rock music. Shirish has got some crazy pipes.  I don't speak Nepali, but the power of his vocals froze me in time and space for the whole set.  With a combination of intense and emphatic vocals, smashing drums and rapid fire rifts, Albatross emanates a sound similar to Slipknot and Black Sabbath - just not as dark.  But wait, that's not all.  These guys are loud and fast, but they can also be soft and wistful.  The set was sprinkled with several alluring pieces that reminded me of the more delicate side of rockers like Nirvana, Silent Lucidity and sometimes even Lennon. I hate comparisons, because these guys are distinguished, but hopefully you get the idea.  
The love in the room was part of the magic that night.  Love from the showmen to the crowd, and the reciprocated love back to the band came in the form of synchronized head bangs.  That was a banging beautiful thing to see.  
There was this moment towards the end of the show that happens at all good shows, where the band plays the last song, but the crowd can't accept that the end is here.  So, we chanted "Encore! Encore! Encore!"  And, that was followed by another very rare moment that happens at shows with performers who are exceptionalyl grateful for their fans and the stage - they played one more damn song!  That, is why people absolutely adore Albatross.  If you haven't seen them play, when you do,  you too will get taken over by their raw talent, devotion to their heritage and cause, and most of all to their respect for fans.  It's like the kind of love Taylor Swift has for her peeps, but way cooler and better.  
I feel grateful, a lot smarter, and a little bit cooler after this brief glimpse into the Nepali rock scene and international community.  If you missed their show or just want more of Albatross, get their latest by stalking them online on Facebook, Twitter, Bandcamp (where you can listen and buy their music too), and with these handy hashtags - #gkd2tour2016 #gkd2 #albatrossnepal.  
(P.S. Bedlam Lowertown, your sound system is da bomb!)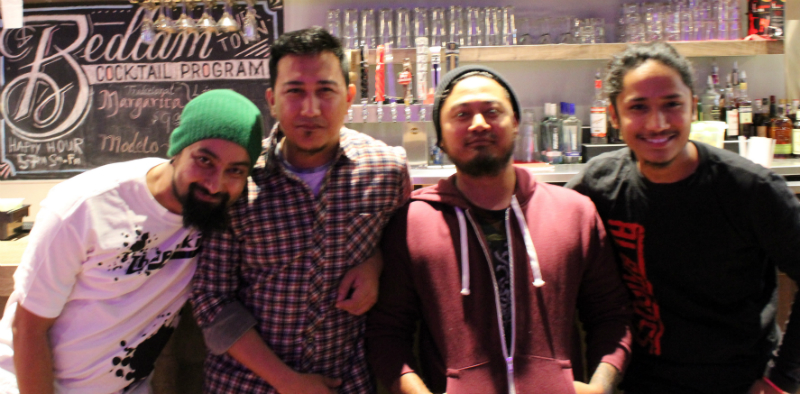 (From left to right: Sunny Manandhar, Avaya Bajracharya, Shirish Dali, Kismat Shrestha.)
NOW I PRESENT TO YOU, THE BEST FROM MY INTERVIEW WITH SHIRISH DALI, ALBATROSS FRONTMAN.   
Tell me about the name Albatross -  how did that happen?
We just picked it.  Well, really we needed a band name at the time and Sunny suggested it.  Albatross is a song from the band Corrosion of Conformity and we liked that song.
Why did you choose Saint Paul as a stop for your tour? 
We all went to St. Cloud State, and that's where the band really came together.  Really, that's where most of the songs we have were written too.  Even for this album. 
Nepal is home and we've gone back there after college, but coming back to the Twin Cities and Saint Cloud feels familiar too.  There's a strong Nepali community in Minnesota and that's how we've picked where we'd play shows, because our music is for the community too.  We're actually playing at Saint Cloud tomorrow too.  
Where else are you playing for your U.S. tour? What's it like being on tour?
We've got eight shows. We'll play in Boulder, San Francisco, Dallas, basically where there are concentrations of Nepali people.  We've got this minivan and we'll pile in and drive from show to show.  We'll usually work with a local contact to figure out venues and all of that, and we just ask that the venues or the contact provide the back line.  This really helps make the minivan situation work, because guitars, they just don't take up that much space.
Tell me a little about this album?  What was the inspiration?
This is our fourth full album and our third one in Nepali.  We want to talk about issues that people living in Nepal, or those from Nepal can relate too.  Right now, the country's dealing major crises and through our music, we can bring light to that.  One of the main problems we're dealing with is that our water and electricity resources are severely poorly managed.  People have to use gas to heat their water for example.  People have to use all sorts of alternatives to get water and electricity for their daily needs.  There's solar, as an option for energy for example, but that's so expensive and all this work around is super inconvenient and inaccessible to most people anyway.  
Can you break it down a little more? What do you mean poor management of water and energy? 
So the water and energy resources in Nepal are from Nepal, but the laws are set up where this supply has to be sent to India and then imported back into Nepal. It's illogical.  
It's complicated, but the point is that after the big earthquake in Nepal, we have to get permission from India to use and get access to these "goods".  Politicians, man, they're &*@!ed up.  So there's a huge scarcity of gas, heating and water for Nepal's people, and we're stuck being dependent on the Indian government for all of that.  It's just common to go four to five months without goods.  
With our music, we can and do make political statements about these issues - not explicitly, like more vaguely, but it's definitely at the center of what we are saying.
So what's it like to be a hometown sensation?  I mean, you're Nepal's leading rock band? 
We are one of Nepal's rock bands and people do know us. That's just awesome. Back home, it's a great feeling being known.  It's all chill though.  These are people we've known our whole lives, you know.  They're our community. 
We love the music for sure, but we all have other jobs too.   We all have businesses or other things we do to bring in income -  that's the only way this music life works.  We would otherwise be starving artists. 
Do you have any other message you want to get out? 
Yes.  Come to Nepal! (laughs, but seriously laughs.)
For real though.  Nepal is safe and it's amazing.  Come visit us.