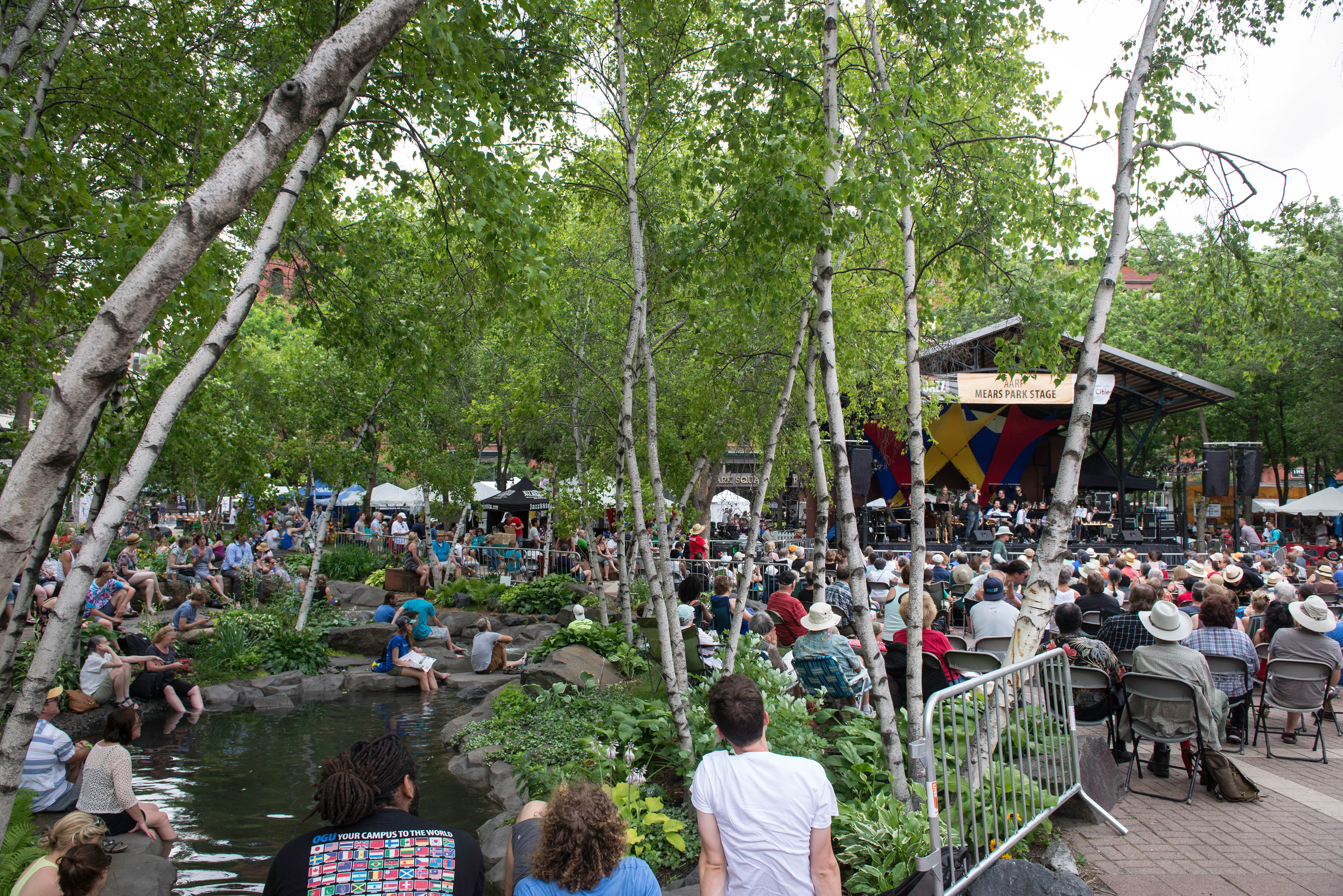 About Music in the Parks
Music in the Parks is an outdoor music series taking place in Saint Paul's beautiful parks during the summer months. All events are free unless otherwise noted. Events are weather permitting and subject to change without notice.
Como Lakeside Pavilion Shows
Music in the Parks shows at Como Lakeside Pavilion take place outdoors on the promenade and are in partnership with Dock and Paddle restaurant.  
Como Lakeside Pavilion Schedule
City House Happy Hour Shows
City House is a seasonal restaurant on the Mississippi River in the restored Saint Paul Municipal Grain Elevator. 
City House Happy Hour Music Schedule
Highwood Hills Shows
Free, outdoor performance series at the Highwood Recreation Center (2192 Londin Ln E, St Paul, MN 55119) in partnership with the Southeast Community Organization. 
Mears Park and Rice Park Shows
Shows take place in downtown Saint Paul from 12pm-1pm, Mon-Weds from June 1 to mid-August. 
| | | | | |
| --- | --- | --- | --- | --- |
| Date | Day | Park | Band | Genre |
| 6/1 | Tue | Mears | Jiselle McCollam's Jazz Cult | Jazz |
| 6/2 | Wed | Mears | The Jugsluggers | Bluegrass, Country, Swing |
| 6/7 | Mon | Rice | Nancy Olson |   |
| 6/8 | Tue | Mears | High & Rising | Groovy Grass, Bluegrass, Americana |
| 6/9 | Wed | Mears | NO MUSIC TODAY |   |
| 6/14 | Mon | Rice | NO MUSIC TODAY |   |
| 6/15 | Tue | Mears | Root River Jam | American Roots |
| 6/16 | Wed | Mears | The 99ers | Rock & Roll |
| 6/21 | Mon | Rice | The Riff Rangers |   |
| 6/22 | Tue | Mears | Granger's Moonshine | Country, Folk |
| 6/28 | Mon | Rice | Romeo Delta | Rock Trio |
| 6/29 | Tue | Mears | Sonic Love Child |   |
| 6/30 | Wed | Mears | Madd Company | Bad Company Tribute Band |
| 7/6 | Tue | Mears | TBD |   |
| 7/7 | Wed | Mears | TBD |   |
| 7/12 | Mon | Rice | Jeff Ray |   |
| 7/13 | Tue | Mears | Natalie Fideler | Alt. Pop, Mixed Genre |
| 7/19 | Mon | Rice | TBD |   |
| 7/20 | Tue | Mears | The Issues |   |
| 7/21 | Wed | Mears | Women's Drum Center | High Energy World Music |
| 7/26 | Mon | Rice | TBD |   |
| 7/27 | Tue | Mears | Pelicant | Pop, Rock, Orchestra, Disco |
| 7/28 | Wed | Mears | Westwind Swing Band |   |
| 8/2 | Mon | Rice | Trevor McSpadden | Country Western, 2-Step Crowd |
| 8/3 | Tue | Mears | Hailey James Music | Country |
| 8/4 | Wed | Mears | TBD |   |
| 8/9 | Mon | Rice | TBD |   |
| 8/10 | Tue | Mears | J-Mo On the Beat |   |
| 8/11 | Wed | Mears | TBD |   |
| 8/16 | Mon | Rice | TBD |   |
| 8/17 | Tue | Mears | The Steven's Family Band | Reggae, Funk, Blues, Pop, Rock |
| 8/18 | Wed | Mears | Drunk Girl Crush |   |