City of Saint Paul
State and Local Fiscal Recovery Funds
Recovery Plan Performance Reports
All States, territories, counties, and metropolitan cities with a population exceeding 250,000 residents that are recipients of State and Local Fiscal Recovery Funds (SLFRF) awards are required to produce Recovery Plan Performance Reports.  
The Recovery Plan provides information to the public and U.S. Treasury Department on projects that SLFRF recipients are undertaking with program funding and plans to ensure program outcomes are achieved in an effective, efficient, and equitable manner.
As required by the U.S. Treasury Department, this webpage will include City of Saint Paul Recovery Plan Performance Reports. More information about the State and Local Fiscal Recovery Fund program and associated reporting requirements are located at www.treasury.gov/SLFRP.
________________________________________
2023 Executive Summary 
The $1.9 trillion American Rescue Plan Act (ARP) provides $350 billion in much needed emergency funds for state, local, territorial, and Tribal governments. As part of this Act, the City of Saint Paul received $166.6 million through the State and Local Fiscal Recovery Fund (SLFRF) to support our immediate response to the COVID-19 public health emergency and its negative economic impacts, while laying the groundwork for the City's ongoing efforts to rebuild. The City is investing these one-time funds in key priority areas to address community needs in:
In total, the City has budgeted $165 million of SLFRF funds, $92 million of which was budgeted during the reporting period from July 1, 2022 to June 30, 2023. Of the total $165 million budgeted, the City has spent $64 million and obligated an additional $4 million.
        30% AMI Deeply Affordable Housing: $37.9 million

        Lead Service Line Replacement: $14.5 million

        Tourism Recovery Support Program: $4.5 million

        City/County Workforce Programs: $15.3 million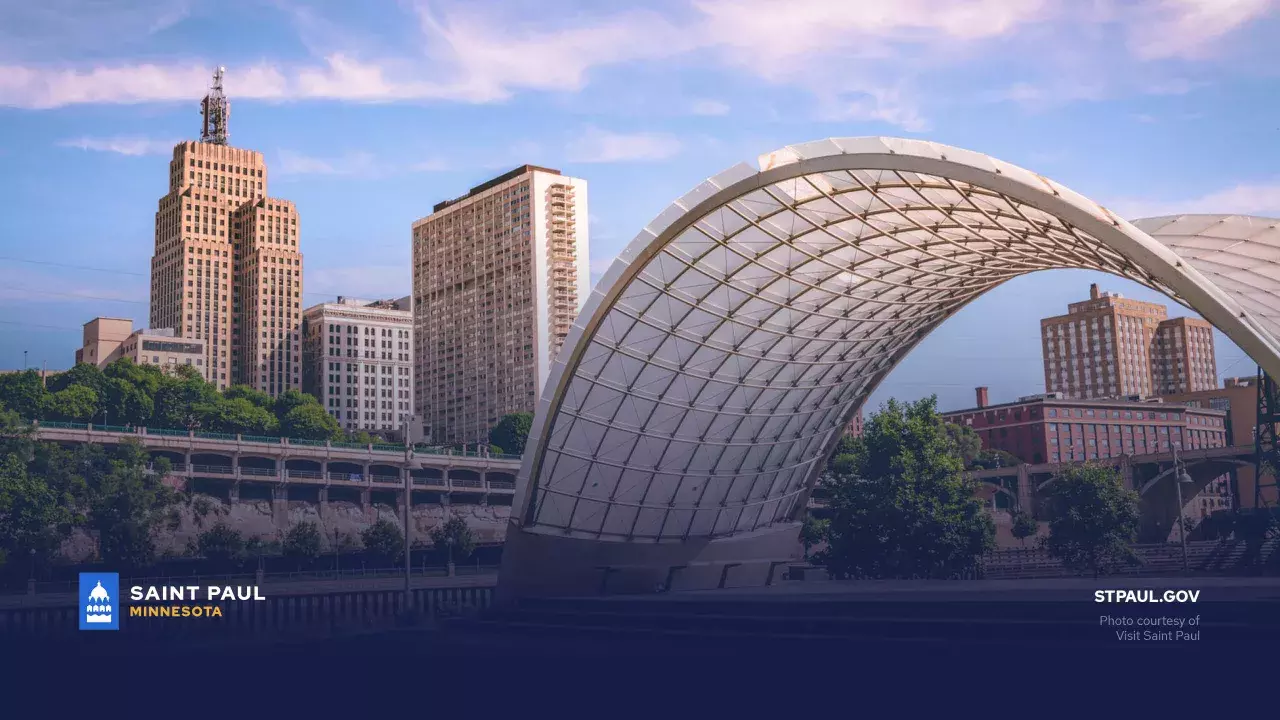 2023 Annual Recovery Plan Performance Report
The Project Inventory section provides details for each SLFRF investment budgeted through June 30, 2023, including project goals and performance indicators. The City's SLFRF investments align with Federal priorities regarding community engagement and equitable outcomes. Throughout this report, the City identifies key examples of deep engagement with community to identify priorities for SLFRF funding, and ways that its SLFRF investments address long-standing inequities exacerbated by the pandemic. Investments in relevant expenditure categories use evidence-based practices that ensure positive outcomes and community impact. The City's investments in deeply affordable housing for residents at 30% of Area Median Income and investments in youth employment programs highlight our commitment to community engagement, promoting equitable outcomes, and utilizing evidence-based practices. As community needs change the City may adjust the amounts outlined between the priority areas, while remaining in alignment with Federal requirements.
Link to 2023 Annual Recovery Plan Performance Report
ARP Project Details
Click on the City Priority Category below to expand the section and read project descriptions.
Downtown Alliance Ambassador Program: $647,843

Through this Project, the Downtown Alliance will respond to the COVID-19 public health emergency and its negative economic impacts by operating a program that provides resources to individuals experiencing homelessness and assists the economic recovery of downtown by promoting, preparing for, and accommodating the return of workers, visitors, and hospitality. Specifically, Street Team Ambassadors will serve primarily as a custodial service with a secondary role as a public information resource to visitors, workers, shoppers, and residents. Areas of responsibility include all pedestrian public rights-of-way in downtown. The Downtown Alliance works closely with City officials to assist with outreach and referrals for shelter and service options.

Domestic Abuse Prevention: $250,000

Funds support Saint Paul Ramsey County Domestic Abuse Intervention Project, an organization that provides intervention, support, information, advocacy, and increased safeguards for victims immediately following a domestic violence related crime and facilitates and improves the criminal justice system's response to domestic violence. The pandemic increased domestic violence and exacerbated challenges for people affected by domestic violence to receive needed services.

Criminal Division Backlog: $2,723,958

This project will add prosecutors (5.5 FTEs) and a victim witness coordinator (1.0 FTE) to the City Attorney's Office (CAO), Criminal Division, to assist with the backlog of criminal cases as a result of the court delays due to the COVID-19 pandemic. This project also includes the resources (computers, technology, workspace) necessary to support the new staff. The COVID-19 pandemic has resulted in an unprecedented backlog in the criminal justice system. This project directly affects the CAO's ability to address the backlog of criminal cases in a timely and effective manner. Currently, the CAO has over 3,000 cases in the pandemic backlog. By adding prosecutors and victim witness staff the City hopes to (1) reduce the delays in justice for victims, defendants, and the community, and (2) allow better delivery of services to crime victims, including those populations who, historically, have been underserved.

Public Works Painter: $33,557

Funds rehired a Public Works Painter position cut in 2021 due to the COVID-19 pandemic. The position was in place for the remainder of the 2021 season and assisted with repainting street markings that disappeared. Due to COVID-19 the City's Public Works department eliminated a vacant FTE position from the 2021 budget, greatly impacting this needed public safety service. The ARP funds allowed the City to restore that position.

Police Downtown Beat Overtime: $975,000

Funds support overtime costs for the Saint Paul Police Department (SPPD) responding to public safety needs exacerbated by the pandemic. SPPD has seen unique challenges develop during the pandemic and several areas in the City that require extra public safety resources to respond to these challenges. As businesses and visitors returned to the downtown area in 2021, even more resources were needed to ensure community safety. Based on a review of public safety data and community input, several areas were identified as needing additional resources. The SPPD coordinated a multi-faceted problem-solving approach, using community policing and engagement strategies. In addition to enforcement operations, high visibility foot and bike patrol were needed. SPPD officers have a guardian mindset and are skilled at making positive contacts and engaging with individuals. Officers make proactive contacts with businesses, residents, and visitors. This work requires resources and multiple officers and supervisors for successful outcomes. Funds supported overtime costs for the officers and supervisors to run these additional special details.

Unsheltered Response Team: $311,843

COVID-19 significantly impacted the number of people experiencing homelessness; starting in 2020 the pandemic's related economic impacts led to more residents sheltering in unsafe conditions in tents, under bridges, and in caves. ARP funding supports 3 FTEs in the Department of Safety and Inspections to provide 24/7 supports to people experiencing homelessness. These positions include a Housing Counselor, a Program Coordinator, and an Inspector.

City Payroll: $26,773,329

ARP funds will cover the cost of City payroll for several departments: Financial Services, Human Resources, Technology and Communications, Fire, Safety and Inspections, and Parks and Recreation. The ARP funding will support $20 million in 2022 City payroll expenses paid for with General Funds, thereby freeing up the General Fund resources for other needs. Payroll is an eligible use of ARP funding within the expenditure category 6.1, Provision of Government Services, up to the amount of the City's revenue loss due to the COVID-19 pandemic. As of 2020-2021, the City's total revenue loss is $124 million. Payroll is an essential part of the city government, covering salaries for staff who provide critical services to our community.

Fire EMS Supervisor: $5,611

Funds restored a Fire EMS Coordinator position that was eliminated in the 2021 budget due to COVID-19. This position enhances the Fire Department's ability to respond to the growing number of EMS calls as well as support, supply, and supervise critical EMS services to residents especially during the COVID-19 pandemic.

Police Attrition Reduction: $1,771,441

The ARP investment lowers the Police Department's attrition expenses, which increases the salary budget available to cover costs of hiring officers. The Police Department's 2021 attrition budget increased due to COVID-19 pressures on the City's budget, resulting in fewer officers for the department. Reducing attrition allows the Police Department to hire officers and fill positions left vacant.

Fire Recruitment Exam: $460,000

Funds support the Fire Department and Human Resources Department costs associated with conducting the firefighter entrance test. The entrance test is a collaboration between the City's Fire and Human Resources Departments. The costs include staff time for recruitment, written test, physical test, and supplies relating to the test, with a significant portion of the funds used for staffing the physical and agility test and practice sessions. The last list of eligible firefighter candidates is from 2018.

Library Optimal Response: $1,500,000

This project develops a comprehensive library safety plan for the City's entire library system. This plan will include review of existing strategies, resources and approaches, identify areas for change and pilot a new approach of library safety specialists' staff – one that is more aligned with the vision, values, and recommendations for practicing community-first approaches to safety.

COPS Grants Matching: $2,000,000

$2.0 Million to be used as matching funds for a U.S. Department of Justice Community Oriented Policing Services (COPS) grant to support the hiring of new Saint Paul Police Officers in 2022. The full COPS grant award of $3.75 million will be matched with American Rescue Plan funds and other city funding sources. The funding will support the hiring of 30 officers as part of two planned police academies in 2022. These include a 40 officer academy in August, and a 40 officer academy in December for a total of 80 new officer hires in 2022.

Comprehensive Pedestrian and Traffic Safety Plan: $1,000,000

This project funds select elements of the City's Comprehensive Pedestrian and Traffic Safety Plan, including a citywide crash study, temporary safety treatments, traffic policy review, public discussion on speed enforcement, public information/education campaign, secondary notification system development, and purchase of a long line striper.

Parks Recreation Expansion: $1,500,000

This project provides funding for the expansion of several Parks and Recreation initiatives, including an expansion of recreation center hours, subsidies for athletic fees within low or moderate income neighborhoods, funding for the Summer Swarm technology truck, funding for a replacement climbing wall, funding for the Recreation in Motion program, and an expansion of the City's tech lab program.

Oxford Community Center: $429,454

Oxford Community Center, located in the City's Summit University neighborhood and adjacent to Central High School, has encountered several public safety incidents over the last several months including a recent shooting that required the closure of the facility for several weeks. Prior to re-opening, the Mayor along with department Staff met with the community and partners such as Saint Paul Public Schools to review additional needs to better support the youth that patron the facility. A comprehensive review was initiated, and gaps identified in both front line and supervisory areas that needed a revised approach with additional support and resources. This proposal funds the addition of several front line and supervisory positions, enabling the facility to reopen with programming staff better able to program and connect with troubled youth, while being supported by leadership. 

30% AMI Affordable Housing: $37,966,023

Funds create a Deeply Affordable Housing Fund to expand housing supply for extremely low-income residents. The City will solicit applications to fund development of eligible affordable housing located within the boundaries of Saint Paul. The City plans to implement a dual approach solicitation process for awarding ARPA funding that will ensure provision of deeply affordable units within "pipeline" projects ready for closing in 2022 and will also provide capital funding for deeply affordable housing within projects with longer time horizons.

Healthy Homes Saint Paul: $1,000,000

The City of Saint Paul will use ARP funds through its Healthy Home Program to invest in needed home repairs and pre-weatherization in the homes of low-income Saint Paul residents in 1- to 4-unit residential properties who were disproportionately impacted by COVID-19 through higher infection and death rates and experienced negative impacts to low-wage jobs. The Final Rule specifies that assistance to households, including home repairs and weatherization is an eligible use of ARP funds. The program will serve both homeowners and renters living in the lowest income and lowest wealth neighborhoods within the City of Saint Paul. Living in a home that needs basic repairs and uses a lot of energy is a source of added stress and financial strain. It can put families at greater risk of negative health impacts. The Healthy Homes Program will make homes safer and more livable for eligible families and weatherization improvements will reduce their energy bills, at a time when energy costs have been rising. The Healthy Homes Program will also reduce the risk of further deterioration of homes and in some cases reduce the risk of fire.

Right Track: $2,075,000

Funds support the expansion of the City's Right Track Plus young adult workforce training and internship program. The program is a collaborative effort working with nonprofits, public, and private sectors to connect young people with meaningful internships. The investment allowed the program to expand the age range of youth served and extend internships beyond the typical summer season. Expanding this program addresses youth unemployment, and the job training provides career advancement and high wage opportunities.

DSI Customer Service: $181,000

Provide Department of Safety and Inspections temporary staffing necessary to address backlogs in support for business owners and development activity. These positions work with developers and business owners and process applications and payments of Business Licenses, Construction Permits, Event Permits, and Fire Safety Certificate of Occupancy's in the City of Saint Paul.

People's Prosperity Guaranteed Income Expansion: $4,000,0000

This project is an expansion of the guaranteed income program in Saint Paul As stated in the Interim Final Rule and Final Rule recipient governments may presume that low- or moderate-income households experienced negative economic impacts resulting from the pandemic and may provide services that respond to these impacts This project will provide 333 low- and moderate-income Saint Paul families with a monthly guaranteed income of 500 a month for 24 months for a total of 12000 Families with a child enrolled in CollegeBound Saint Paul the City's universal college savings account program starting at birth and who meet the eligibility criteria will be randomly selected to receive the monthly payments.

Tourism Recovery Support Program: $4,500,000

Tourism is a fundamental driver of the City's local economy and has been one of the industries most profoundly impacted by COVID-19. Data from Visit Saint Paul indicates that the immediate Saint Paul area has lost more than $1 billion in sales and $70 million in tax revenues due to COVID-19 impacts on the tourism industry. This program provides $4.5 million for a tourism recovery support program. Eligible applicants for this program are organizations that demonstrate that their normal pre-pandemic operations have a significant impact on tourism in Saint Paul and have suffered negative economic impacts from the COVID-19 pandemic.

Lead Service Line Replacement: $16,000,000

The ARP funds address the need to replace lead service lines throughout the City's water distribution system. The project will help to fund lead water service line replacement for an estimated 2,400 lead service lines based on the current estimated cost of $6,000 per private service replacement. The project addresses climate change by improving water conservation, system efficiency, and reliability.

Youth Employment Affiliate: $100,000

Due to the COVID-19 pandemic, school disruption has severely impacted Saint Paul young people. Existing workforce funding streams are focused heavily on supporting out of school youth. As a result, there is a gap in supporting opportunities for youth in school related to career exploration, access to work experiences and internships, and connections to other career readiness and professional development resources. This investment area will allow for Ramsey County as a subrecipient of the City to provide systems alignment to create connections for schools located within Saint Paul. This alignment will include additional supports for schools such as industry events and job fairs and other career exploration opportunities for students. In addition, this funding will be used to create a pilot Work Barrier Removal Fund to provide small financial support for COVID-19 impacted students to pay for work related items needed at the start of a job such as uniforms, transportation, and other related items. Per the City's agreement with Ramsey County, the City's ARPA funds will only be spent on City of Saint Paul residents.

Driver's License Academy: $250,000

The shifting economy and need for more workers in pandemic recovery require young people to have their driver's licenses. Driver's licenses are necessary to provide reliable transportation to jobs, to work a more flexible work schedule, and increase earnings. Without the means to get a driver's license, employment and professional opportunities are limited. Though this project, Ramsey County, as a subrecipient of the City, will connect St. Paul job seekers to the Ramsey County Driver's License Academy. Participants will be job seekers age 18-24 who are COVID-19 impacted and enrolled in credentialed or certificate career pathway, job training, or industry exploration programs. Participants will receive individualized support to obtain a driver's license. Per the City's agreement with Ramsey County, the City's ARPA funds will only be spent on City of Saint Paul residents.

LEAP: $600,000

This project provides funds to Ramsey County, as a subrecipient of the City, to support Learn and Earn to Achieve Potential (LEAP)™, a multi-site initiative of the Annie E. Casey Foundation, which aims to increase employment and educational opportunities for young people facing some of the greatest challenges on the path to adulthood. LEAP focuses on young people who have been in foster care, involved in the justice system, experienced homelessness or are pregnant or parenting. The initiative aims to adapt evidence-based models to meet the needs of these youth, including support to address the trauma they have experienced in their lives. Funding will support LEAP pilot sites with the administering of the Jobs for America's Graduates (JAG) career-readiness curriculum at five partner sites (schools and community-based organizations) across Saint Paul. Additionally, Saint Paul partner sites will be connected to a wider network of professionals and resources who are serving the same population. These connections will then facilitate a more informed referral system for young people to get connected to additional supports that they may need. Per the City's agreement with Ramsey County, the City's ARPA funds will only be spent on City of Saint Paul residents.

No Barrier Employment Program: $750,000

There are many Saint Paul residents who need low or no barrier employment opportunities. Economic insecurity in the community has increased during COVID-19 and has led many individuals to individual hardships, including job loss and lack of access to a permanent address. Without access to a permanent address, and other challenges that accompany homelessness, obtaining a job becomes extremely challenging. Ramsey County as a subrecipient of the City of Saint Paul will implement employment models to support those within the City of Saint Paul experiencing homelessness with low-to-no barrier meaningful work experiences, wages, and connections into the workforce ecosystem. Per the City's agreement with Ramsey County, the City's ARPA funds will only be spent on City of Saint Paul residents.

Digital Career Pathways and Resource Hub: $750,000

Access to employment and training resources is a barrier for youth and young adults in the community. Through various youth engagement sessions, it was identified that there is a gap in sharing employment resources to young people in a way that is organized, meaningful, and reflective of the diversity in our community while also being engaging for young people. This investment area will create an online website serving as a digital hub for youth and young adults in Ramsey County and the City of Saint Paul for employment resources, with a significant emphasis on sharing videos and other content focused on telling the story of local individuals who have overcome barriers to successful career pathways. Content for this site will be informed, developed, and shared by local young people. Per the City's agreement with Ramsey County, the City's ARPA funds will only be spent on City of Saint Paul residents.

Earn and Learn: $9,700,000

"Learn & Earn" models and an investment into occupational training while investing in the financial needs of residents. Residents ages 18-35 will be able to access funds, either directly from the County or through a Community-Based Organization, to assist in paying tuition, books, technology costs, etc. Additionally, residents will receive subsidized wages, stipends for learning and paid internships or on the job training for their time learning, whether that is in a classroom training or receiving on the job training through an internship, employment, or other arrangement. Community-based organizations will provide coordination and support to students throughout their course of study and into their new careers. Per the City's agreement with Ramsey County, the City's ARPA funds will only be spent on City of Saint Paul residents.

Employer Engagement Outreach: $150,000

Employers play a large role in ensuring that young people have an opportunity to learn and earn in a positive way. This investment area will ensure deeper partnerships with area chambers and economic development intermediaries to interface with the workforce investments to ensure that Ramsey County is supporting inclusive workplaces. Through this effort, the county and city will create employer network supporting Right Track and Right Track Plus; co-create and design a city-county Youth Work Readiness Credential and establish a Youth and Employer Workplaces Council.

LOCAL Fund: $2,500,000

COVID-19 has exacerbated historical disparities in business ownership. The Locally Owned Cooperative Assistance Loan (LOCAL) Fund will use ARP Funds to provide assistance to small businesses to address the Negative Economic Impacts of COVID-19 by helping businesses develop shared-ownership models. The shared ownership model will increase local ownership of businesses. This will give community members a voice and an economic stake in their workplace, and by extension, their communities. The LOCAL Fund will retain and grow businesses and jobs while increasing local ownership, thereby increasing economic resilience to weather pandemic recovery.

SAC Financial Assistance: $150,000

To support food establishments through the final stages of the COVID-19 pandemic and their economic recovery, the Sewer Availability Charge (SAC) Assistance Program will support businesses in moving from temporary (Mayor's COVID-19 Executive Order) permitted outdoor seating to permanent outdoor seating for customers. The program will address the need for food establishments to create permanent outdoor seating in a manner that addresses their significant financial limitations and challenges. The program will provide food establishment owners financial assistance in the form of SAC Fee waivers, which are a significant financial barrier for businesses to create additional seating. This barrier is currently higher, given the current economic conditions of these businesses most impacted by COVID-19.

Council Technology: $9,682

Funds support technology investments in hybrid meeting capabilities, ensuring staff safety during COVID-19. When the City Council offices were renovated in the early 1990s, they were designed to accommodate what is now an outdated service model. The space heavy design is "top down" and laid out for seven separate Council reception areas, seven executive assistants, seven aides, and seven Council member offices with seven additional separate meeting spaces. This approach required designers to split up the Council members to separate sides of the building. The design did not consider safety, user experience, efficiency, or the incredible changes to technology which have impacted the use of the space and the way City Council is accessed. As a result, the floor configuration does not meet the safety, operational, and technology needs of staff, Council members, and the public today. COVID-19 has exacerbated the Council's workspace deficiencies and created demand to access the Council remotely. There is a new precedent and obligation to offer a modernized hybrid technology model where constituents and staff can be involved in person or remotely.

Public Safety Radio Replacement: $3,666,586

Overseen by the Department of Emergency Management, funds replace 88 portable and 336 mobile unsupported end-of-life land mobile public safety radios. Funds also support procurement of 3 digital repeaters necessary to maintain public safety in the city.

Enterprise Asset Management System and Implementation Services: $5,000,000

Through this project, the City is seeking proposals from qualified Vendor or Vendors for the procurement and implementation of an Enterprise Asset Management Software system (EAMS), which includes software, project management, implementation services, training, and technical support. It is the intent of the City to purchase a software solution that supports continual growth of enterprise asset management best practices, promotes resiliency, sustainability, and equity in City operations and services. The system supports project tracking, purchase and requisition, timekeeping, warehouse and inventory functions, fleet management, facilities management, and process automation.

City Council Modernization: $1,944,000

In January 2022, the City Council, its staff, and the general public returned to City Hall. The effects of COVID-19 have brought to a head the myriad of challenges that have long plagued the City Council (e.g. the current staffing model, the workplace layout, and ineffective, insufficient reception services). The City intends to use ARP funds to make adaptations to City Council workspace to implement COVID-19 mitigation tactics. To effectively utilize the funds, the use of funds includes an assessment to improve the Council's staffing model, to modernize and invigorate its workspace, and to create a safe, accessible, and fair Council system and work environment for all.

Electronic Payments: $2,000,000

ARP funds will be used to implement of an electronic payment portal for customer payments to the City. The portal will help the City to streamline cash, billing and accounting procedures through auto reconciliation and receipting.

Snow Removal Route Optimization and Navigation: $900,000

The City intends to use ARP funds to invest in new snow removal routing software and equipment that would revolutionize winter operations critical to maintaining safe and passable streets for all citizens, businesses, visitors, and commuters in Saint Paul. The City's winter street maintenance operations have not had any major updates for more than 30 years. The software and equipment upgrade will also significantly increase the efficiency of snow plow operations and enhance responsiveness, adaptability, and consistency of service throughout the entire City.

Smart Library Transformation: $1,250,000

The City intends to use ARP funds to purchase and use radio frequency identification (RFID) technology, which is well-established for libraries. Small, unobtrusive radio frequency tags will be added to library materials and entered into library software. Once complete, the benefits for community and staff include improved user experiences through faster checkout/return, safer library spaces through decreased touching of materials and surfaces, and less staff labor, staff repetitive stress injury, and equipment to manage library materials.

Remote Virtual Inspections: $1,000,000

The City plans to use ARP funds to provide policy direction, resources, and tools to perform and increase efficiencies of virtual inspections for all disciplines of Construction Services, including Building, Electrical, Plumbing, Mechanical, Warm Air, and Elevator inspections; and a variety of Fire Safety inspections, and Code Enforcement inspections.  These inspections could be in the form of customer to inspector or inspector to inspector, which would reduce the number of trips to an inspection site.  In addition, the utilization of digital codes will allow inspectors to inspect from any location and online scheduling will enhance customer experience and flexibility to schedule on their own time.

RiverCentre Parking Ramp Repairs: $1,700,000

The RiverCentre forecasts $19 million in lost gross revenue since the pandemic shut down the event business. Most funds previously allocated to capital repairs and equipment have been used to support the day-to-day operation of the City-owned facility for the last two years. Due to this, no funds have been available for repairs to the RiverCentre Parking Ramp. The $1.7 million is for immediate repairs needed for this City-owned ramp. This begins with repairs to the beams and columns. The list also includes concrete repairs to the pedestrian walkways, helixes, and the 8 parking levels. It includes a more comprehensive condition review comparing previous year's assessments to determine the comparative level of deterioration of the parking ramp. Finally, it includes replacing the failing security camera and emergency notification system, that over the past 20 years has experienced the same deterioration as the concrete.

Library Staff Restoration: $1,277,956

Funds restored 12.5 FTE Library staff positions that were eliminated due to the COVID-19 pandemic, so that the City's libraries can resume open hours to preCOVID-19 pandemic levels.

Parks Staff Restoration: $2,635,661

Funds restored 24.93 FTEs for Parks and Recreation that were reduced due to the COVID-19 pandemic, specifically expanding staff hours at Recreation Centers and Aquatics Facilities for the period of 7/1/2021 to 6/30/22.

Police LECPA: $124,014

Funds cover the 2021 costs for the Police Department's (SPPD) Law Enforcement Career Path Academy (LECPA). Community Engagement Cadets participate in LECPA, a feeder program into a career in law enforcement. Community Engagement Cadets engage in the community in a variety of ways utilizing COVID-19 protocols to maintain a safe environment. They interact with youth at police activity league events at the City's local recreational centers. They assisted with events such as Shop with a Cop and Safe Summer Nights, to build trust between the Police department and community. They also partnered with the Sanneh Foundation and local food shelves to provide healthy food to individuals in need during the ongoing pandemic. This program addresses youth unemployment in our community and opportunities for career advancement.

Recognition Pay: $1,000,000

To ensure adequate staffing for the delivery of City services, certain employees were eligible to receive a lump sum payment if they remained employed by the City for durations specified in respective memorandums of understanding. The lump sum payments were equivalent to 1.5-4% of the respective employee's base salary based on annual earnings.

Budget Stabilization: $8,527,382

Helps to stabilize the City's budget by replacing a General Fund transfer to Public Works for mill and overlay program expenses with ARP funding, thereby reducing General Fund expenses. The mill and overlay budget spending is primarily for general professional services, other services, and street maintenance materials.

DSI License Services: $340,299

This proposal is to provide economic relief to businesses by reducing the annual license fees for those impacted by the vaccination mandate, that was in place through a Mayoral Executive Order responding to the COVID-19 pandemic. The reduction proposed is 25%. License fees are invoiced upon the renewal date, and therefore received throughout the year. Additionally, this segment of businesses will not incur the 1.5% license fee increase, which the City Council approved as part of the 2022 budget.

Police Academy Pilot:  $2,070,000

Funds support a one-year pilot program allowing the Police Department to hold two academies to increase the number of deployable officers. Currently, the Police Department holds one academy per year. As a result, when officers leave throughout the year, the total number of deployable officers declines and those vacancies are not filled until hiring another academy occurs. This pilot will allow Police to run two smaller academies during the year to address the decline in deployable officers more quickly.

Grant Matching: $1,822,954

The Final Rule permits the use of ARP funds as a source of matching funds for certain other Federal funding opportunities (example: DOJ COPS grant, FEMA BRIC Grant). The City has allocated some ARP funds to be used to meet those potential match requirements. As matching needs arise, the funds that have been allocated will be budgeted for specific projects.

Parking Fund Stabilization: $2,000,000

COVID-19 event cancellations and work from home protocols gutted the revenues of the Housing and Redevelopment Authority of the City of Saint Paul, Minnesota (HRA) Parking Enterprise Fund and the HRA World Trade Center Parking Enterprise Fund. Due to the impact of COVID-19, there was a 75% decline and over $14 million in lost net operating income in 2020-2021 based on 2019 actuals. ARP funds ensure continued operations and maintenance of our parking system.

ARP Administration: $4,048,485

Effective administration of the ARP funding is vital for the successful implementation of these resources. Funds support the City's management of ARP, including in the areas of legal, financial, procurement, human resources, technology, and consulting needs.
ARP Projects Press Coverage
Expand the sections below to read press articles covering several of the City's ARP funded projects.