Human Rights & Equal Economic Opportunity
Service Changes
While Human Rights and Equal Economic Opportunity (HREEO) walk-up services are closed in alignment with public health official guidance around COVID-19, HREEO remains open to respond to the needs of the community. Staff are working remotely and able to assist.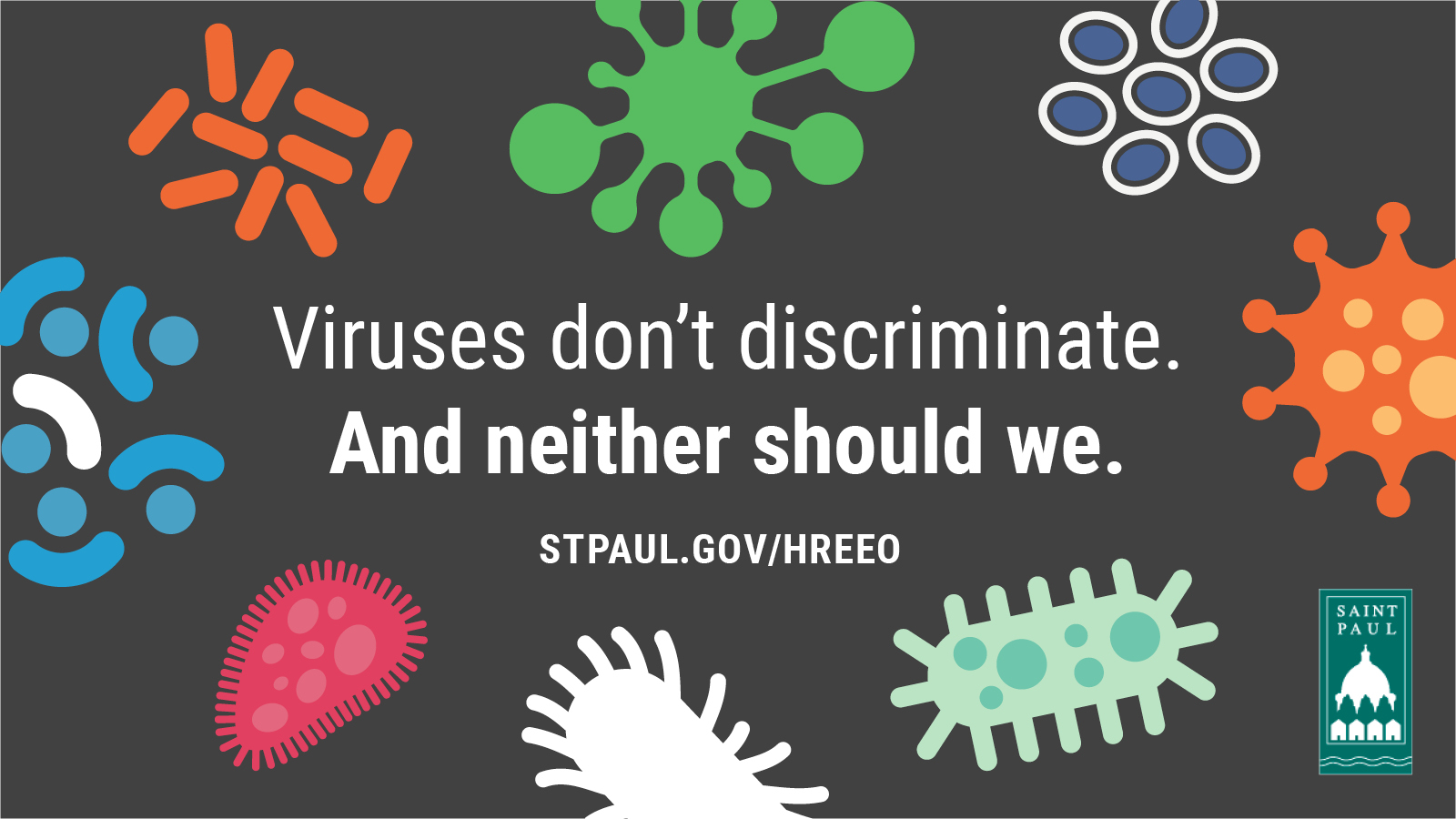 Individuals can file complaints either over the phone or electronically. Please note that HREEO commissions and committee meetings will be held remotely during the COVID-19 pandemic. 
For general inquiries, please call the HREEO general line at (651) 266-8966 or email:
COMMUNITY RESOURCE LINE
The City of Saint Paul has a new phone line and email address to answer questions about the our response to the COVID-19 coronavirus. Interpreters are available to answer questions in Hmong, Somali, and Spanish. Learn more at stpaul.gov/coronavirus.
Phone Number: 651-266-6000
Email: LanguageResources@ci.stpaul.mn.us 
U.S. Supreme Court Rules in favor of sexual orientation and gender identity

.
On June 15, 2020 the Supreme Court of the United States ruled that transgender employees are protected under Title VII of the Civil Rights Act of 1964.  The Court ruled that Title VII's ban on sex discrimination extends to an employee's sexual orientation and transgender status thus it cannot be used as a basis for an employee's termination.  The Saint Paul Human Rights Ordinance and the Minnesota Human Rights Act have long prohibited discrimination based on one's sexual orientation and gender identity.  Employees now have additional protection under federal law.
The Twin Cities Pridefest begins on June 27, 2020.  Although this year the festival will be virtual, the City of Saint Paul celebrates with our LGBTQ community in the recognition by the Supreme Court, the right to be free from discrimination. For more information on the 2020 Twin Cities Pridefest visit: https://tcpride.org/general-information/
If you believe you have been discriminated against call us at 651-266-8966.
You can read the Court's decision at https://www.supremecourt.gov/opinions/19pdf/17-1618_hfci.pdf
Human Rights and Equal Economic Opportunity 
Welcome to the Department of Human Rights and Equal Economic Opportunity (HREEO). HREEO champions justice and equity by confronting issues of discrimination and providing innovative avenues for accessibility and economic opportunities for all residents and businesses. HREEO achieves these goals by consistently delivering quality customer service, being a voice and advocate within the city and metro area, building relationships throughout the community, and enforcing laws.
We welcome you to join our efforts.
The Department of Human Rights & Equal Economic Opportunity is composed of several divisions that perform a diverse array of functions.
The Department of Human Rights & Equal Economic Opportunity staffs and partners with several advisory boards, which work to better inform policy makers.   
What is HREEO?  
The City of Saint Paul completed an equal access audit in 2007 to examine the city's contracting and workforce development policies. As a result, HREEO was created to improve the inclusive contracting practices and workforce development strategies of the City of Saint Paul. The department consolidated existing city resources to better serve, monitor, and enforce polices designed to expand economic opportunities and produce a more economically inclusive Saint Paul. 
Read the 2018 HREEO Annual Report. 
Visit HREEO Publications for additional event videos and reports.             ​