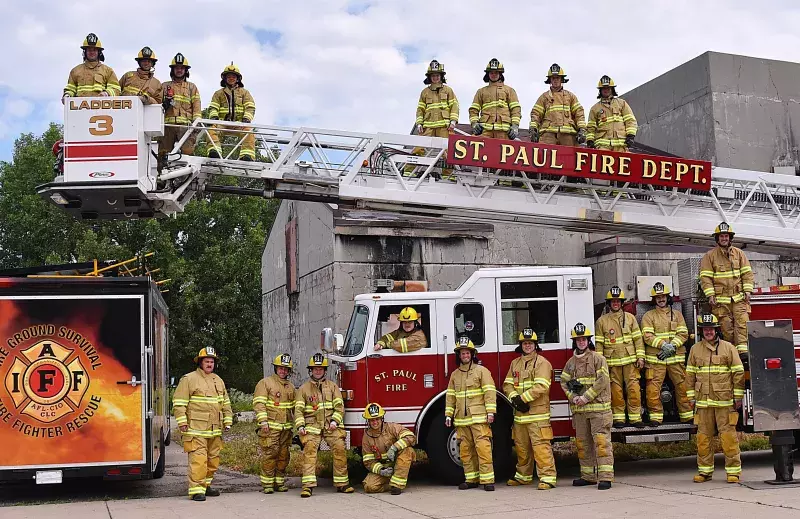 Congratulations to the Fire Academy Class of 2022-B
On July 29th, 2022, the Saint Paul Fire Department added 20 new firefighters to its ranks.  The department has hired 41 firefighters in 2022, 13 of which have been paramedics.   Almost 30% of this class has come through one of our department's pathways programs; the EMS academy, BLS program, or for some both. 
"A promotional process through our pathways program has been 13 years in the making.  I'm excited about the development of our promotional hiring process and proud of the work our training division has done to bring on and train these needed additions to our staff."
Fire Chief Butch Inks
The Saint Paul Fire Department protects the life and property of the people of Saint Paul.
We are a dedicated all hazard response agency comprised of firefighters, public educators, support staff and maintenance personnel - creating an effective team that are proud to serve the residents of our Capital City. 
There are 15 fire stations throughout the City. The firefighters and medics work 24-hour shifts to keep the City safe and make Saint Paul, America's most livable city.
Congratulations to the Summer 2022-A Fire Academy Graduates!
Fire Prevention and Public Education
Sign up for free Smoke Alarms, Carbon Monoxide alarms, and StoveTop FireStops!
See why you should install residential fire sprinklers in your new home
Follow the Saint Paul Fire Department on social media: