Personnel Duties
Personnel duties encompass much more than fire suppression. 
Additional duties include:
Emergency medical calls
Hazardous material incidents
Extrications
Search and rescue
Public education at special events
Station tours
Blood pressure checks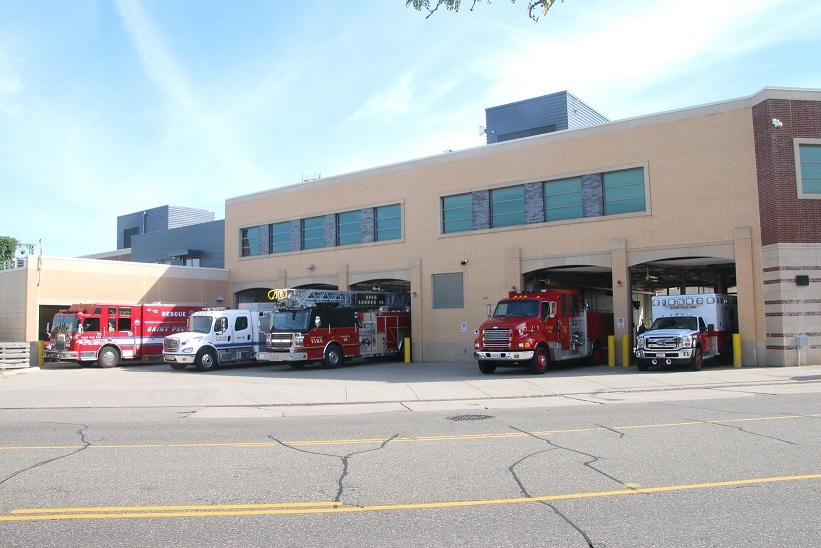 Station 1
The original house was built in approximately 1870 at 411 Saint Peter St. It housed Hose Company 1, originally, but a later building addition allowed Pioneer Hook and Ladder 1 to join the house.
In 1887, a double-bay, two-story building was erected at the corner of Ninth and Fort Rd. (Main St.). That building was occupied in the years to follow by Engine Company 1 and Ladder 1.
On April 13, 2010, Station 1 moved out of its present location of 296 West 7th Street and into its brand new location located at 1000 West 7th Street, along with Fire Station 10.
Current Station 1 Deployment:  Rescue Squad 3, Engine 10, Medic 10, MN State Taskforce 1 Structural Collapse Rescue, Air Trailer, Fire Investigator, EMS Supervisor and Deputy Chief.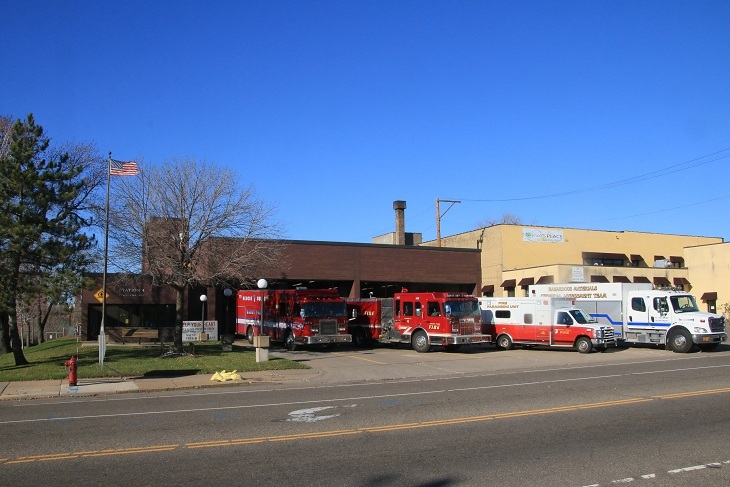 Station 4
Engine House 2 was built at 446 Wacouta St. An addition to the original structure was made in 1888. The building went out of service in about 1934 and is now a Buckbee Mears warehouse.
For many in the department today, old Engine House 2 was known as Station 4 before it went out of service. This is because Engine House 4, originally build at Tenth and Broadway in 1873, was closed and the company moved to this location sometime between 1917 and 1924. Old Station 4 stood empty for many years and was finally demolished for the freeway.
Before the demolition, old Station 4 quartered Engine 2, Hose 2, and Chemical 1. By 1933, Engine 4, Engine 2, and Ladder 8 were quartered there.
Current Station 4 Deployment: Squad #1, Haz/Mat #1, Engine #4, Medic #4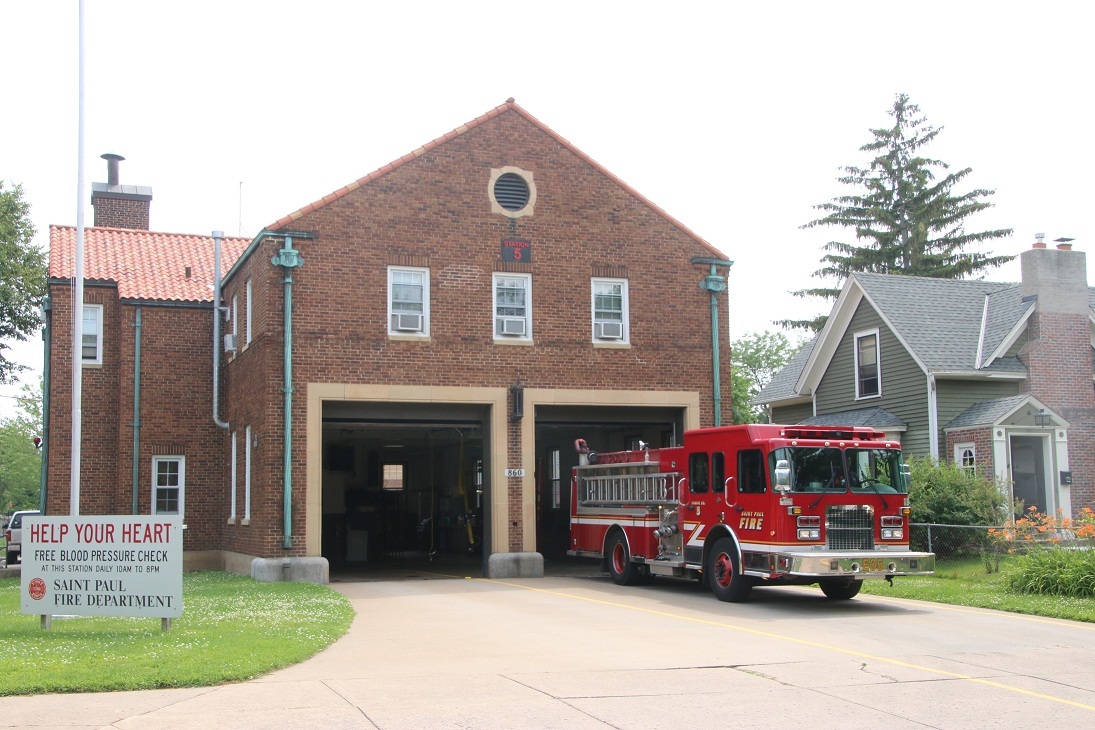 Station 5
Originally, this was a single-bay, two-story brick house built in 1882 at Selby and Mackubin.  It housed Engine 5, but an addition was made to the building in 1886 and Ladder 3 moved in with Engine 5. In 1906, a pompier tower was erected on the building.
In 1930, the present engine house at Ashland and Victoria was built and occupied. Old Station 5 at Selby and Mackubin was sold for $4500 in 1930.
Due to manpower shortage during World War II, Ladder 3 was placed out of service.
Current Station 5 Deployment: Engine #5, Medic #5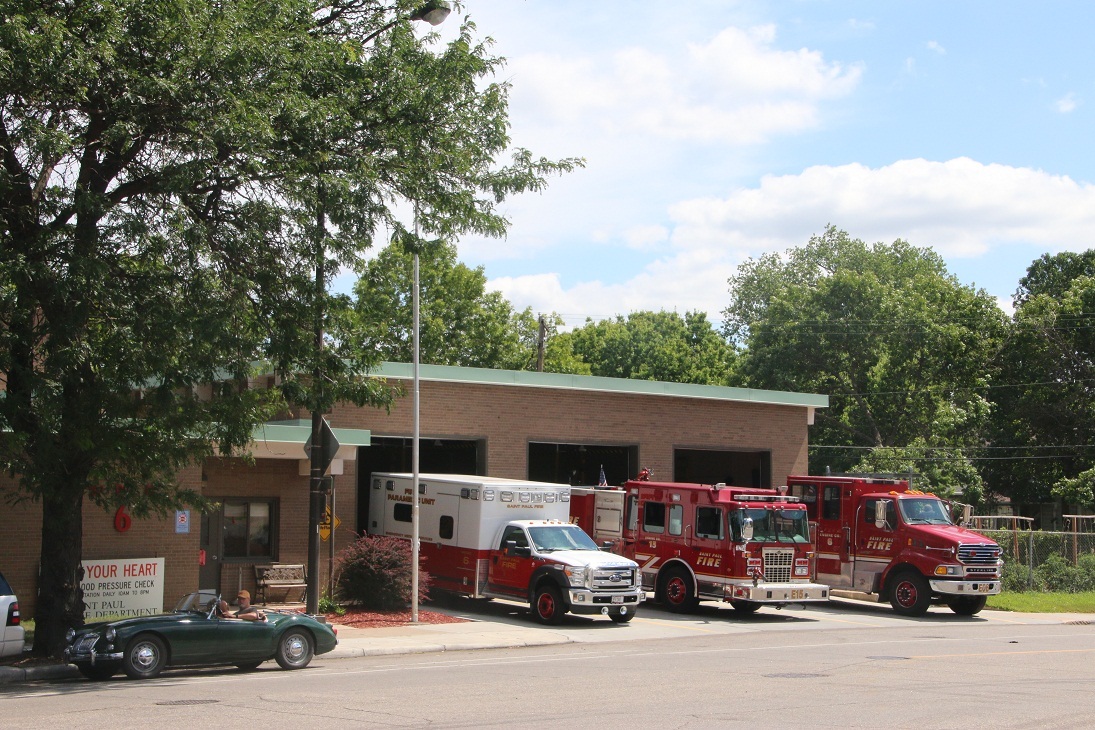 Station 6
Built in 1883 at Delos and Clinton, the old Station 6 - a two-story house - was vacated and then demolished in 1965. The new Station 6 at 33 East Concord houses Medic 6, and Engine 6. Engine 15 was consolidated into Station 6 with the move.
In 1887, Ladder Company 5 was organized and housed at Engine House 6. It remains that way today, though it is now called Ladder 6.
Current Station 6 Deployment: Engine #6, Medic #6, Engine #15, Marine #1, Air Boat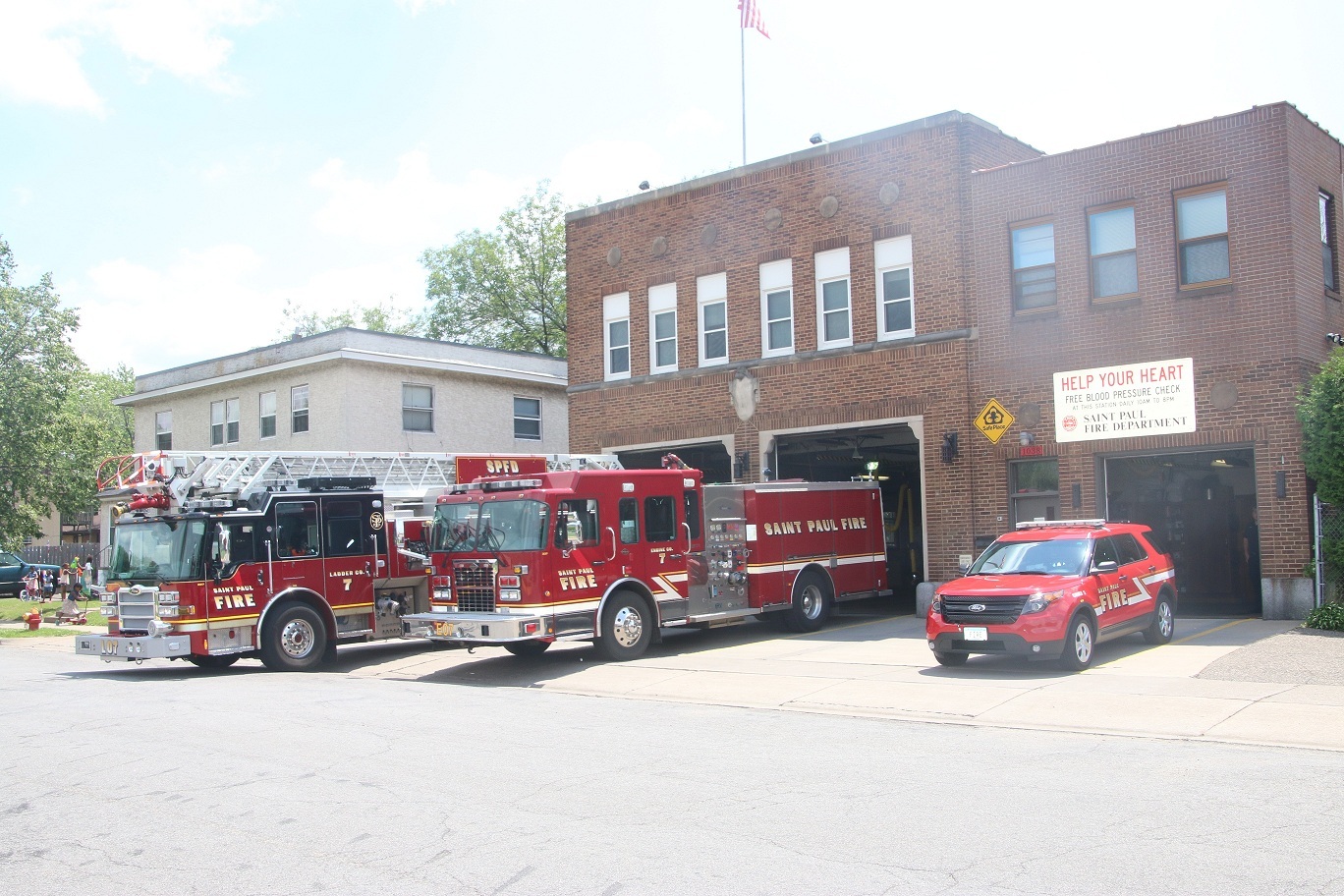 Station 7
Station 7 was originally built in 1886 at 1028 Ross Ave. It was a single-bay, two-story brick house. A new double, two-story brick house was built in 1930 at 1038 Ross Ave. It houses Engine 7, Ladder 7 and District Chief 3.
Current Station 7 Deployment: Ladder #7, Medic #7, District Chief #3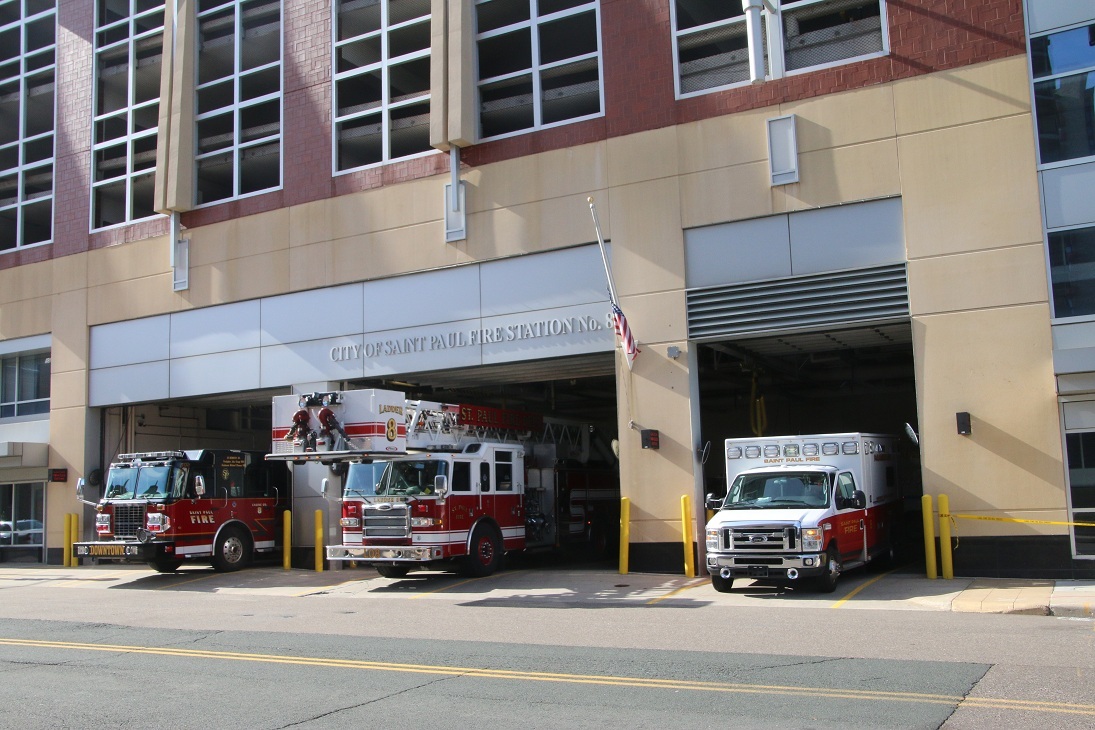 Station 8
The department's headquarters building at Eighth and Minnesota was a double-bay, three-story brick building and was erected in 1883. It originally housed Engine 8 and Ladder 2. In 1912, Squad 1 moved there from Engine House 1, then Station 8 was remodeled. The Second floor was occupied by the Board of Fire Commissioners, and the Chiefs were moved to the third floor. When responding to alarms, it was necessary for the Chiefs to slide a pole to the second floor, and then slide down another pole to the apparatus floor. Station 8 moved to Eleventh St. and Minnesota in 1930 and shared the building with Ladder 2, Squad 1, and the Hose Tower. Old Station 8 was demolished in 1931. After 75 years in one location, Station 8 recently relocated across the street, to 65 E. Tenth St. into a newly constructed State office building.
Current Station 8 Deployment:  Ladder 8, Engine 8, Super Medic 8, Chief 2, Decon Unit and Foam Truck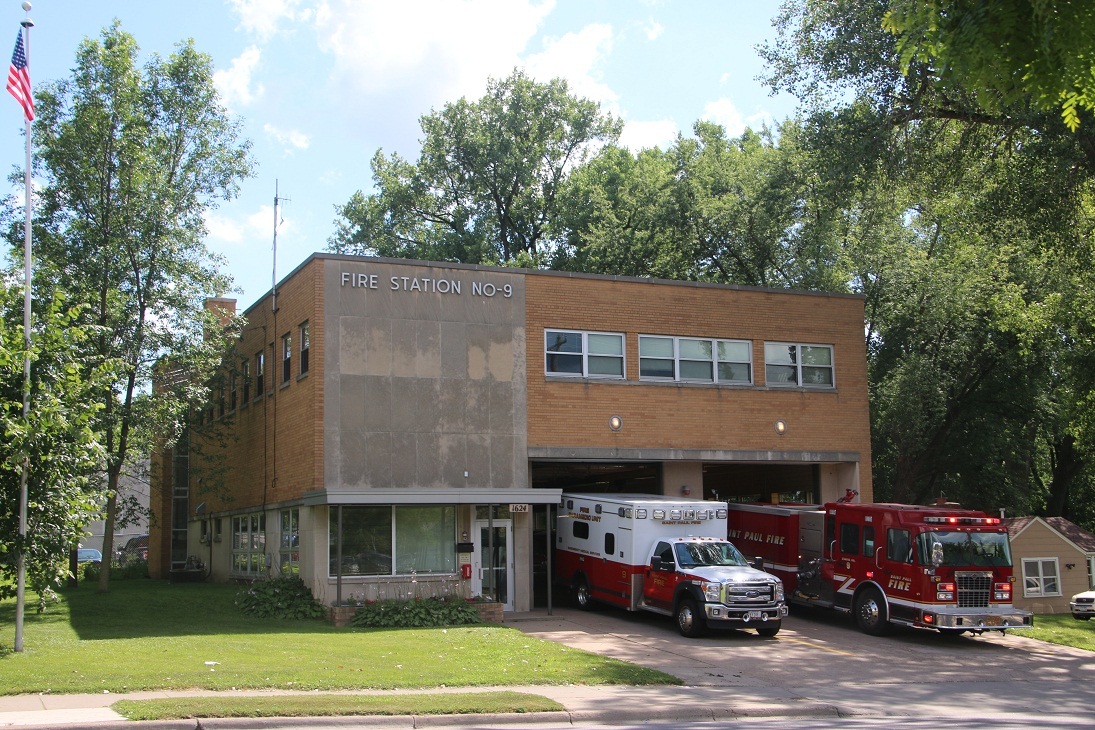 Station 9
Station 9 was originally built as a single-bay, two-story brick building at the corner of Marion and Edmund. At first, the building housed Chemical 4, which was later transferred to Front St. The building was erected in 1885 and expanded in 1887. 
For many years Station 9 housed the repair shop. The shop was moved to Station 10 in 1949. In 1942, the old Engine House 9 was closed due to a wartime manpower shortage. In 1952, it was sold to the Lawrence Sign Company. Later, it was demolished to make way for the widening of Marion Ave.
Current Station 9 Deployment: Engine #9, Medic #9, Boat #9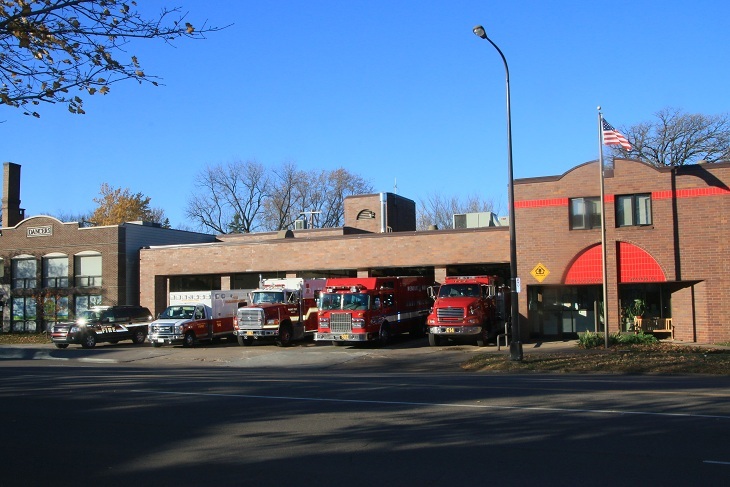 Station 14
The original Station 14 was built in 1887 at the corner of Saint Anthony and Cleveland. It was a two-story, double-bay house serving Ladder 6 and Engine 14. In 1921, Engine 14 moved to its present location at Snelling and Ashland. The present house was a double bay, but it was expanded into a three-bay in 1956. In 1957, Squad 2 was once again restored and quartered there.
Because of the poor condition, Station 14 was moved to its present location on Snelling Ave.
Current Station 14 Deployment: Engine #14, Medic #14, Squad #2, Haz/Mat #2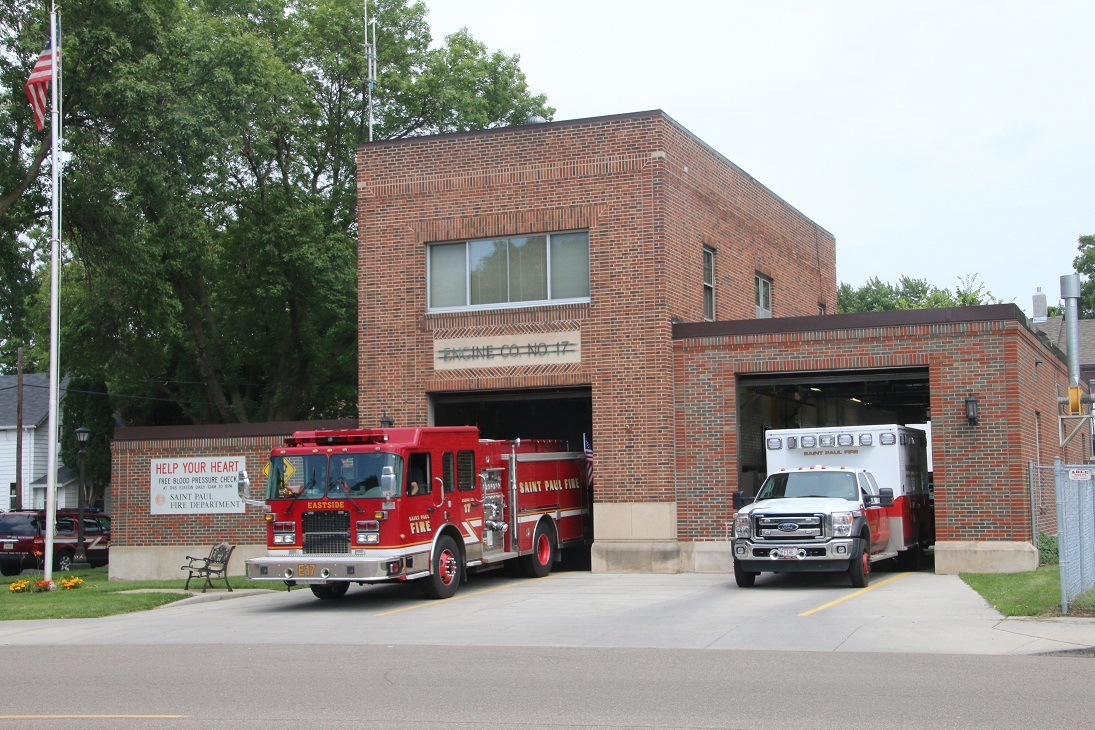 Station 17
This single-bay, two-story brick building was built in 1884 at Payne and York. It originally housed Supply Hose Number 2. On May 1, 1905, Engine Company 17 was organized to replace Hose 2. Engine 17 was moved to its present location at Payne and Hawthorne on July 1, 1930. In 1978, a one-story addition was made to the building.
Current Station 17 Deployment: Engine #17, Medic #17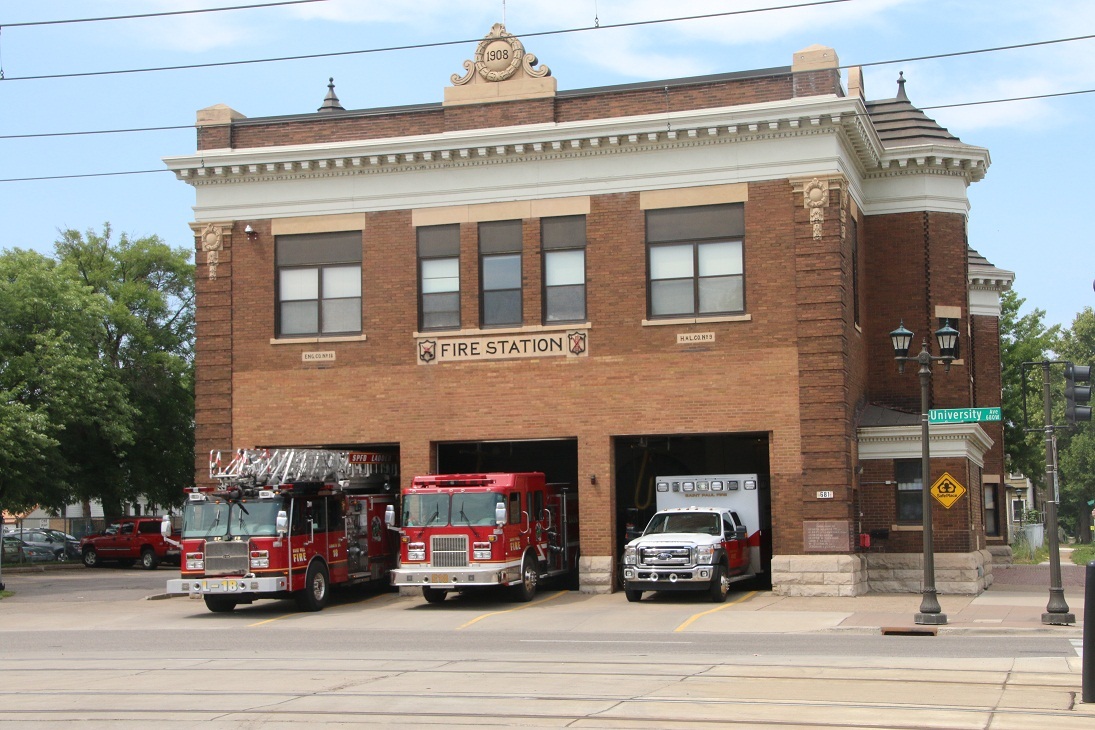 Station 18
Saturday In 1907, two lots were purchased at University and Saint Albans for $3500. The next year, Engine House 18 was built and occupied by Engine 18 and Ladder 9. On December 9, 1913, Station 18 was motorized. The annual report shows Station 18 companies to include Rescue Squad 2 as well as Engine 18 and Ladder 9. In 1940, Squad 2 was placed out of service.
Current Station 18 Deployment: Engine #18, Medic #18, Ladder #18, District Chief #1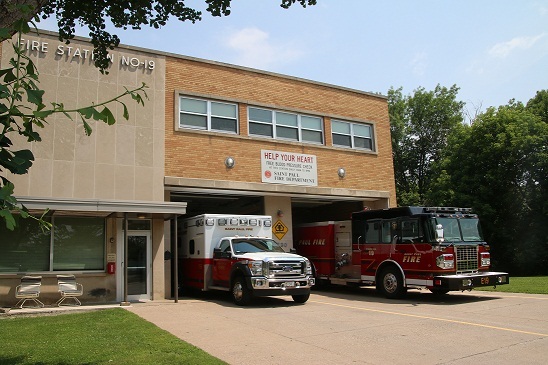 Station 19
Station 19 was originally placed in service in 1909 at Maple and Conway, replacing House 3. In 1930, a single-bay, two-story brick building was erected at Highland Parkway (then Otto) and Snelling Ave. in Highland Park and leased from the Water Department for $1 per year.
In 1958, the present Station 19 was built at 2530 Edgcumbe Rd. Ladder 8 was assigned there until it was put out of service in 1959.
1n 2017 Station 19 was remodeled adding a bay for a ladder truck and additional living space for four fire fighters.  The renovated Station 19 reopened October 7th, 2017.
Current Station 19 Deployment:  Engine #19, Medic #19, Ladder #19, Marine #2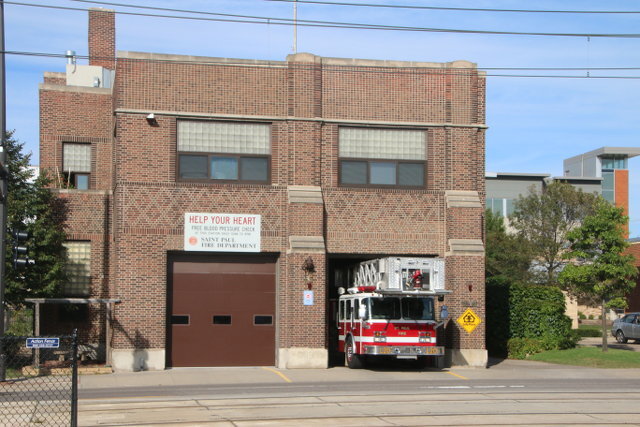 Station 20
In 1908, two lots at Snelling and Ashland were purchased for $4500 and a new double-bay, two-story brick house was built. Completed in 1910, it housed Engine 20 and Ladder 10. By 1933, Engines 12 and 20 and Ladder 6 were there. A new, double-bay house at 2179 University was built in 1921. Currently housed at Station 20 is Ladder 20.
Current Station 20 Deployment: Engine #20, Medic #20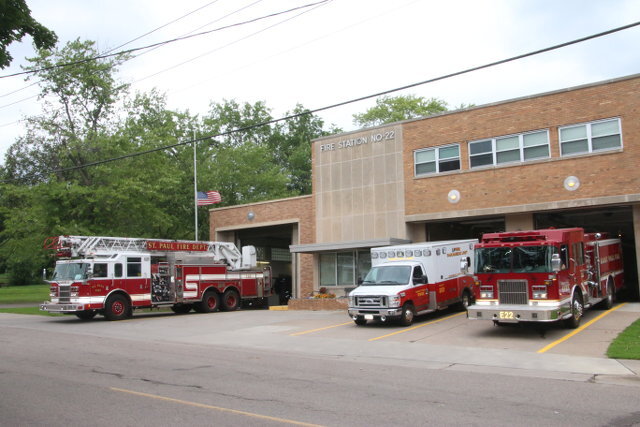 Station 22
Originally built in 1887, this was a single-bay, two-story house at Front and Matilda. It first housed Supply Hose Number 5. A 1940 report stated that it had been "completely rebuilt and modernized into a bungalow-type station with sleeping quarters in the rear."
The building still stands and is occupied by a refrigeration company. On October 8, 1912, Hose 5 was replaced by Engine 22. In 1958, the present station was built at Front and Marion, housing Engine 22 and Ladder 3.
Current Station 22 Deployment: Engine #22, Medic #22, Ladder #22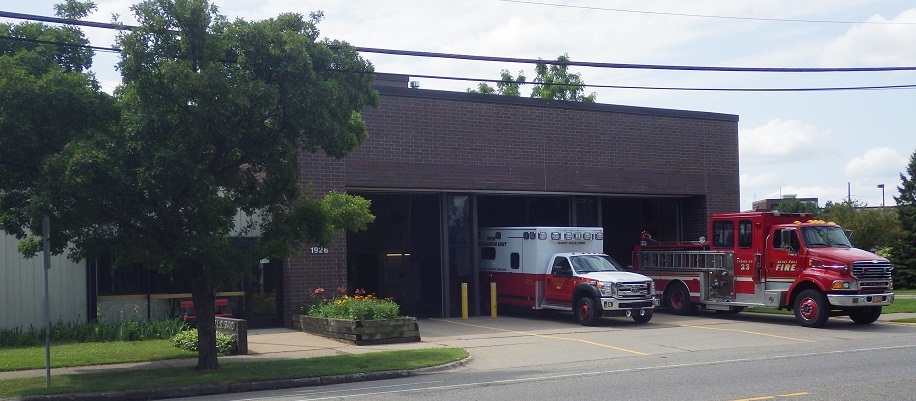 Station 23
Engine House 23 was originally erected in 1878 at the corner of Taylor and Asbury. It housed Ladder 7 and Supply Hose 4. Chemical Number 9 was also there for a short period. In 1915, the house was motorized. On January 15, 1923, the double-bay, brick house was closed and then used for many years as a department storeroom.
A new Station 23 was erected at Snelling and Atlantic (now Canfield) in 1922 and was leased from the State Fair Grounds (Agricultural Society) for $1.00 per year. The lot was abandoned in 1940 and sold to Hamline University.
Station 23 got yet another new home in 1977-78 when a new station was built at 1926 Como Ave. The City's newest fire station housed Engine 23, Engine 13, and Medic 23. Ambulance 23 was placed in service in 1971 and was upgraded to Medic status in 1978.
Current Station 23 Deployment: Engine #23, Medic #23, Ladder #23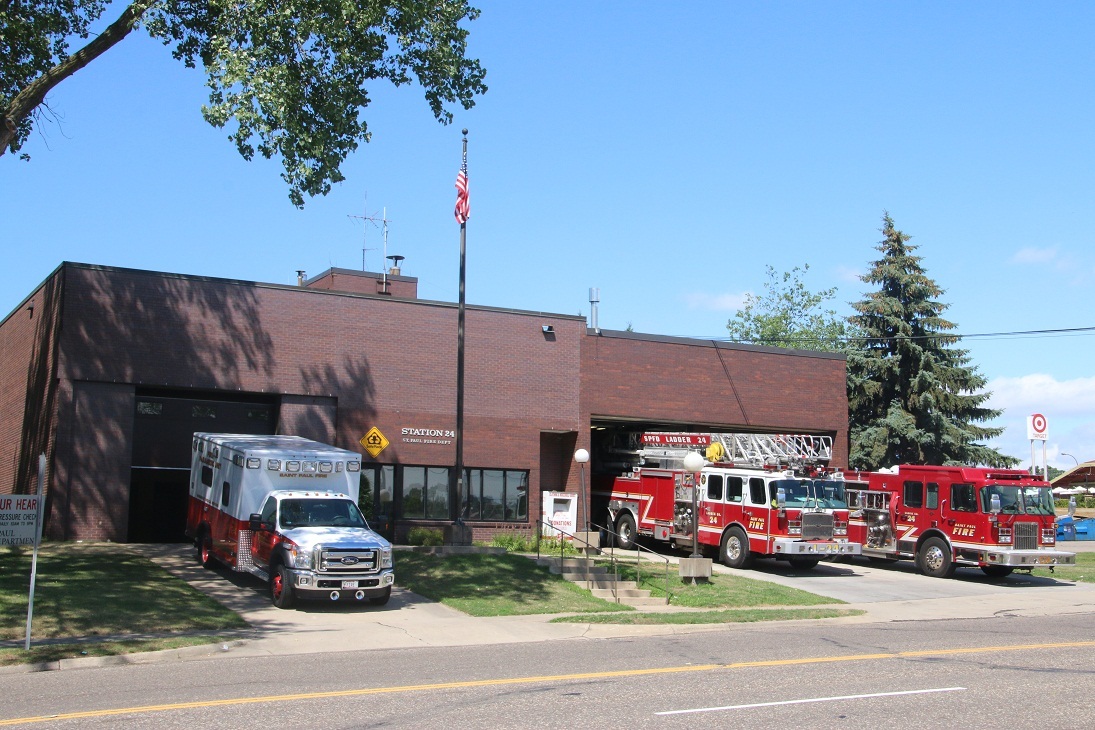 Station 24
Built in 1918 at the corner of E. Seventh and Flandrau, this was a single-bay, two-story brick house. The building still stands and is now a police precinct. In 1970, a new Station 24 was built at 273 White Bear Ave. to serve the expanding Battle Creek area. This is a double, single story brick building. Station 24 houses Ladder 4, which was resurrected and placed in service with Engine 1's crew in 1974. That same year Ambulance 24 was put into service.
Current Station 24 Deployment: Engine #24, Medic #24, Ladder #24