Responsibilities
Our division's mission is to provide those we serve a safe, modern, efficient emergency ambulance service, while contributing to the common good through research and innovation. 
The Emergency Medical Services (EMS) Division is responsible for:
 Providing advanced and basic life support for the citizens of Saint Paul
 Recording and compiling data generated by EMS incidents through patient care reports or via the Penbase computer system now being used by the Fire Department
Coordinating  the medical education and training
Certifying to meet standards required by the State of Minnesota
Testing new and innovative products
 Evaluating new procedures to stay on the cutting edge of pre-hospital delivery of patient care
Duties and Training
This Division has 119 Emergency Medical Technicians at the Paramedic level (EMT-P).
All Department of Fire and Safety Services personnel working in suppression are trained to the Emergency Medical Technician Basic (EMT-B) level or higher.
Firefighters not assigned to an ambulance serve as first responders that can initiate medical treatment.
All personnel assigned to ambulances are also assigned to a fire engine to ensure the crew responds in the appropriate apparatus.
Our department Paramedics / EMTs standby on various events that occur through the City including:

Minnesota Wild hockey games
Minnesota State Fair
Grand Old Days
Rondo Day
Cinco De Mayo
Crashed Ice
Twin Cities Marathon
Medical Direction
Regions Hospital EMS provides medical direction for the Saint Paul Fire Department.  On April 1, 2022 Doctor R.J. Frascone retired as the Medical Director after a distinguished career spanning over 40 years. Doctor Aaron Burnett has transitioned from his previous role as the Assistant Medical Director to Medical Director for Regions Hospital EMS. 
The Saint Paul Fire Department's partnership with Regions Hospital EMS over the years has included innovative procedures, clinical trials, and new tools, benefiting patient outcomes. These have included intraosseous access systems, the ResQPod, Lucas devices, videolaryngscopes, RSI intubation, iGels, SWAT medic program, and our ECMO partnership with the University of Minnesota.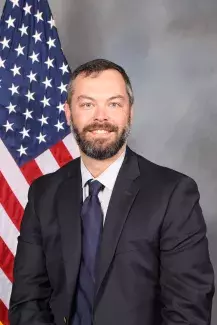 Dr. Aaron Burnett
Medical Director, Regions Hospital EMS