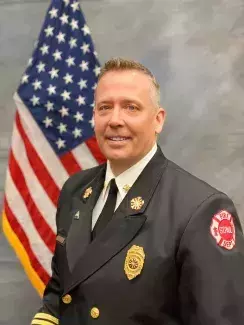 On November 1st, 2019 Mayor Carter announced the selection of Butch Inks to serve as Fire Chief for the City of Saint Paul.  His appointment to the position of Fire Chief becomes official after a swearing in ceremony by the City Council. 
Chief Inks grew up in Saint Paul, graduating from Como Park High School. He has served as a City employee for the past 34 years, 9 years with the Parks and Recreations Department and 25 years with the Fire Department.  Butch Inks is also a veteran of the Air Force where he served for 26 years before retiring in 2012.
"I humbly take on this great responsibility of ensuring the safety and well-being of both our residents and the dedicated women and men of the Saint Paul Fire Department who serve them" said Chief Inks.  "With new leadership comes new direction.  Effective today upon my swearing in, the Department's over a decade old Mission Statement will change and new Core Values will be introduced".                                          
                                            Mission
We protect the people of Saint Paul with public education, fire suppression, rescue, and emergency medical services. We partner with the community to mitigate risks, and respond to all calls for service with skill, dedication, and compassion.
"We take great PRIDE in serving our community and that PRIDE is also reflected in our Core Values." Chief Inks
                                         Core Values
Professionalism leads us to continuously improve our knowledge and skills, always striving to be "first in" with excellent service.
Respect guides every interaction, honoring the dignity of all persons.
Integrity demands that we do the right thing, no matter what. We are accountable for our commitments and our actions.
Duty calls us to selfless service in all our communities.
Equity is our call to uphold principles of fairness and justice, building a Saint Paul that works for everyone.