Summer Choice Fair
Families are invited to the Summer Choice Fair, your one-stop-shop to learn about exciting summer programs offered by organizations all across Saint Paul. With representatives from various programs all at one place, families can explore their options, choose programs they are interested in, and sign-up right on site, with many of the confirmed vendors offering free programs or scholarships.
In addition to providing information about summer activities, the Summer Choice Fair will also feature fun activities for children and families, including face painting, balloon art, food, and live entertainment and performances. This event is free to attend, and attendees can stop by Conway Community Center Dome anytime between 12 – 3 p.m. All are welcome.
There will be Spanish and Karen translators on site. 
Where: Conway Community Center, 2080 Conway St. Saint Paul, MN 55119           
When: Sunday, May 7, 12-3pm           
Cost: Free
Know someone who may be interested? Share our Facebook event!
Getting to the event
Free Metro Transit bus passes are available to those attending the event.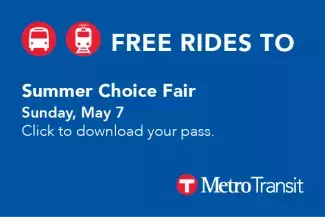 Vendor Information
Browse the list of confirmed vendors from our event and reach out to them if you're interested in learning more about their programs.
| Vendor | Description |
| --- | --- |
| CLUES YA! Program  | 23-24 school year recruitment for incoming 9th-11th graders |
| College Prep Elementary School |   |
| Community Action Head Start | We have year-round classrooms for ages 6 weeks-5 years that run during the summer as well as a year-round home visiting program that includes socialization events during the summer.  |
| ComMUSICation | This summer is the time to Find Your Voice through ComMUSICation's singing programs! You'll learn songs from all around the world and get to choose your own songs too. Music connects us to one another and builds meaningful friendships. You'll get to perform in the community and take day trips to exciting places around the Twin Cities! Performance Choir (grades 5-8) meets Mondays, Tuesdays, Wednesdays 3:30-5pm July 10-August 3, High School Choir (grades 9-12) meets Monday through Friday August 7-11 |
| East Side Arts Council | Artmobile - drop in art classes for all ages at a variety of locations across the East Side. ESAC will also be partnering with St. Paul Parks & Rec for their Summer Rec Check program, artists will do classes at the rec centers once a week for 3-4 weeks. |
| Family Values For Life | For incoming K-5th graders, we have our Summer Reading Academy (reading, writing, fun arts/crafts/science/and more! activities). For 9th-12th graders, ChatterBox: a space for students to lead conversations, and build up their creative & technical skills (via podcast creation/production). For adults, Bridges Out of Poverty - workshop/classes for adults seeking to pave pathways out of poverty. |
| Gap School  | We will be offering a 6 week Summer school program.  |
| Girls on the Run MN | Camp GOTR by Girls on the Run provides an intensive, one-of-a-kind opportunity for girls entering or exiting 3rd – 5th grades to develop self-confidence, learn life skills, and have fun.  Girls will enjoy building friendships in a fun and inclusive setting that includes interactive games, being physically active, and expressing creativity through arts and crafts and storytelling. Led by caring and qualified Girls on the Run coaches, this camp combines the best of the Girls on the Run program with all the fun of camp. |
| Hazel Park Learning Center | We are located on the eastside of Saint Paul and we provide childcare to children ages 6 weeks to 5 years of age. |
| Kahn Martial Arts | Martial Arts Lessons |
| Keane Sense of Rhythm | Tap dance classes |
| Keystone Community Services | Community Kids Summer Day Camp - Youth entering grades 1-9. Reading, Math, STEM, social skills, sports, field trips and more! June 20 - August 11, Monday - Friday from 12:00-6:00pm.  |
| Lyngblomsten | Volunteer opportunities for youth ages 13+.   |
| PARKS Study University of Minnesota | Opportunity for Mpls & St. Paul families to participate in our study about parks and physical activity and get compensated up to $290  |
| Restoration for All Inc.  | Future Solution Now (FUSON) Summer Bootcamp: Future Solution Now is a STEAM and Entrepreneurial education program structured to ignite interest in STEM (Science, Technology, Engineering, Math) learning and careers among girls of African Ancestry and recognize their personal skills and abilities by leveraging ethnic entrepreneurship to fill an ethnic niche for them to achieve economic inclusion and self-sufficiency using culturally appropriate strategies. Using project-focused curricula, the Future Solution Now Bootcamp will  engage participants in hands-on STEM education and activities, and ignite their interest in STEM learning and careers and they will also gain entrepreneurial skills. At the end of the bootcamp, each girl will be grouped in teams to solve community challenges using the knowledge gained from the training held. |
| Saint Paul Department of Public Works | Information on the Saint Paul Bicycle Plan |
| Saint Paul Parks & Recreation | We offer a wide variety of youth, adult, families classes, camps, events, activities across the city.  Some are free, some are fee based.  We have youth & adult sports as well.  We love to hear from you, the public, on what you would like to see offered.  Instructors are always needed in all capacities. |
| Saint Paul Police Department | Summer and year round programs for youth |
| Saint Paul Public Library | Youth programs for all ages - summer reading initiative, storytime, camps, performances, FunLab, Createch for teens |
| Saint Paul Public School - Early Childhood Family Education | Classes and drop on opportunities for families with children ages B-Kindergaten |
| Saint Paul Public Schools | Grades PreK-12 Summer Learning Programs help students strengthen academic and social emotional skills, discover new talents, and recover high school credits. Examples of program themes include: Experiential & Project-Based Learning; Environmental Studies; Science, Technology, Engineering, Art, and Math (STEAM); Leadership; and, Languages & Cultural Studies. All programs are FREE and include:  Academic Support & Enrichment- Students will be inspired to learn new skills and increase their current understanding of reading, math and other subjects while discovering new interests and talents and making new friends. Breakfast and Lunch - All students receive two free healthy meals daily that include entrees, salads, baked goods, and locally grown fruits and vegetables. Transportation - Transportation is available to most students who live in Saint Paul (within transportation guidelines). Use the School Finder at spps.org/apply to find your Area (A-F1/F2).  |
| Saint Paul Public Schools- Community Ed | Community Ed has FREE full day and part day summer camp opportunities for K-5 students. |
| Saint Paul Public Schools- Department of Alternative Education | Grades PreK-12 Summer Learning Programs help students strengthen academic and social emotional skills, discover new talents, and recover high school credits. Examples of program themes include: Experiential & Project-Based Learning; Environmental Studies; Science, Technology, Engineering, Art, and Math (STEAM); Leadership; and, Languages & Cultural Studies. |
| Saint Paul Public Schools- Flipside | Flipside will over three 2-week camps for free to students entering grades 6-9. The camps will focus on leadership and gaining a greater sense of belonging. |
| Saint Paul Public Schools- Nutrition Services | Free meals for kids 18 and under at food truck sites, community centers, parks and other youth program sites; we can serve a meal sponsor for other youth programs.  |
| Saint Paul Urban Tennis | SPUT's summer youth tennis programs include 6-week youth lessons in over 20 locations across St. Paul. We offer both daytime and evening lessons for all ages and skill levels. We also offer a chance for competitive tennis players to develop their skills in our Junior Team Tennis leagues. Later in the summer we offer youth camps featuring tennis, math, science, reading, and creative activities.  |
| Saint Paul Youth Commission | The Saint Paul Youth Commission is a school year program where young people learn to enhance their civic leadership, work in partnership with elected officials and stakeholders, represent their peers, and advocate for youth voice in decision making. Throughout the school year, we have bi-weekly meetings where youth in Saint Paul are trained in how change in the city happens and lead their own community IMPACT projects. We are looking for high school students from all over Saint Paul to join our program. |
| Sol of the Cities | Cost free Fustal league for all skill levels ages 6-12 at Johnson HS courts. Each participant will receive lunch and jersey. Must complete one hour of community service on site set up by SOTC staff. |
| Sounds of Hope, Ltd. | Songs of Hope is a 6-week residential performing arts program. |
| St. Pascal Preschool and Child Care | St. Pascal is offering a fun summer program for children ages three to five years old. The program will run June 12 through August 25 and will include water days, field trips and hand on learning experiences. Children can attend 8:00am-3:00pm or 7:00am-5:00pm.  |
| St. Paul Urban Tennis | Tennis lessons for ages 5-18 |
| The Free Book Buggie | Free books for kids |
| The JK Movement | Speed, Agility, Quickness; Team Leadership Training & Summer Program activities  |
| Theater Mu | Mu Explorations is back this July with week-long offerings for theater lovers! Both elementary and middle schoolers can choose the morning camp, afternoon camp, or both for a full-day option, and high schoolers will experience a 30-hour theater intensive that culminates in a performance. |
| Twin Cities Merge Foundation Inc. | A variety of program offerings |
| Youth Leadership Initiative  | We will be providing weekly experiential opportunities geared towards developing youth's leadership, including but not limited to field trips around the Twin Cities and outdoor excursions centered on social justice issues. |
| Youth Performance Company | Full and half day theatre workshops for grades K-12. Opportunities for beginning and advanced students. Topics include acting, musical theatre, improv and more!  |