Mobile Saint Paul
Welcome to "Mobile Saint Paul," a listing of mobile apps that we believe no one in Saint Paul should be without. Whether it's looking for events going on in the Capital City, connecting to your neighborhood library or wanting to report a pothole that needs repair, we believe these apps will enhance everyone's experience here. These apps are available on various formats (iOS, Android and Blackberry) so check with the app store for your smartphone to see if a specific app is supported for your device. As time goes on, the list will expand and evolve--so keep coming back to see new and innovative uses of smartphone technology in Saint Paul. This effort is part of Mayor Chris Coleman's commitment to ensure that that new technologies are easily available to our visitors and residents, who help make Saint Paul the most livable city in America!
Saint Paul Connect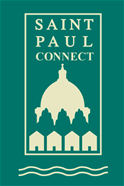 Everyone's seen it: the pothole that needs filling, the streetlight that's burned out, or the stop sign that needs repair. Saint Paul's new "Saint Paul Connect" app allows you to easily file a report describing these issues so city departments can quickly take action to resolve them. The iPhone iPad and android compatible app uses GPS technology to pinpoint your location and even allows you to upload a photograph in order to clarify exactly what needs to be fixed. Your reports are then routed to the appropriate city department for follow up. You will also be able to track your report from the time you send it to the time it's completed. Lastly, the app isn't limited to only reporting potholes and streetlights – graffiti, damage to city parks, slick spots on city streets and abandoned vehicles are just a few of the issues that you can submit. Your use of this app will continue to make Saint Paul the most livable city in America. Spotcycle  Spotcycle™ is the official app of "NiceRide," the bike-sharing program sponsored by Blue Cross and Blue Shield of Minnesota. With stations throughout Saint Paul and Minneapolis, getting around the Twin Cities has never been easier, cheaper or healthier!
Spotcycle

Spotcycle™ is a free, fast and smart mobile application that maximizes your bike-sharing experience. With Spotcycle™ you can: Locate bike stations on the bike share system, list the 10 nearest bike stations, display the bike and bike dock availability for each bike station, and group stations into favorites for quick access. You can also personalize your routes by using your smartphone's GPS feature to record and map out your bike route, mark points of interest to your bike route, save your bike routes to your Spotcycle™ account for later use, and class your bike routes into various categories. It can even help you make the most efficient use of your trip time by allowing you to see bike routes shared by Spotcycle™ members as well as add your own, search for bike routes by several criteria, rate bike routes, try out top rated bike routes, and bookmark interesting bike routes to your Spotcycle™ account.
Saint Paul Public Library

Search the catalog and acces your account. Find your nearest library location and connect with library staff. Check the calendar for events and classes or find out about the latest recommended books. Read SPPL's latest postings on Facebook and Twitter.
Lowertown Landing

Saint Paul's Lowertown has enjoyed a rejuvenation over the past few years. The area has been added to the National Register of Historic Places and was subsequently declared the Lowertown Heritage Preservation District. From the sprawling Farmer's market to the multitude of events at Mears Park, there's always something going on in Lowertown. With the future addition of the light this now thriving community will continue to prosper. This site is dedicated to helping this process continue, making Lowertown the place to be in Saint Paul!
Saint Paul Spot

St. Paul Spot features real-time information about local events, restraurants, shopping, nightlife and other activities in the St. Paul area. The free app also features GPS mapping, weather reports and fun local user-submitted events, photos and videos.