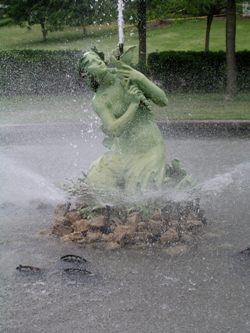 Artist Name: Unknown 
Media: Sculpture: Bronze and cast iron, painted light green; Base: Concrete surrounded by limestone pieces. Basin: concrete.
Date Created: 1897
Location: Como Park
History: In 1897, Dr. Rudolph Schiffman, one of the original members of the Park Board, traveled to Barcelona, Spain, where he first saw the original fountain.  Delighted with the sculpture, he ordered a replica for Saint Paul.  The artist is unknown, but some believe he was French.  
Dr. Schiffman also donated to Como Park the first Japanese Garden, which he purchased from Yukio Itchikawa at the 1904 World Fair in Saint Louis.
2018 Update: Recently, Parks and Recreation received a combined grant of $40,000 from the Berglund and Cedarwood Foundations to conduct a complete restoration of the sculpture. The current plan is to remove the sculpture this winter and transport it to the studio of conservator Kristin Cheronis, where the restoration will begin later this winter. If all goes well, the statue should be back in place about a year from now.
While the sculpture is being restored, Parks and Recreation will explore options to renovate the pool and multi-colored light system so the entire feature will be in great condition for years to come.