Rice Street - Larpenteur Avenue Gateway Study
Ramsey County is hosting a webpage for this project at www.riceandlarpenteur.com. Follow this link to subscribe to project updates.  
The cities of Saint Paul, Maplewood and Roseville, with collaboration from Ramsey County, are developing a short- and long-term vision plan for the Rice Street-Larpenteur Avenue area. The project is aimed at understanding and responding to the barriers, challenges, benefits and opportunities associated with changes in land use, access, transit services and other facilities around key nodes in the corridor. A shared goal is identification of potential redevelopment in the area.
The study area is currently defined by Arlington Avenue (south), County Road B (north), McMenemy Street (east), and Dale Street (west). 
A consulting team from Perkins + Will is assisting the cities with the visioning process.
Upcoming Community Meeting
On Thursday, October 26 from 6:00 PM to 8:00 PM, the three cities are hosting a community open house to present the new vision for the area. Community members will be asked to weigh in on that vision and provide input toward prioritization of implementation actions. The meeting will be held at the new Community School of Excellence at 270 Larpenteur Avenue W.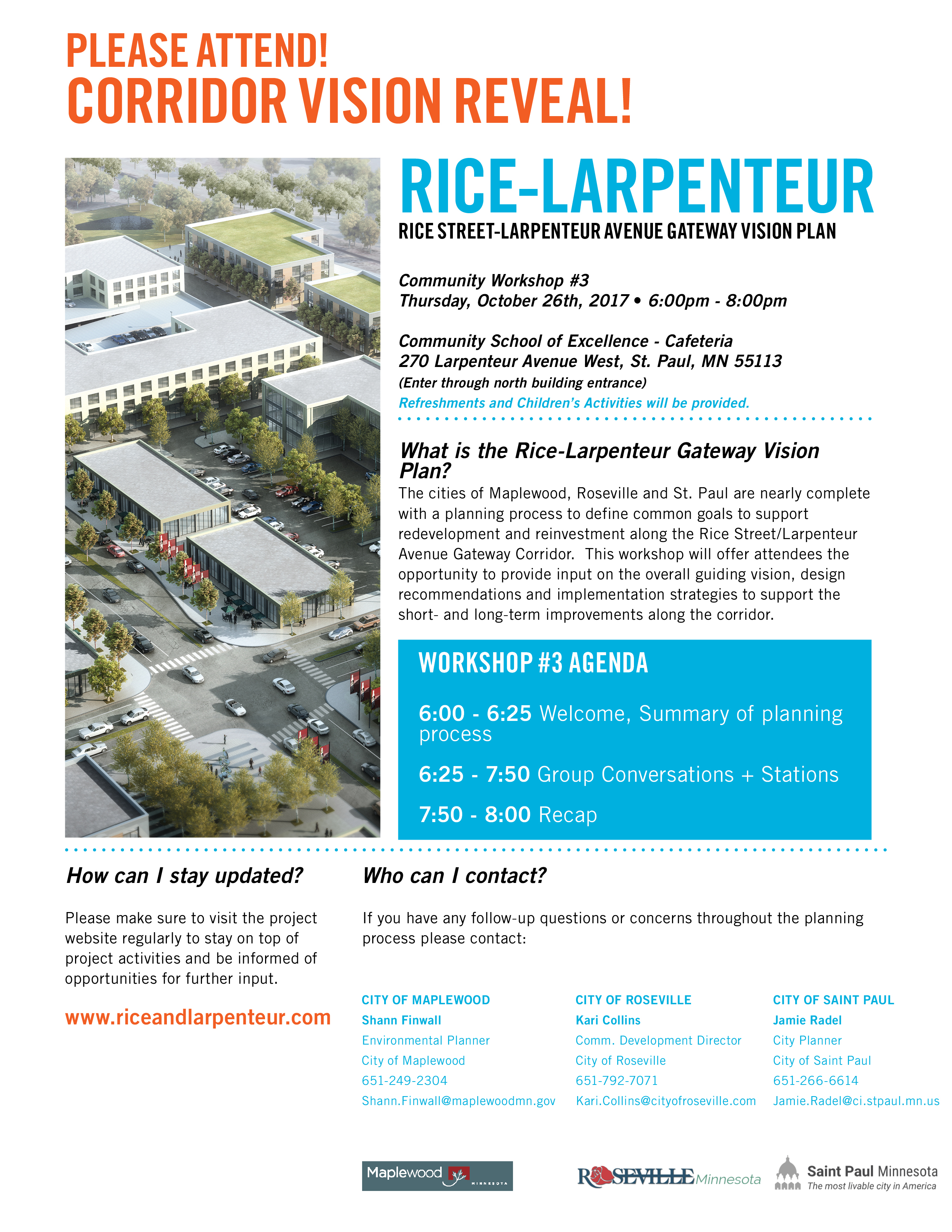 ​Rice-Larpenteur Gateway Area Planning Committee
Ramsey County and the collaborating cities have set up a Gateway Area Planning Committee (GPC) made up of citizens, businesses, representatives of non-profit organizations and staff members from the three cities and county. The committee will work with the consultant team to develop and evaluate Rice Street-Larpenteur Avenue Gateway Master Plan alternatives, and make recommendations on a preferred plan. A vision plan for the area is expected to be complete by December 2017. 
Community Advisory Group (CAG)
A group of stakeholders from each city made up of residents, businesses, planning commissioners, members of neighborhoods and business organizations will provide community input to help shape the development of the plan for the project area.
Urban Land Institute Healthy Corridors
The Rice Street-Larpenteur Gateway Area corridor has been selected by the Urban Land Institute (ULI) for funding as part of the building healthy street initiative due to its heavy focus on safety, health and social equity.
Read more about the Healthy Corridors grant application.