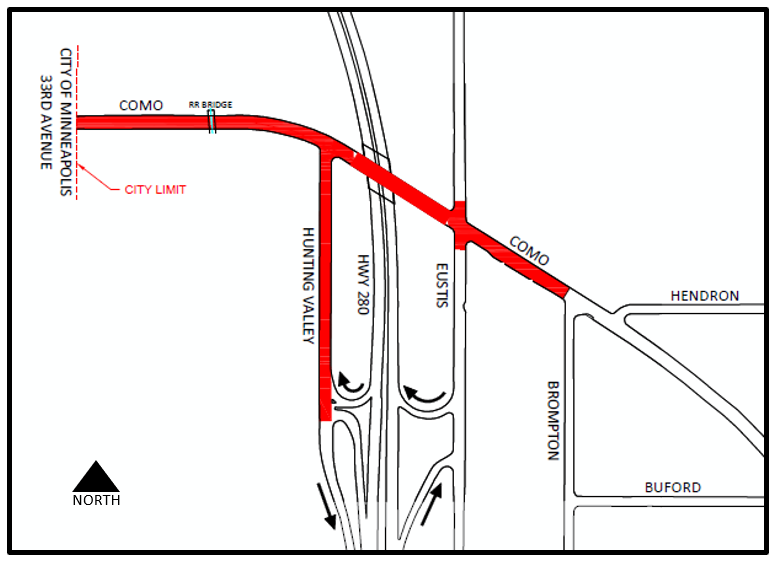 Thank you for your patience and understanding as we work with our staff, contractors, and suppliers to deliver proposed 2020 construction projects during the COVID-19 pandemic. Saint Paul Public Works continues to follow all federal and state health and safety guidelines to protect our staff, partners, and community.
Projects are anticipated to move forward 
Community meetings and input for public hearings will be held online or by phone rather than in-person
Construction work will continue to be evaluated and may require adjustments 
Updates will be posted as they become available
---
Please refer to the Staging Plan and Staging Plan Detour Map under Project Documents
Project schedule is dependent on weather and other variables
All work is anticipated to be completed by October 31
Please note:  Construction on Como Avenue east of Cleveland Avenue is a separate project.  Please visit the Como Avenue Trail webpage for more information.
Mill and Overlay
As part of the Como Avenue Paving Project, the city will perform a mill and overlay on Eustis Street
Click here for more information on the mill and overlay process
Project Updates
The project encourages residents/businesses to focus on snow removal to prevent ice build-up in lieu of extreme salt usage as excess use of salt on new concrete will compromise its longevity.
Traffic impact
The roadway is open to traffic
A temporary 4-way stop is in place until the signal at Como Avenue/Eustis Street is operational
     -  Xcel Energy to activate signal system at Como Avenue/Eustis Street