Como Avenue Paving Phase III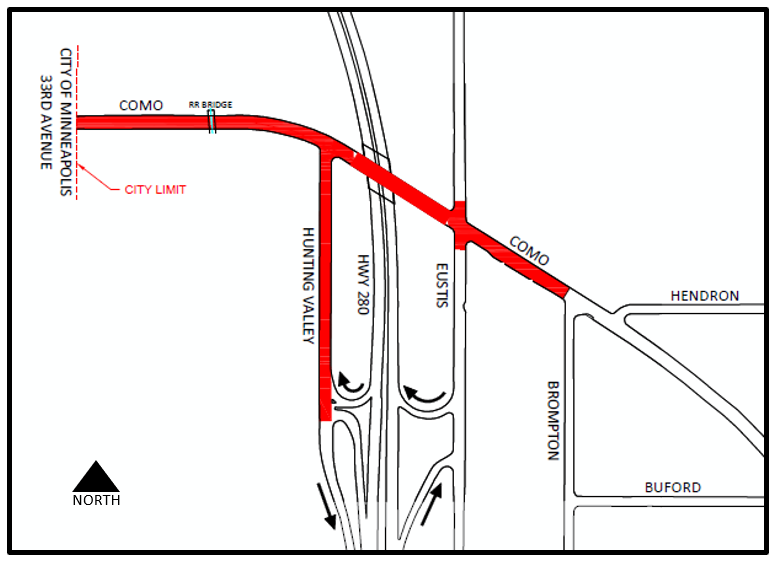 Thank you for your patience and understanding as we work with our staff, contractors, and suppliers to deliver proposed 2020 construction projects during the COVID-19 pandemic. Saint Paul Public Works continues to follow all federal and state health and safety guidelines to protect our staff, partners, and community.
Projects are anticipated to move forward 
Community meetings and input for public hearings will be held online or by phone rather than in-person
Construction work will continue to be evaluated and may require adjustments 
Updates will be posted as they become available
---
Please refer to the Staging Plan and Staging Plan Detour Map under Project Documents
Project schedule is dependent on weather and other variables
All work is anticipated to be completed by October 31
Please note:  Construction on Como Avenue east of Cleveland Avenue is a separate project.  Please visit the Como Avenue Trail webpage for more information.
Mill and Overlay
As part of the Como Avenue Paving Project, the city will be performing a mill and overlay on Eustis Street
Click here for more information on the mill and overlay process
Project Updates
Thursday, September 24, 2020
Traffic impact
Hunting Valley Road (north) detour:
Hunting Valley Road is open to southbound traffic only
Hunting Valley Road to Highway 280 (south) to Energy Park Drive (east) to Highway 280 (north) to Larpenteur Avenue to connect with the east or west Como Avenue detour
Westbound Como Avenue detour:
Westbound Como Avenue to Hendon Avenue (east) to Cleveland Avenue (north) to Larpenteur Avenue/Hennepin Avenue (west) to 29th Avenue (south)
Eastbound Como Avenue detour:
Eastbound Como Avenue to 29th Avenue (north) to Hennepin Avenue/Larpenteur Avenue (east) to Cleveland Avenue (south) to Hendon Avenue (west)
Pedestrian and bicycle traffic:
One side of the sidewalk will remain open to allow access through the project area
Please use the designated pedestrian and bicycle detour for your safety
Metro Transit riders:
Please pay attention to posted Metro Transit notices for potential impacts
This week
Completed water main installation
Paved on Hunting Valley Road
Began placing road base material on Como Avenue and Eustis Street
Completed underground storm sewers and sanitary sewers on Como Avenue
Next week
Begin water main testing
Begin water main connection to local businesses
Continue placing road base material on Como Avenue
Begin sidewalk excavation and installation on Hunting Valley Road (west side)