Working with the City to Solve Neighborhood Problems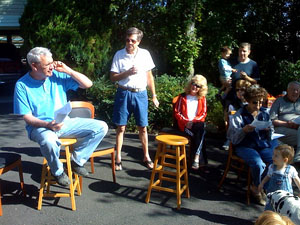 Originally developed for a neighborhood leadership group, this information will be helpful for you as you consider a problem-solving strategy.
Work with neighbors to identify the problem. Try to be as specific as possible about what the problem is and how it affects you and your neighbors.
Identify Potential Solutions. Try to identify what might improve the situation. In some cases, this might be as simple as communicating with the person or property owner involved. While this is clearly not always possible, it's often the most direct route to a solution.
Identify Potential Supporters. Who else might share the same problem or concern? Are they willing to work with you do get a problem resolved? The more people who have the same problem, the greater the likelihood the problem will get City staff and/or elected officials' attention. Also, your district council (find yours here) is a great source of support for neighbors in terms of solving problems at the neighborhood level, and if necessary, helping navigate City structures.
Familiarize Yourself with the City Code Government entities, including cities, must follow established law. For cities, most of that law is found within their code, though the State or Federal Government sets some of it. There is some room for interpretation or discretion on the part of City staff and officials, but all decisions must ultimately be justified by going back to the code. Find the area of the code that addresses our problem or issue. If your issue isn't addressed in the code, policy makers may consider a request to write an addendum to the code, but this is time consuming and difficult. If your issue is in the code, and you can show that your problem violates the code, your case will be much stronger.
Communicate with City Staff and Elected Officials. The first point of contact at the City for registering complaints should be the information and complaint line at 651-266-8989. If the issue is a police issue, call it in to the non-emergency number at 291-1111. If you don't communicate with City staff or elected officials, they may not be aware of your issue or concern. Don't assume that because your neighbors are all talking about an issue that people at the City should automatically be aware that you have a problem or concern. With smaller problems, a phone call may be all that's required to get a problem resolved. For larger issues, you may need to communicate with several people over a period of time. Here are some tips for communicating effectively with City staff and elected officials:
Identify who you are.
Identify the problem and how it affects you (keep it simple, but specific).
If you have identified how you think the problem can be resolved, let them know or ask for advice about how a problem can be resolved.
Be polite. People will be more willing to help if you treat them respectfully.
Be persistent, but not relentless. Staff are working on many issues at once, and it takes time to work through the problem with all players involved. It is helpful to keep track of whom you've talked to at the City and when, and when you speak to a staff member, agree on a timeline for when you'll talk again. And then, unless an emergency arises, stick to that timeline. It will give the City staff more time to work on resolving the issue.
If you do not understand how or why a decision was made, ask for an explanation of City policy as it relates to your issue.
NOTE: If the problem or issue you have is related to a decision or action on the part of City staff, it is helpful to document the timeline correspondence related to the case before contacting elected officials.
Roles of the Mayor and City Council
Saint Paul has a "Strong Mayor" system. What does this mean? The Mayor:
Appoints and supervises department directors
Appoints members to commissions and advisory groups
Prepares and recommends an annual budget to the Council each August
Can veto Council resolutions and ordinances
The City Council (7 Councilmembers):
Sets the City's maximum levy and budget
Serves as the policymaking body for the City
Serves as commissioners on the City's Housing and Redevelopment Authority (HRA)
Serves as the City's Library Board
Can override a Mayor's veto with five votes