Coronavirus COVID-19

Like communities across our nation, we've been closely monitoring the unfolding of the situation around the spread of coronavirus (COVID-19). The City is working diligently in responding to the unique needs of our residents, business owners, and key partners. We'll be sending regular email updates about the City's response to COVID-19. Please subscribe to our COVID-19 bulletin.​
If you have questions about the City's response to COVID-19, call 651-266-6000 or email LanguageResources@ci.stpaul.mn.us. Translators are available Monday-Friday, 8:30 a.m. to 5 p.m. to answer questions in Hmong, Somali, Oromo, Karen, and Spanish.
Magaalada St.Paul waxaa loo sameyay meel cusub oo layska soo waco sida looga jowaabo su'aalaha ku saabsan COVID-19. Soo wac 651-266-6000. 
Lub nroog Saint Paul muaj ib tug xovtooj tshiab los teb nej cov lus noog txog tus kabmob Covid-19. Hu rau 651-266-6000.
La ciudad de Saint Paul tiene una nueva línea telefónica para responder a preguntas sobre la respuesta de la ciudad al coronavirus COVID-19. Llama a 651-266-6000.

Magaalaan 

Seent

 Pool 

Vaayirasii

 

Koronaa

 

COVID

-19 

ilaalchisee

 

gaaffiiqabdaniif

 

deebii

 

kennuudhaaf

 

toora

 

bilbilaa

 

haaraa

 

baaseera

. 651-266-6000.
​​Get the latest information.
Timeline of City Actions Subscribe to COVID-19 Newsletter Frequently Asked Questions Executive Orders
Find resources that are relevant to you.
Public Health Small Business and Nonprofit Workforce, Housing, and Families Get Involved
Find additional information from our partners.
Ramsey County Minnesota Department of Health State of Minnesota
The City of Saint Paul government continues to provide services and respond to the needs of our community in alignment with both the Governor's Stay-At-Home order and guidance from public health officials. We'll be sending regular email updates about the City's response to COVID-19. Subscribe to our COVID-19 bulletin.​ 
Face coverings required in City-controlled facilities and in licensed businesses starting June 1
Executive order 2020-09 requires face masks to be worn indoors in all city-controlled facilities and at all businesses licensed by the City of Saint Paul at all times when social distancing of at least 6 feet is not maintained.  
The order will apply to all individuals except young children at risk of suffocation and persons who cannot medically tolerate wearing a face covering. Acceptable face coverings include manufactured or homemade cloth face coverings, and are not required to be medical-grade masks.  Face coverings must fully cover a person's nose and mouth.  
All businesses in Saint Paul are also strongly encouraged to include a requirement that all individuals wear a face covering at all times when social distancing of at least 6 feet is not maintained in their COVID-19 Preparedness Plan under Governor Walz' Executive Order 20-56.
La ciudad de Saint Paul ha acordado una política de cobertura de cara que esta vigente a partir del 1ero de Junio. Esta política requiere que toda persona que visite una de las locaciones en control de la ciudad y cualquier negocio que tenga una licencia de la ciudad use una mascarilla de cara cuando no sea posible mantener la distancia de al menos 6 feet/2 metros entre personas.
Saint Paul txoj cai npog ntsej muag pib lub 6 hli ntuj hnub tim 1. Txoj cai hais tias yus yuav tsum npog ntsej muag thaum mus rau hauv  Saint Paul cov tsev thiab cov lag luam thaum siv kev nyob nrug deb ntawm lwm tus li 6 feet.
Nidaamka daboolaya wajiyada Magaalada  ayaa dhaqan galay Juun 1.  Siyaasaddu waxay u baahan tahay waji-bixin wajiga in lagu xiro gudaha dhammaan xarumaha magaalada laga xukumo iyo dhammaan meheradaha ay Ruqsad ka siisay Magaalada marwalba markii fogeynta bulshada ugu yaraan 6 fuudh aan la ilaalin karin.
Imaamatni magaalaa 'Saint Paul' fuula aguuggachuu ilaallatu Waxabajjii 1 irraa eegalee raawwatamaa jira. Imaamatni kun manneen fi bakka daldalaa magaalichan to'ataman akkasumas hayyama qaban keessatti yeroo miilla 6 wal irraa fagaachuun mijataa hintaanetti maskii fuulaa uffachuu dirqisiisa.
Business Licensing Measures to Supports Bars and Restaurants Safely Reopen on June 1
The City of Saint Paul has streamlined processes for restaurant and bar owners who wish to safely reopen on June 1, as permitted by the Governor's executive orders. The City has created detailed guidance for business owners, including an interactive form that will automatically send business owners the materials and forms they need based on provided information.
Mayor Carter has announced a set of fine, fee and collection relief measures in response to the economic impact of COVID-19 affecting businesses and residents. The measures include a reduction in business license fees, business license renewal extensions, suspending all dunning and collection processes through June 30th, and delaying multi-year street assessments that would be levied this year until 2021. Learn more about these measures.
COVID-19 Consumer Financial Protection Planning Effort
Mayor Melvin Carter announced today the launch of a local consumer financial protection planning effort in partnership with the national nonprofit organization the Cities for Financial Empowerment Fund (CFE Fund), and the Annie E. Casey Foundation. Saint Paul will begin planning a communications campaign to raise consumer awareness of and protect residents from COVID-19 related scams and continue planning in the coming months for broader consumer financial protection capabilities within the City
City of Saint Paul Meal Service
To address growing food insecurity in Saint Paul due to the COVID-19 pandemic, the City is partnering with Youthprise, Arts-Us, and the Sanneh Foundation to provide free meal service through June 5 to Saint Paul families in need. Learn more at stpaul.gov/parks-covid19.
The City of Saint Paul is grateful for all of the community members who have expressed interest in donating personal protective equipment (PPE) to assist the City's response to the COVID-19 pandemic. The City is currently accepting donations for some items. Donations must be in unopened, original packaging in accordance with approved medical standards. Learn more and get involved.
Bridge Fund Updates
Following the close of the applications on Sunday, April 19 at 5 p.m., all family and small business grant applicants were placed into a random selection process which assigned each application a random number for each program. The review and disbursement process has been completed. 
Find the latest road closure information using the City's interactive road closure map.
Lane closure for social distancing on a portion of Mississippi River Boulevard will end on June 15. Beginning June 15, the Mississippi River Boulevard from Ford Parkway to Marshall Avenue will no longer be able to be used for additional social distancing; pedestrians and bicyclists will need to share the trail. Learn more about the project.

The temporary lane closure was put in place on April 22 to create additional outdoor space for pedestrians and bicyclists to social distance along the roadway. The temporary social distancing lane closure on the northern section of Mississippi River Boulevard will remain in place from Marshall Avenue to Emerald Street SE
On June 17, Mississippi River Boulevard will be closed from Randolph Avenue to Marshall Avenue to complete scheduled water main work, along with several sidewalk and sewer repair projects in preparation for a mill and overlay in early September. This work on Mississippi River Boulevard is anticipated to be completed by August 7, 2020. The mill and overlay will be done in early September.

Parks and Recreation will begin a three-month trail reconstruction project at Indian Mounds Regional Park. During the project, lanes or full sections of Mounds Boulevard will be closed to vehicle traffic, but open to pedestrians and bicyclist to recreate while following social distancing guidelines during construction. Sections of trails and greenspaces within the park will be closed to the public for safety reasons during the three phases of the project. See the tentative closure timelines at www.stpaul.gov/IndianMoundsTrail 
Mayor Carter announced the partial closure of three city streets to vehicle traffic to accommodate public health official guidance on social distancing. The closures will support walking and biking in and around three City of Saint Paul parks areas including Como Regional Park, Phalen Regional Park, and Cherokee Regional Park.These road closures are effective as of 6:00 p.m., Friday, April 3. The following streets will be closed to vehicle traffic until further notice:

Como Regional Park -- East Como Lake Drive from East Como Boulevard to Lexington Parkway
Phalen Regional Park -- East Shore Drive from Johnson Parkway to Arlington Avenue
Cherokee Regional Park -- Cherokee Heights Boulevard from Baker/Chippewa to Annapolis
These closures come in response to resident requests for greater ability to practice social distancing while outdoors. These roads were identified as areas where closures would not impact emergency and essential service traffic amid the Governor's Stay At Home order. 
​Fire
All Saint Paul Fire Department fire stations remain fully operational, but are closed to the public at this time. The following activities have been canceled or postponed: 
All participation in community engagement events has been canceled. 
Safe Haven smoke and carbon monoxide alarm installations and home safety surveys have been postponed. 
All child passenger safety seat inspections and trainings have been canceled. 
Walk-in blood pressure checks at fire stations are not available. 
The Saint Paul Fire Department participated in Governor Walz's statewide homemade mask drive on Saturday, April 25. Saint Paul residents donated an incredible 7,400 homemade masks to their local fire stations.
Libraries
Police
Safe Summer Nights canceled. Due to the current COVID-19 situation, the Saint Paul Police Department is canceling the Safe Summer Nights cookouts that had been planned for July. 
Public Works
Saint Paul Public Works is suspending all sales of Residential Parking Permits until further notice. No Residential Parking Permits, including Visitor, Hangtags, and Day Passes in any Parking Permit Area will be sold at this time. For questions or more information, call 651-266-9777 during normal business hours or visit stpaul.gov/parkingpermits. 
The annual Citywide Drop-Off events, originally scheduled for June 6 and 20 have been cancelled. Saint Paul continues to work with district councils to plan and prepare for the September Citywide Drop-Off Events. For more information and updates, visit www.stpaul.gov/drop-offs. 
Safety & Inspections
The Department of Safety and Inspections (DSI) is adapting its services to align with public health official guidelines. Customers will be able to drop off paperwork and payments and pick up plans by using a drop-box at our office at 375 Jackson Street, Ste. 220, Saint Paul. Please call 651-266-8989 before traveling downtown to determine if you need to come to our offices. We also encourage you to check out alternate ways to conduct your business with DSI online.  Field inspections and complaint follow-ups are ongoing, in alignment with official public health guidance. 
Mayor Carter has issued Executive Order 2020-05 allowing building owners connected to the Saint Paul skyway system to reduce daily hours of operation for their skyway section to 6 a.m. to 7 p.m. The order allows downtown residents and essential workers to continue to move between buildings and access facilities during typical business hours amid the COVID-19 pandemic. The order remains in effect until the end of the declared local emergency.
Water
Saint Paul Regional Water Services' drinking water treatment process effectively safeguards from viruses such as the flu virus and the coronavirus. Learn more: https://www.stpaul.gov/departments/water-services/coronavirus-covid-19-information. Saint Paul Regional Water Services will continue the suspension of water shut offs for an additional 30 days. Temporary water shutoffs due to construction or emergency maintenance activities may continue during this time; water service will be restored as soon possible during these events.
City Hall Annex (25 W 4th St, St Paul, MN 55102) is closed to the public effective at 5 p.m. on March 27.
---
To report a potential violation of the Governor's orders, please email SAHviolations@state.mn.us  or call  651-793-3746.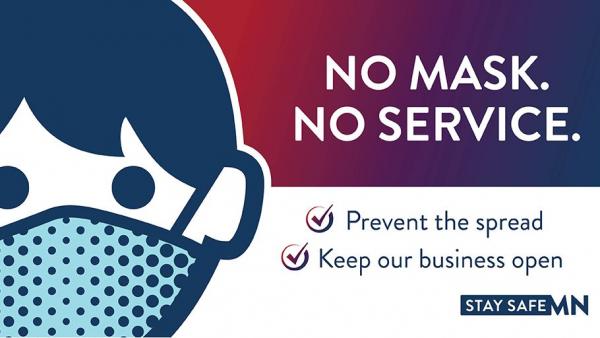 Governor Walz's face covering order is now effect. Wearing a face covering is a simple way to prevent the spread of COVID-19, allowing everyone to safely leave their homes more frequently. Click here to watch a video about mask do's and don'ts from the Minnesota Department of Health (MDH).  
Minnesotans will be required to wear a face covering in all indoor public spaces and businesses (including waiting outdoors to enter), unless alone. Exceptions include medical/mental health concerns, children under 5, and workers for whom a mask would create a job hazard. View the MDH FAQ on Governor Walz's order.
Business owners must take reasonable steps to enforce the Governor's face covering requirement for workers, customers, and visitors. The Saint Paul Area Chamber of Commerce will have masks available for business owners to pick up at the Kellogg Boulevard lobby of the RiverCentre starting today Monday, July 27. Call 651-265-2775 with questions.  
In addition to pick up availability at RiverCentre, Ramsey County and City of Saint Paul will be supporting direct distribution to high-priority businesses unable to access this site, including those owned by people of color located in areas with higher numbers of COVID cases. Contact Clare Verbeten at 651-266-8922 at the City, or Prince Corbett at 612-430-0897 (or racialequity@ramseycounty.us) at Ramsey County for questions regarding this focused distribution.  
Other business requirements can be found under the "Businesses' obligations under the Executive Order" headline on the Minnesota Department of Health's website. #MaskUpMN materials for business owners are also available for download.
The State has created a chart that outlines Minnesota's phased-in approach to reopening various business and social settings. Facial coverings are strongly recommended at all times, and all non-Critical Sector businesses are required to have adopted and implemented a COVID-19 Preparedness Plan. 
PHASE III: STARTS JUNE 10 (current phase) 
Phase III of the Stay Safe Order turns the dial further to open:
Restaurants and bars for indoor at 50% capacity, not to exceed 250 individuals for indoors and outdoors settings each – see guidance for additional details, with reservations required;
Personal services like salons, tattoo parlors and barbershops at 50% capacity with appointments required;
Gyms, personal fitness and yoga studios for both indoor and outdoor use at 25% capacity, not to exceed 250 individuals for indoors and outdoors settings each – see guidance for additional details;
Seated indoor entertainment like movies, concert halls, bowling, arcades, museums, and theaters at 25% capacity, maximum of 250 people in an area – see guidance for additional details;
Pools at 50% capacity and maintain social distancing; and
Outdoor event and entertainment settings, like sporting events, concerts, and theaters, must not exceed 250 people – see guidance for additional details and must continue to follow social distancing guidelines, maintain social distancing, and strongly recommend masks be worn.
The Minnesota Department of Health has developed guidelines for business sectors.
---
Elections
Request an absentee ballot for August and November elections. Voting by mail is safe, easy and convenient. All voters can vote early in Minnesota. You do not need to provide a reason to vote by mail. You can request your ballot now for both the state primary and general election.
First, register to vote or check your registration status on the Minnesota Secretary of State website.
Voted ballots must be received by the Elections Office before 3 p.m on Tuesday, Aug.11 for the state primary and before 3 p.m. on Tuesday, Nov. 3 for the general election.
---
Situational Knowledge
The Minnesota Department of Commerce and Minnesota Department of Health (MDH) are warning Minnesotans to be on alert for text scams related to contact tracing of COVID-19. According to the Federal Trade Commission (FTC), scammers are sending texts that tell the recipient that someone with whom they had contact has tested positive, and to click a link for more information. Depending on the specific attack, by clicking on the link, the victim could be prompted to download unwanted software that can access data on their phone, or they may be directed to a site that tries to trick them into revealing sensitive information like their Social Security number, bank information, passwords or medical information. Remember official public health workers conducting contact tracing initially will reach out to people by phone, NOT text.

FEMA Coronavirus Rumor Control: The purpose of this FEMA page is to help the public distinguish between rumors and facts regarding the response to coronavirus (COVID-19) pandemic. ​
Scammers are taking advantage of fears surrounding COVID-19. Learn more about Coronavirus scams from the Federal Trade Commission. Tips for avoiding these scams:

Hang up on robocalls.  
Ignore online offers for vaccinations and home test kits. 
Don't click on or respond to emails asking for personal information in order to receive an economic stimulus check from the government. 
Don't click on links from sources you don't know. 
Don't click on or respond to emails that claim a positive COVID-19 test within your workplace. 
Don't click on or respond to emails claiming to be from the Centers for Disease Control and Prevention or the World Health Organization.