Coronavirus COVID-19
Like communities across our nation, we've been closely monitoring the unfolding of the situation around the spread of coronavirus (COVID-19). The City is working diligently in responding to the unique needs of our residents, business owners, and key partners.
We'll be sending regular email updates about the City's response to COVID-19. Please subscribe to our COVID-19 bulletin.​
The City is coordinating closely with our public health partners at Ramsey County and the Minnesota Department of Health and following their recommendations. The Minnesota Department of Health has a hotline for questions the general public has about COVID-19. The hotline is open Monday - Friday, 7 a.m. - 7 p.m. at 651-201-3920.
---
Language Resource: Phone and Email Help
The City of Saint Paul has a new phone line to answer questions about the City's response to the COVID-19 coronavirus. Translators are available to answer questions in Hmong, Karen, Oromo, Somali, and Spanish.

Call 651-266-6000 or email LanguageResources@ci.stpaul.mn.us.

Magaalada St.Paul waxaa loo sameyay meel cusub oo layska soo waco sida looga jowaabo su'aalaha ku saabsan COVID-19. Soo wac 651-266-6000.

La ciudad de Saint Paul tiene una nueva línea telefónica para responder a preguntas sobre la respuesta de la ciudad al coronavirus COVID-19. Llama a 651-266-6000.

Lub nroog Saint Paul muaj ib tug xovtooj tshiab los teb nej cov lus noog txog tus kabmob Covid-19. Hu rau 651-266-6000.

Magaalaan Seent Pool Vaayirasii Koronaa COVID-19 ilaalchisee gaaffiiqabdaniif deebii kennuudhaaf toora bilbilaa haaraa baaseera. 651-266-6000.

Phone and email help is also available in Karen.
---
Stay at Home
Order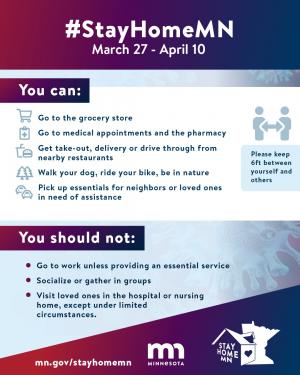 On March 25, Governor Walz issued Executive Order 20-20 directing Minnesotans to stay at home and limit movements outside of their home beyond essential needs. This order takes effect at 11:59 p.m. on Friday, March 27 and ends at 5 p.m. on Friday, April 10. What does this mean for residents?  
You can go to the grocery store, pharmacy, and medical appointments; get take out, delivery or drive through from restaurants; walk your dog, ride your bike, or be in nature; and pick up essentials for neighbors or loved ones.  
You should not go to work unless providing an essential service; socialize or gather in groups; or visit loved ones in the hospital or nursing homes, except under limited circumstances.  
Find a list of frequently asked questions about the Governor's order here. 
How will the order be enforced? All Minnesotans are urged to voluntarily comply with this Executive Order. The state is working with local law enforcement to support the order. 
Find additional guidance for businesses: https://mn.gov/deed/newscenter/covid/business-exemptions/.  
---
City of Saint Paul Information Related to Coronavirus (COVID-19)

​

The City of Saint Paul government continues to provide services and respond to the needs of our community in alignment with both the Governor's Stay-At-Home order and guidance from public health officials. We'll be sending regular email updates about the City's response to COVID-19. Subscribe to our COVID-19 bulletin.​ 
Road Closures
Mayor Carter announced the partial closure of three city streets to vehicle traffic to accommodate public health official guidance on social distancing. The closures will support walking and biking in and around three City of Saint Paul parks areas including Como Regional Park, Phalen Regional Park, and Cherokee Regional Park.
These road closures are effective as of 6:00 p.m., Friday, April 3, through Friday, April 10 at 5 p.m., the following streets will be closed to vehicle traffic until further notice:
Como Regional Park -- East Como Lake Drive from East Como Boulevard to Lexington Parkway
Phalen Regional Park -- East Shore Drive from Johnson Parkway to Arlington Avenue
Cherokee Regional Park -- Cherokee Heights Boulevard from Baker/Chippewa to Annapolis
These closures come in response to resident requests for greater ability to practice social distancing while outdoors. These roads were identified as areas where closures would not impact emergency and essential service traffic amid the Governor's Stay At Home order. The City does not anticipate any other road closures at this time.
Department Updates and Resources
​Fire: All Saint Paul Fire Department fire stations remain fully operational, but are closed to the public at this time. The following activities have been canceled or postponed: 
All participation in community engagement events has been canceled. 
Safe Haven smoke and carbon monoxide alarm installations and home safety surveys have been postponed. 
All child passenger safety seat inspections and trainings have been canceled. 
Walk-in blood pressure checks at fire stations are not available. 
Libraries: All Saint Paul Public Library locations are closed to the public; learn about modified services at sppl.org/staying-in. The library is now offering contactless pickup at 5 locations: George Latimer Central, Highland Park, Merriam Park, Rondo, and Sun Ray libraries. Contactless pickup is a convenient, safe, and personalize way to access materials. Learn more at sppl.org/contactless. 
Parks & Recreation: All Parks & Recreation facilities are closed to the public. All Saint Paul Parks and Recreation events, rentals, programs, and activities are canceled through Sunday, May 10. For additional information, visit www.stpaul.gov/parks-covid19. Saint Paul's parks and open spaces remain open for public use, and we continue to monitor guidance from public health officials. If you plan to visit a park, we encourage all users to observe social distancing of 6 ft and other CDC recommendations outlined on www.stpaul.gov/parks-covid19. 
Police: The Saint Paul Police Department Headquarters building, located at 367 Grove Street in Saint Paul, will close to the public at 4 p.m. Friday, March 26. It's scheduled to re-open at 8 a.m. Monday, April 13.Access to the building will be restricted to police department employees and those involved in investigations. 
Public Works: Saint Paul Public Works is suspending all sales of Residential Parking Permits until June 1, 2020. No Residential Parking Permits, including Visitor, Hangtags, and Day Passes in any Parking Permit Area will be sold at this time. For questions or more information, call 651-266-9777 during normal business hours or visit stpaul.gov/parkingpermits. The annual Citywide Drop-Off events, originally scheduled for June 6 and 20 have been cancelled. Saint Paul continues to work with district councils to plan and prepare for the September Citywide Drop-Off Events. For more information and updates, visit www.stpaul.gov/drop-offs. 
Safety & Inspections: The Department of Safety and Inspections (DSI) is adapting its services to align with public health official guidelines. Customers will be able to drop off paperwork and payments and pick up plans by using a drop-box at our office at 375 Jackson Street, Ste. 220, Saint Paul. Please call 651-266-8989 before traveling downtown to determine if you need to come to our offices. We also encourage you to check out alternate ways to conduct your business with DSI online.  Field inspections and complaint follow-ups are ongoing, in alignment with official public health guidance. 
Water: Saint Paul Regional Water Services' drinking water treatment process effectively safeguards from viruses such as the flu virus and the coronavirus. Learn more: https://www.stpaul.gov/departments/water-services/coronavirus-covid-19-information. Saint Paul Regional Water Services will continue the suspension of water shut offs for an additional 30 days. Temporary water shut offs due to construction or emergency maintenance activities may continue during this time; water service will be restored as soon possible during these events.
City Hall Annex (25 W 4th St, St Paul, MN 55102) is closed to the public effective at 5 p.m. on March 27.
---