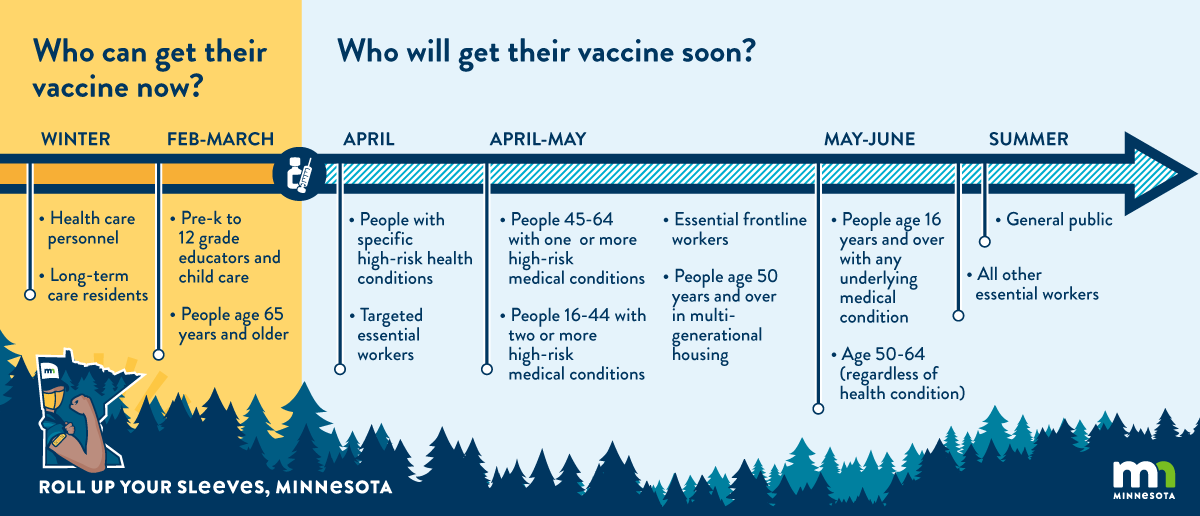 COVID-19 vaccines starting to arrive in Minnesota
Governor Walz announced the launch of the Minnesota COVID-19 Vaccine Connector, a tool that helps all Minnesotans find out when, where, and how to get their COVID-19 vaccine. When a Minnesotan becomes eligible to receive a vaccine under state guidelines, the Vaccine Connector will: 
Alert them when they're eligible.
Connect them to appointment scheduling resources.
Notify them of vaccination opportunities in their area.
Minnesotans who have not yet been vaccinated are encouraged to sign up for the COVID-19 Vaccine Connector, regardless of their current vaccine eligibility status. There will be no cost and no restricted time period for signing up. Minnesotans unable to sign up online can call 833-431-2053 for assistance signing up over the phone. Translation service is available by phone
In Minnesota right now, you are eligible to get vaccinated if you are a: 
Minnesotan age 65 or older
Health care worker 
Long-term care resident or staff member 
Pre-kindergarten through Adult Basic and Community Education school staff member, or contracted school staff member
Child care staff member at a licensed and certified child care center or program
COVID-19 vaccine is not yet available for the general public. We must continue to wear masks, socially distance, wash our hands frequently and stay home if we are sick to make sure as few people as possible get COVID-19 until a vaccine is widely available.
The tools below are intended to help Minnesotans connect with vaccine providers, view key vaccination data for our state, and learn more about the state's vaccine distribution plan.
Minnesota's new COVID-19 vaccine locator map connects people age 65+ to vaccination opportunities. There is still a limited amount of vaccine, so appointments may not be available everywhere. 
The State of Minnesota has launched a public vaccine data dashboard to detail the progress of COVID-19 vaccine allocation, distribution, and administration across Minnesota.