COVID-19 Updates
April 3, 2020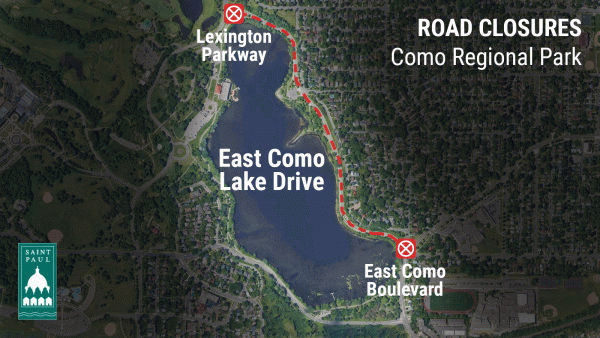 The City will temporarily close portions of three city streets to vehicle traffic to accommodate social distancing guidelines for residents who are walking and biking near some of Saint Paul's parks and lakes. Beginning this evening, April 3 through April 10 at 5 p.m., the following streets will be closed to vehicle traffic: 
Como Regional Park: East Como Lake Drive from East Como Boulevard to Lexington Parkway 
Phalen Regional Park: East Shore Drive from Johnson Parkway to Arlington Avenue 
Cherokee Regional Park: Cherokee Heights Boulevard from Baker/Chippewa to Annapolis  
"We encourage our residents to enjoy Saint Paul's great parks and public spaces responsibly," said Saint Paul Mayor Melvin Carter. "We need to each do our part to work together as a community to follow all recommended guidelines which includes staying least 6 feet apart from other people, especially in public spaces."  
In accordance with Governor Walz "Stay at Home" Executive Order 20-20, Saint Paul continues to follow all public health and safety guidelines to support people safely enjoying the outdoors and public spaces.  
The Saint Paul Parks and Recreation Department has made several changes to its programs, services and operations in response to the COVID-19 pandemic. For the latest Saint Paul Parks and Recreation updates, please visit www.stpaul.gov/parks-covid19. 
---
April 2, 2020
Small Business Administration Paycheck Protection Program. Businesses should be planning their requests to the new Paycheck Protection Program. The program goes live tomorrow, Friday, April 3. Businesses (including self-employed) and non-profits can receive forgivable loans up to 250% of payroll to support employees and occupancy expenses.
Spring flooding update. The City of Saint Paul continues to monitor the Mississippi River water levels, which are forecasted to be at a moderate flood stage level this weekend. Due to flooding, Saint Paul is closing some roads and access to parks:

Road Closures

On April 1, the current road closure on Water Street closure was extended from the Pool & Yacht Club in Lilydale to underneath the High Bridge.
On Friday, April 3, from 6 a.m.-9 p.m. westbound Warner Road will be temporarily closed from Sibley Street to Ontario Street to allow Saint Paul Public Works to build a levee around an underground pump station.
On Friday, April 3, Fourth Street between Willius Street and Commercial Street will close until further notice.

Park Closures

Meeker Island Dog Park
Hidden Falls North and South Gates
Lilydale & Hidden Falls Boat Launches

To find additional resources and information on spring flooding, visit www.stpaul.gov/flooding.
---
April 1, 2020
Saint Paul Public Library will offer contactless pick-up starting tomorrow. Saint Paul Public Library is now offering a convenient, safe, and personalized way to access print books, magazines, movies, and more while the library is closed. Starting April 2, patrons can use contactless pick-up at five locations--George Latimer Central, Highland Park, Merriam Park, Rondo, and Sun Ray libraries.
Don't have a library card? You can apply online for an e-card for access to the library's e-materials, including e-books, e-audiobooks, and digital magazines.
---
March 31, 2020
---
March 30, 2020
Residential Spring Street Sweeping Begins March 30. Saint Paul's annual residential spring street sweeping begins on Monday, March 30 through May. To help the sweeping efforts on all residential streets, please:

Follow all "No Parking" signs, which will be posted 24 hours in advance. Please move all vehicles off the streets.
Do NOT sweep additional garbage, dirt, or leaves in the streets.
Do NOT put garbage and recycling carts in the streets. Please keep all carts on the boulevard.

The Saint Paul Regional Water Service is flushing hydrants this week. Flushing maintains the high quality of your water.
Signage is now available to business owners for temporary curbside pick-up. Restaurants will be able to post temporary signs for curbside pick-up areas without applying for and paying the usual permit and fees.
All Saint Paul Public Library programs and events (with the exception of some programs offered online) are canceled through Sunday, May 10; all library locations remain closed. The library is offering modified services. Learn more at sppl.org/staying-in.
The monthly statewide Emergency Alert System test and tornado siren activation will occur as normally scheduled this Wednesday, April 1.
---
March 29, 2020
LANGUAGE RESOURCE LINE
The City of Saint Paul has a new phone line and email address to answer questions about the City's response to the COVID-19 coronavirus. Interpreters are available to answer questions in Hmong, Karen, Oromo, Somali, and Spanish. Learn more at stpaul.gov/coronavirus.
Phone Number: 651-266-6000
Email: LanguageResources@ci.stpaul.mn.us
---
March 27, 2020
STAY AT HOME EXECUTIVE ORDER GOES INTO EFFECT TONIGHT
Governor Walz has ordered Minnesotans to limit movements outside of their home beyond essential needs starting tonight at 11:59 p.m. and ending at 5 p.m. on Friday, April 10. What does this mean for residents? You can go to the grocery store, pharmacy, and medical appointments; get take out, delivery or drive through from restaurants; walk your dog, ride your bike, or be in nature; and pick up essentials for neighbors or loved ones. You should not go to work unless providing an essential service; socialize or gather in groups; or visit loved ones in the hospital or nursing homes, except under limited circumstances. Find a list of frequently asked questions about the Governor's order here.
I-94 will close Friday, April 3 at 10 p.m. and reopen by Monday, April 6 at 5 a.m. Interstate 94 in Saint Paul will close next weekend between Highway 280 and Interstate 35E for work on Ramsey County's Dale Street reconstruction project. Both eastbound and westbound I-94 will close at 10 p.m. on Friday, April 3, for removal of the northbound (east) side of the existing Dale Street bridge over I-94. 
The Saint Paul Police Department Headquarters building, located at 367 Grove Street in Saint Paul, closed to the public at 4 p.m. Friday, March 27. It's scheduled to re-open at 8 a.m. Monday, April 13. Access to the building will be restricted to police department employees and those involved in investigations. 
All Trade Board Exams for the City of Saint Paul are postponed until the fall of 2020. Saint Paul Legislative Code Section 369.04 (c) allows for issuing a Temporary Certificate of Competency, under specific guidelines, and the City may consider this or other options as alternatives. Learn more here.
The City of Saint Paul still plans to celebrate Earth Hour on Saturday, March 28, from 8:30 - 9:30 p.m.  We are asking all building owners and operators who want to switch off their lights for the hour, and can do so safely, to do so. 
---
March 26, 2020
Information about Mayor Carter's proposed $3.25 million Saint Paul Bridge Fund is now available in Hmong, Karen, Oromo, Somali, and Spanish.
All Saint Paul Parks and Recreation events, rentals, programs, and activities are canceled through Sunday, May 10. For additional information, visit www.stpaul.gov/parks-covid19. 
Saint Paul is Supporting Restaurants with Temporary Curbside Pick-Up. Restaurants will be able to post temporary signs for curbside pick-up areas without applying for and paying the usual permit and fees. Learn more here. 
Saint Paul's City Hall Annex building will be closed to the general public by the end of the day tomorrow, March 27. The building will remain open to city staff, Street Fleet, US Mail, and for vendors who need to make deliveries or provide necessary building services. 
Ramsey County and its partners will open Mary Hall - at the former Dorothy Day Center in downtown Saint Paul - as a respite facility for unsheltered single adults displaying symptoms of COVID-19 beginning Friday, March 27. The location will provide 24/7 symptom monitoring, meals, security and transportation to and from the site for individuals experiencing homelessness. Learn more here.
---
March 25, 2020
Today, during a presentation to the Saint Paul City Council on the City's response to the COVID-19 pandemic, Mayor Carter announced the Saint Paul Bridge Fund, a proposed $3.25 million fund to provide emergency relief to small businesses and families. The proposal comes in response to the economic impacts of the COVID-19 pandemic.
Saint Paul Public Schools: School meal pickup will be at six schools only, March 25-27 from 10-11:30 a.m. (or until all food is handed out). The schools include: Battle Creek Middle School, Cherokee Heights Elementary, Como Park Senior High School, Harding High. For times and more details, visit spps.org.
Metro Transit: Starting March 25, Metro Transit will be moving to a service schedule that represents about 60% of its regularly scheduled weekday operations. The agency also will continue its practice of suspending service during the overnight hours of 11 p.m. to 4:30 a.m.
---
March 24, 2020
---
March 18, 2020
The following changes will occur to help minimize the spread of COVID-19 in our community:
Beginning next week, City Councilmembers will be able to participate in City Council meetings virtually by calling in to the meeting. The public will continue to be able to listen to all City Council business discussed online.
Any City Council agenda items that have the potential to have more than 10 people attend and are not considered essential, including agenda items with public hearings, will be postponed. While all public hearings that continue to happen will have a call-in function for public testimony, members of the public are strongly encouraged to submit their comments via email at contact-council@ci.stpaul.mn.us.
Unless they involve life safety concerns, all legislative hearings have been postponed.
City Council staff have been given authority to work remotely and are encouraged to do so to the greatest extent possible.
To recap other actions of the City:
On Sunday, March 15, Mayor Carter declared a State of Local Emergency amid the spread of coronavirus COIVD-19.  
The local emergency declaration permits Saint Paul Emergency Management to request and coordinate the appropriate aid and resources from surrounding jurisdictions, including the Ramsey County Division of Emergency Management, Homeland Security, and the State of Minnesota as needed. It also permits city departments to quickly mobilize available resources and conduct immediate purchasing and contracting.  
The action of the Council this week extends the State of Local Emergency for 90 days. 
The City of Saint Paul has also taken these actions:

All Library facilities are closed through March 27. Please hold onto your materials while the library is closed. Outdoor book drops are closed and returns will not be accepted until the library reopens. The due dates for all checked-out circulating materials have been extended to May 1, 2020. 
All Saint Paul Parks and Recreation Center facilities — including the Como Park Zoo and Conservatory — will close to the public through March 27. City-managed playgrounds remain open.
In accordance with guidance issued by the CDC, the City of Saint Paul will not issue new permits that involve gatherings of 50 or more people. 
Worker's compensation coverage will be provided for Saint Paul Fire Fighters and Police Officers who are exposed to or contract COVID-19 on duty.  
Mayor Carter has requested Ramsey County Sheriff Bob Fletcher suspend all evictions in the City of Saint Paul. 
These measures follow the March 12th announcement that water shutoffs will be suspended for 30 days.
Updates from our Partners: 
Ramsey County to suspend non-emergency walk-up services through March 23.
Hennepin County is closing all public-facing services at all 41 libraries, human service centers, and licensing service centers through April 6. 
Metro Transit is suspending all bus and train service between 11 p.m. and 4:30 a.m.  
---
March 16, 2020
COVID-19 (Coronavirus) and Unemployment Benefits
On March 16, 2020, Minnesota Governor Tim Walz issued an executive order to ensure workers affected by the COVID-19 pandemic have full access to unemployment benefits. The executive order makes applicants eligible for unemployment benefits if:
A healthcare professional or health authority recommended or ordered them to avoid contact with others.
They have been ordered not to come to their workplace due to an outbreak of a communicable disease.
They have received notification from a school district, daycare, or other childcare provider that either classes are canceled or the applicant's ordinary childcare is unavailable, provided that the applicant made reasonable effort to obtain other childcare and requested time off or other accommodation from the employer and no reasonable accommodation was available.
---
March 12, 2020
Mayor Carter announced March 12 that water shut-offs in Saint Paul will be suspended for 30 days. The Saint Paul Water Board will discuss extending the suspension at their April 14 meeting.