Project Overview
Hamline Play Area will be renovated in 2021. Proposed work will focus on removal and replacement of existing play equipment and surfacing.  Other enhancements may include new walks, site furnishings, signage, and landscaping.  The most recent improvements to the play area were 29 years ago, in 1992. Located alongside Snelling Avenue, Hamline Park contains a variety of amenities for visitors to use across four sections divided by trails. The northern section features a spacious playground, the eastern quarter features a recently-renovated futsal court, to the south is a basketball court as well as bike racks and additional fitness equipment, and adjacent to Snelling Avenue is open green space.
This project is funded by a Community Development Block Grant (CDBG).
Project Updates
Construction, except for a few remaining touch-ups, is substantially complete as of early September 2021. We look forward to celebrating the park's reopening soon!
Construction began Monday June 28th, 2021. The previous playground equipment was removed. 
The playground will be closed for two months (or longer, depending on weather) while new play equipment, pathways, and safety surfacing is installed. The basketball court, fitness area, and futsal/mini-pitch court will remain open. Please visit Hamline Elementary School/Hancock Recreation Center for a nearby playground, or view the construction notice poster (pdf) to help you find other parks nearby. 
October 2020 - Virtual Community Meeting presentation (pdf)
September 2020 - Virtual Community Meeting presentation (pdf)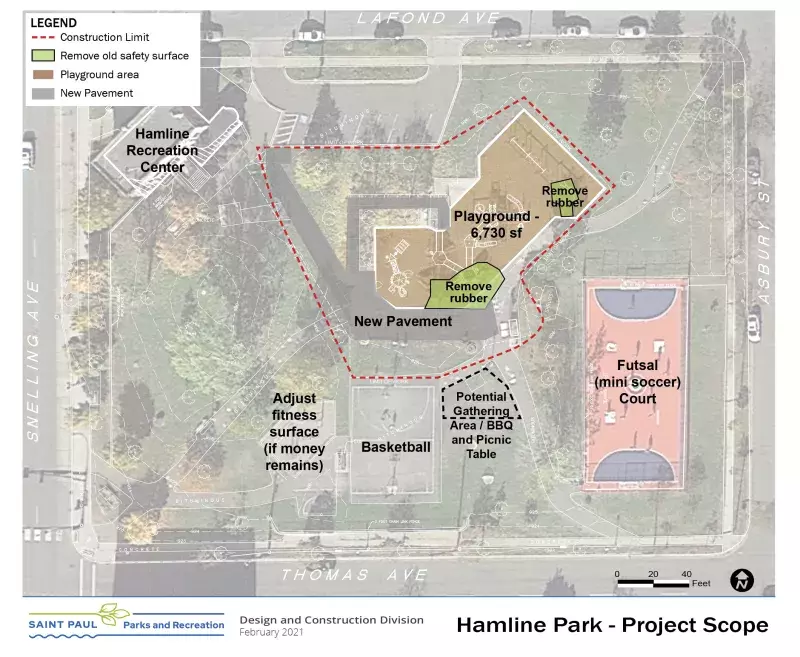 View plans that illustrate project scope and site inventory (2mb pdf) 
Community Engagement
The City held two virtual Open Houses, March 1st and 2nd 2021, to share information about the project.
A survey was shared in late 2020 for Hamline Park's play equipment and on the park as a whole. Summary of feedback received: Hamline Park 2021 Survey Summary pdf. 
A previous community survey was open to the public through August 2020. The Friends of Hamline Park and Hamline Midway Coalition organized this survey, and reached out to area summer camps, Recreation Centers, libraries, and nearby apartment buildings. Results will be shared by Hamline Midway Coalition.
 
Background Information
The Hamline Recreation Center building on the northwest corner of Snelling and Lafond Ave is a historic building (eligible but not registered) and will not be impacted by this project. 
Virtual Open House Video - March 2, 2021
Hamline Park 2021 Improvements
The City held two virtual Open Houses on March 1st and 2nd, 2021 to share information about forthcoming improvements to Hamline Park . Construction will focus on the playground and surrounding paths. Watch this video to learn about the process and see images of the new play equipment.