Welcome to the Saint Paul Youth Commission!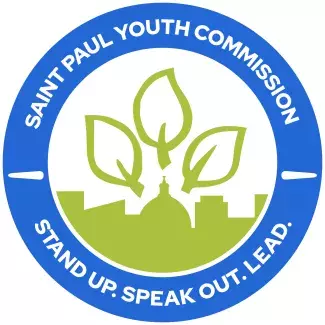 The place where Saint Paul Youth: Stand up. Speak out. Lead.
Established in 2006, the Saint Paul Youth Commission is where young people learn to enhance their civic leadership, work in partnership with elected officials and stakeholders, represent their peers, and advocate for youth voice in decision making. Ensuring Saint Paul is a city that works for all of us.   
Saint Paul Youth Commission Fall 2022 Newsletter (PDF)
Youth Commissioner duties
Host community engagement events to bring awareness to issues that affect young people throughout the city. With their peers and adult partners, commissioners design innovative solutions and work to implement them.    

Ensure that all youth in Saint Paul have opportunities to get involved, learn, play and make a difference in their community.    

Inform government officials and advise on policies.    

Strengthen their leadership skills and ensure youth voice is heard in Saint Paul.   

Lead IMPACT (Igniting Movement through Passion, Actions, and Community Togetherness) Project  

Are leaders today!  
2023-2024 Application Coming Soon
The Saint Paul Youth Commission is made up of twenty-two high school students from each district in Saint Paul. Each year, the Youth Commission recruits new members to fill any empty seats. 
To be eligible for the Youth Commission, youth must:  
Live in the City of Saint Paul   

Be in 9th-12th grade while serving on the commission  

Commit 6-10 hours a month, Sept - May 

Be available to meet on Monday evenings  

Have a desire to make Saint Paul the best city to live and thrive in.   
Youth interested in being a part of the Saint Paul Youth Commission should apply. Please email Haley to apply: haley.vien@ci.stpaul.mn.us