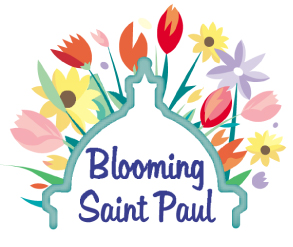 Blooming Saint Paul is a landscaping and gardening program that's mission is to beautify Saint Paul through supporting the communal creation of a healthy natural environment in order to enhance touring, living and working in the city.  This program combines the efforts of many local organizations, city departments, and community members to create a more vibrant, more vital, and more natural environment.
What The City Is Doing
The City of Saint Paul is committed to beautifying its communities through a variety of gardens. 
Blooming Saint Paul History
Blooming Saint Paul's beautification efforts have reach over 120 sites with almost 600 hanging baskets and more than 8.5 acres of garden beds cared for by city staff and volunteer gardeners. For more detailed history on this program, click here. 
Blooming Saint Paul Celebration
Each year local residences and businesses of Saint Paul are recognized for their efforts of beautifying and enhancing the ecology/environment of their landscapes. To nominate a garden, tree, or art piece or find a complete list of nominees past and present, please click here. 
Hanging Baskets
The hanging basket program for the downtown Saint Paul area has been in existence since 1998. Since then, the program has expanded to neighborhoods and is just shy of 600 baskets annually. To find out more information or to sponsor a basket please click here. 
Gardening Policies
Learn about Saint Paul's policies regarding composting, pesticides, boulevard gardens and more on our Gardening Policy page
NEW Interactive Map
See where gardens (landscape, rain and edible) are located on Park property. 
What Can You Do?
If you are looking for ways to help or resources to use to maintain your own personal gardens look no further. 
Become a Garden Steward  
Would you like to garden with a group of volunteers, help at the Blooming Saint Paul greenhouse, or just spend some quiet time on your own maintaining a favorite public garden near you? Please click here to apply. 
Healthy and Local Food
We realize the importance of supporting locally grown food. You can click here to learn more about locally grown foods, permits, food waste and more.
Start a Community Garden
Interested in starting a new community ornamental or vegetable garden on Park Property? Contact Mary Henke-Haney, Garden Education Coordinator at mary.henke-haney@ci.stpaul.mn.us or 651-632-2427. For information about community gardens on HRA properties and HRA Garden Lease Guidelines, click here. For information about community gardens on Public Work right-of-ways, contact David Kuebler at david.kuebler@ci.stpaul.mn.us.
Benefits of Urban Gardening
Why is it important to garden. We list out a few reasons to start your own garden. Learn more by clicking here.