Fairview Avenue Paving Project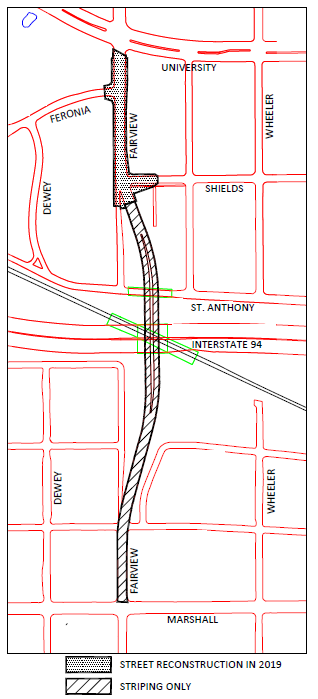 Street reconstruction will take place on Fairview Avenue between Shield Avenue and University Avenue.
Striping to add bike lanes will occur on Fairview Avenue between Marshall Avenue and Shields Avenue.
Project Update
Questions?  Contact Project Inspector Mike VanBeusekom at 651-775-6673
October 17 2019
This week
Placed final lift of asphalt.
Inlayed pavement markings.
Televised sewer line.
Next week
Remove traffic control devices.
Remove detour.
Open roadway.
Jobsite clean-up.
Traffic
Until the road opening early next week, please use the following detour routes:
Fairview Avenue is closed from University Avenue to Iglehart Avenue.  
Please follow posted detour signs:
- Southbound traffic to use University Avenue to Prior Avenue to Marshall Avenue.
- Northbound traffic to use Marshall Avenue to Prior Avenue to University Avenue.
 Bike and pedestrian traffic to use sidewalks.