Cleveland Ave. Water Main Replacement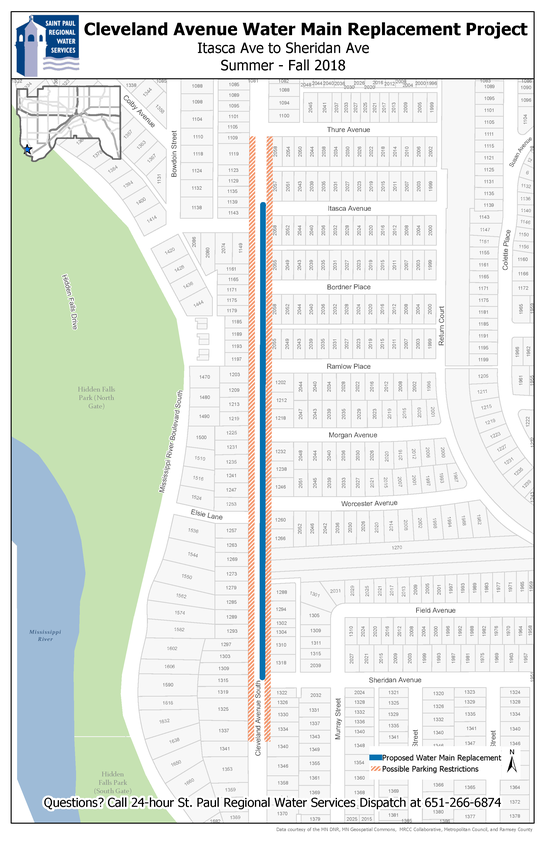 Project map (PDF)
Saint Paul Regional Water Services will replace the water main on Cleveland Avenue from Itasca to Sheridan due to repeated breaks over the years.
The original cast iron water main from the 1920's and 1940's will be removed and new ductile iron pipe installed in its place.
Note: The City of St. Paul Public Works department plans to overlay the roadway pavement in 2019.
Impact
Parking will not be available on Cleveland Ave. for the duration of the project

Regular traffic patterns will be interrupted for the duration of the project

SPRWS will work with METRO Transit to serve residents of the area.
Project Updates
Friday, September 7, 2018
All water mains have been installed and tested to ensure that no harmful bacteria was introduced during the construction process. Mains passed all tests and have been placed back into service.
SPRWS crews will be working on Friday 9/7 and Saturday 9/8 to remove temporary driveway access and grade the roadway subgrade material in preparation for paving. Paving work is expected to begin on Monday 9/10, and we hope to have the roadway reopened to regular traffic on Wednesday 9/12. Paving can be a weather dependent activity, so delays are possible but unanticipated.
With the new water main in service, SPRWS crews will begin working to remove temporary water mains in the near future
As we approach the end of the project, we would like to thank you for your patience over the last two months. We look forward to continue delivering high quality water to your tap far into the future.
Tuesday, August 7, 2018
The water main between Itasca Ave. W and Ramlow Place has been replaced.
Per SPRWS standards, the new main will be bacteria tested before being returned to service to ensure that residents will have access to safe, high quality drinking water upon project completion.

SPRWS crews will continue working to the south of Ramlow Place.

SPRWS was fortunate to encounter sandy soils north of Ramlow Place, but we've entered into soils with higher clay content to the south of Ramlow Place.
When working in clay soils, it becomes increasingly important to keep soils dry.
Rain will likely inhibit progress unless soil composition changes again.

It is difficult to predict the remaining duration of the project with certainty.
At present SPRWS estimates that the remaining work on Cleveland may take approximately 6-7 weeks. Weather, soils, and unexpected field conditions could speed up or slow down project progress, and actual project completion time may vary considerably from the present estimate.

The paving contractor currently plans to pave the full length of the roadway together at the end of the project. SPRWS will continue to maintain temporary driveways and access to homes.

No other major changes are expected for the project. Residents should expect that project impacts over the coming weeks will be similar to those observed over the course of the first few weeks of the project.