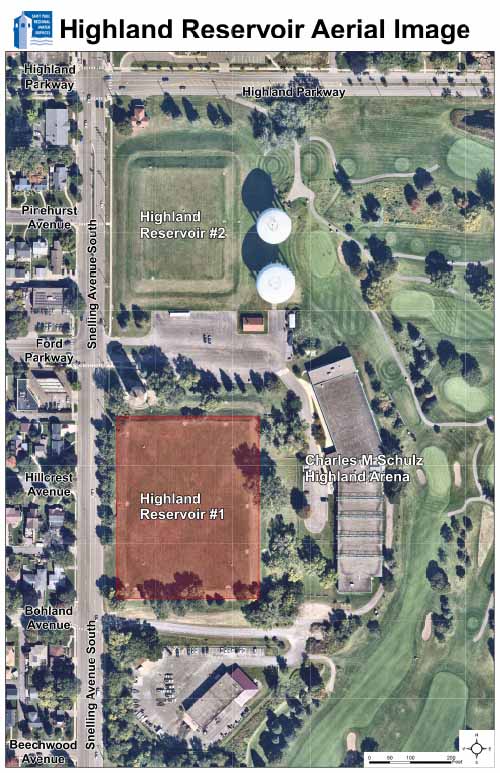 Aerial image of map (PDF)
SPRWS is partnering with Ramsey County to complete the reservoir demolition as part of the County's Charles M. Schulz Highland Arena and parking lot improvements project.
Tentative Project Status and Timeline
Design and estimating services – September - November 2020
Planning, permitting, procurement – December 2020 - March 2021
Demolition – April 2021 - October 2021
Project Contacts

Highland Reservoir No.1 Demolition:
Kaitlin Swanson
Project Manager
651-706-1614
Charles M. Schulz Highland Arena and Parking Lot Improvements:
Ryan Ries
Project Manager
651-266-0310
Project Updates
Starting the week of May 24th, work will begin to excavate and remove material from the top of the reservoir. Additional work will be occurring to abandon water main on the west side of the reservoir.
Project Updates
Excavation by the contractor has begun at the reservoir. SPRWS work to abandon water main should complete by the end of the week.
Project Updates
Demolition, export, and earthwork at former reservoir area is ongoing and will
continue into August.
Utility work in the south parking lot area will start June 28th, likely starting at the south end.