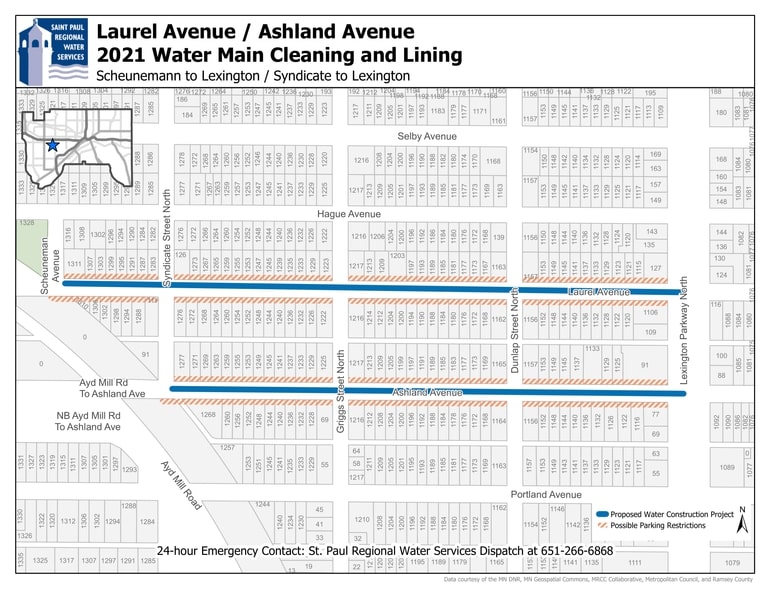 Project Engineer: Tim Bagstad 651-266-6283
The water main on Laurel Avenue and Ashland Avenue will be cleaned and lined with cement mortar. The original unlined cast iron water main within the project area was installed in the early 1900's.
As unlined pipes age, mineral deposits collect inside the pipes which can decrease water volume and hinder flow for fighting fires. Such deposits can also affect water quality. Water main cleaning and lining is a method of pipe rehabilitation that is used when water mains are structurally sound but suffer from such corrosion and mineral deposits. The pipes will be cleaned with a tool that scrapes off internal mineral deposits. Then the pipe will be sprayed with a thin layer of cement mortar.  This will increase flow capacity in the water main and provide a protective barrier against internal corrosion.
SPRWS will be hiring a contractor to clean and line the existing 6" cast iron water main. SPRWS crews will perform all excavation for the project.
Project Updates
Cleaning and lining work is in progress on both Laurel and Ashland.
Project Updates
Lining is complete on Ashland. Testing and restoration to follow.
Lining is in progress on Laurel.
Lead replacements in the area are being scheduled with a tentative start at the end of June or early in July.
Project Updates
Lining work is complete on Laurel and Ashland. Testing and restoration are in progress.